Keeping Your Sales Team Motivated When Starting Up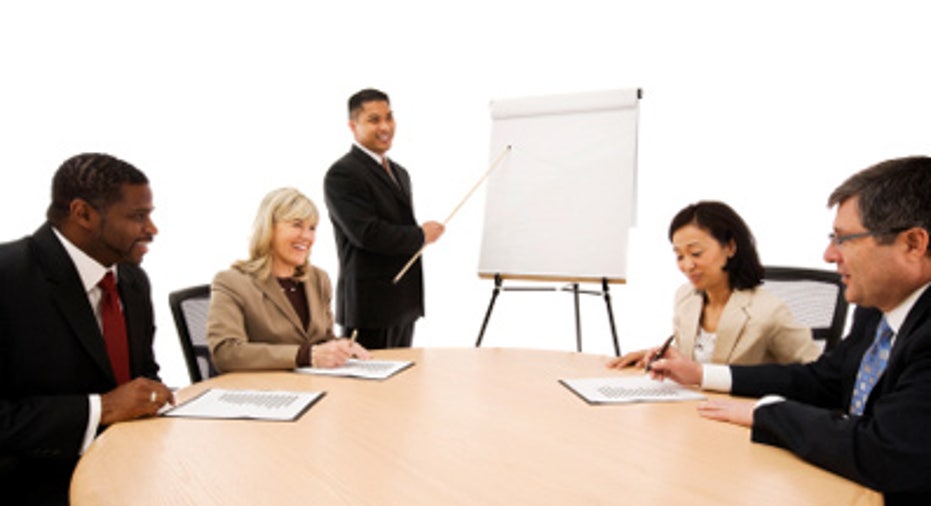 How do you keep your startup sales team motivated to exceed their targets?The Young Entrepreneur Council (YEC) is an invite-only nonprofit organization comprised of the world's most promising young entrepreneurs. In partnership with Citi, the YEC recently launched #StartupLab, a free virtual mentorship program that helps millions of entrepreneurs start and grow businesses via live video chats, an expert content library and email lessons. Email your questions about best practices for starting up and/or managing a small business to smbs@foxbusiness.com.
No. 1: Money Talks From Justin Nowak of Canadian Cloud Council
I like to throw performance bonuses in to the mix. Salespeople at their core really love money, so there is no better motivator to push results than that.
No. 2: Friendly Competition From Lawrence Watkins of Great Black Speakers
Friendly competition is a huge motivator for my sales team. Great salespeople take an extreme amount of pride in doing great work, and they want to be the best. Competition with other salespeople brings out the best in them. However, it is still important to facilitate collaboration and make sure that the competition stays friendly.
No. 3: Don't Set Any Targets! From Patrick Curtis of WallStreetOasis.com
Incentive-based pay is used by countless companies, but on a complex task such as sales, it has been shown to often be counterproductive. Instead of setting hard targets and riding your sales team for them to hit goals, work with them to help generate leads and act together. This will help you realize their pain points and may help you find a breakthrough on sales approach and strategy.
No. 4: Provide Every Bit of Support From Thursday Bram of Hyper Modern Consulting
I've seen major sales get hung up because the sales team was missing key information and they had to wait to get it. The more information and other resources your team has, the better they'll be able to do their jobs. Do whatever it takes to get them anything they need.
No. 5: Focus on the Right Actions From Elizabeth Saunders of Real Life E®
I've observed that making results-based goals instead of action-based goals can cause salespeople to underperform. By focusing on how many new leads they're contacting, how many appointments they set up, and how many meetings they have each week, you can encourage your sales team to consistently take the right actions that will in turn lead to the right results.
No. 6: Ring in the Real Rewards From Josh Weiss of Bluegala
Give the top-performing employee a sizeable (non-cash) reward such as an all-expenses-paid vacation. This is more memorable than a cash bonus and when the sales team sees the employee come back, grinning ear to ear with a great tan, they will work even harder next year to try and be the top sales rep.
No. 7: Never Stop Selling, Never Stop Getting Paid From Logan Lenz of Endagon
It's not uncommon to reward a salesperson with a commission for a sale. The sale shouldn't stop there, however. If it applies to your product/industry, give your sales rep a recurring percentage of the customer contract so that he/she continues to nurture the relationship directly. You'll find that this makes everyone happy and also reduces the risk of customer cancellations.
No. 8: Greet a Little Gamification From Michael Tolkin of Merchant Exchange
Competition breeds excellence. Pit your salespeople against each other with a series of challenges to tap into their competitive spirit. Sometimes a non-financial incentive is the best motivator.
No. 9: Performance-Based Rewards From John Hall of Digital Talent Agents
From the beginning, we really stress a performance-based reward system. This system allows a sales team to be rewarded immediately for their actions. It also adds transparency to the process.
No. 10: Focus on Form From Matthew Ackerson of PetoVera
Form is everything. Good form in business means you're following a list of proven steps that lead to a consistent end result. All the while, you're tweaking and experimenting with those steps to maximize results. Throwing lots of parties and displaying a genuine desire for everyone to succeed is also good form. This breeds a friendly, open culture where new, proven sales tactics are shared.
No. 11: Stay True Through Transparency From Aaron Schwartz of Modify Watches
Too often, companies create goals for the sales team in a vacuum. Then, when the team meets or exceeds their goals, they expect very high compensation. As a startup, big sales will rarely hit the bottom line immediately, as the money needs to be reinvested. Being transparent about the state of the company -- and the sales team's critical role -- will motivate everyone to beat their targets.
No. 12: Use Creative Compensation From Robert Sofia of Platinum Advisor Marketing Strategies, LLC
In addition to providing performance-based pay, you should also offer things like: "Exceed your target by 15% and I'll buy you an iPad." Or, "Close 10 clients today and you can have Friday off." Learn what motivates your people and then give them chances to achieve those things on a regular basis. And don't forget to praise them in the process. Praise is compensation too!
No. 13: Sell the Long-Term Vision From John Berkowitz of Yodle
Talk to your team about the potential growth of the business and communicate to each employee how they can personally contribute to building something big. Also, present this in the context that they'll have the chance to grow their careers with the company as the business picks up momentum.