Katie Ledecky Takes Olympic Payday To Stanford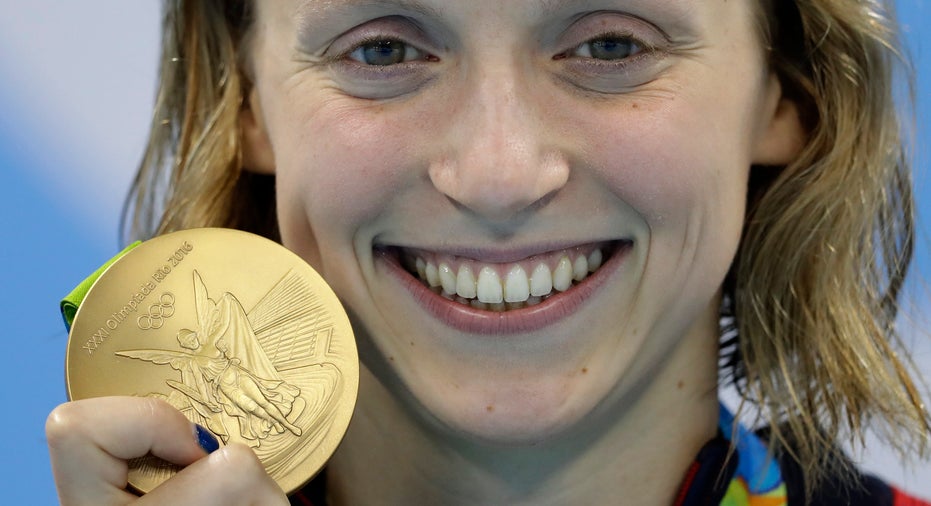 In addition to being USA Swimming's breakout star at the 2016 Olympics in Rio, Katie Ledecky is one of several Olympic athletes who will be allowed to keep thousands of dollars in prize money without sacrificing their NCAA eligibility.
Through its "Operation Gold" program, the U.S. Olympic Committee grants bonuses of $25,000 for gold medals, $15,000 for silver medals and $10,000 for bronze medals. The NCAA altered its by-laws in 2001 to allow Olympic competitors to accept "Operation Gold" rewards, as well as training and expense stipends, without jeopardizing their status as amateur athletes.
That means Ledecky, who will attend Stanford University in California this fall, will net at least $115,000 in prize money before taxes. The 19-year-old D.C. native won gold in the 200-meter, 400-meter and 800-meter freestyles, as well as the 4x200-meter freestyle relay. She took home a silver medal in the 4x100-meter relay.
Ledecky set two world records and became the first swimmer to sweep the 200-meter, 400-meter and 800-meter individual events since Debbie Meyer in 1968.
As of Saturday, Team USA swimmers had won more than $700,000 in medal bonuses while retaining their amateur status, according to USA Today reporter Steve Berkowitz. USA Swimming did not respond to FOXBusiness.com's request for comment on total payments through its "Operation Gold" program in Rio.
While swimmers have taken home the majority of Olympic bonus money, NCAA athletes who medaled for Team USA in any sport can receive the same benefit.
The NCAA limited its "Operation Gold" exception to American athletes until 2015, when officials adopted a rule change that extended the protection to international athletes that also attend American colleges.
That change was good news for Joseph Schooling, a Singaporean swimmer who also competes for the University of Texas. Singapore's program rewards gold medal athletes with $1 million in domestic prize money – an equivalent of more than $700,000 in U.S. dollars before taxes and payouts to his home country's swimming program.
While medal winners gain international recognition for their Olympic success, the NCAA still restricts its student-athletes from receiving compensation through endorsement deals. So Ledecky is free to keep her bonus money, but she can't pursue compensation through corporate sponsorships.