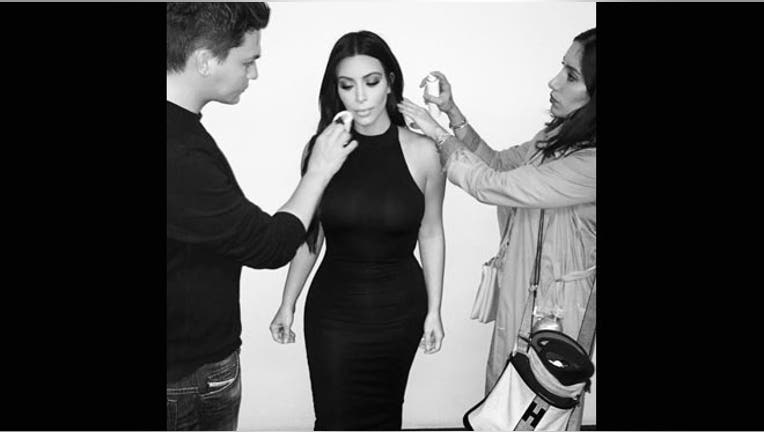 She's been keeping up with the Kardashians' hair styles for years and now celebrity hair stylist Jen Atkin is taking on a new title as CEO.
"As celebrity stylists we live in a very small world, we really are the 1 percent," says Atkin, who's worked with everyone from Reese Witherspoon, Jessica Alba, Madonna, and of course, the entire Kardashian clan.
"There was something lacking in hair education and I wanted to give all those stylists a chance to learn what we do."
Atkin's company, which just turned one, Mane Addicts, recruits top celebrity stylists like Chris McMillan (who created "The Rachel" for Jennifer Aniston) and Harry Josh (think Gisele Bundchen's signature beach waves) to teach seminars to hair stylist hopefuls all across the world. Prices for a ticket range from $250 to $1,000 dollars.
"I've been so amazed watching this little baby of ours grow. We've been to Dubai and we're heading to Australia next week, and we're planning a seminar in the UK in September."
And, the key to her early success is social media, where she's attracting everyday consumers.
"I immediately started following her on Instagram, solely for hair inspiration until one day she posted about upcoming dates she will be working in NYC, says Gala Kanevsky, who has been going to Atkin for over three years.
Kanevsky says she used to book her appointment the old fashioned way until Atkin introduced her to StyleSeat, an app that lets you follow your favorite stylist and sends your notifications when he or she will be in your city next.
"StyleSeat has powered over 1 billion in appointments since its launch in 2011 and on average we're able to grow beauty professionals revenues 70% in their first year using this platform, says Melody McCloskey, CEO & founder of StyleSeat.
"Our Instagram blew up this past year, I think we're up to 120,000 followers," says Atkin, who has close to 700,000 followers herself.
"And, in the last six months we've doubled our viewership in the people who are coming to the site regularly."
The hair and nail industry is expected to accelerate over the next five years to $60.2 billion according to the research group, IBISWorld. And, Atkin hopes her company can be the leader in setting those hair trends.
"Celebrity is so popular. Most of my every day clients are on websites, blogs, and Instagram. They are really paying attention to the celebrities that they really idolize. So for us, we get to work with those girls and set the trend."
Atkin says Mane Addicts has lots of expansion plans in the works including hair accessories and partnerships with hair extension companies.
"My dream is for us to start creating quality content online for stylists, that can't afford to come to a seminar. All they would have to do is subscribe to our site and watch their favorite hair dressers create the looks that they love so much. I really want to inspire that kid that wants to one day do Khloe Kardashian's curls."