Just What the Doctor Ordered: Medical Apps to Improve Care, Health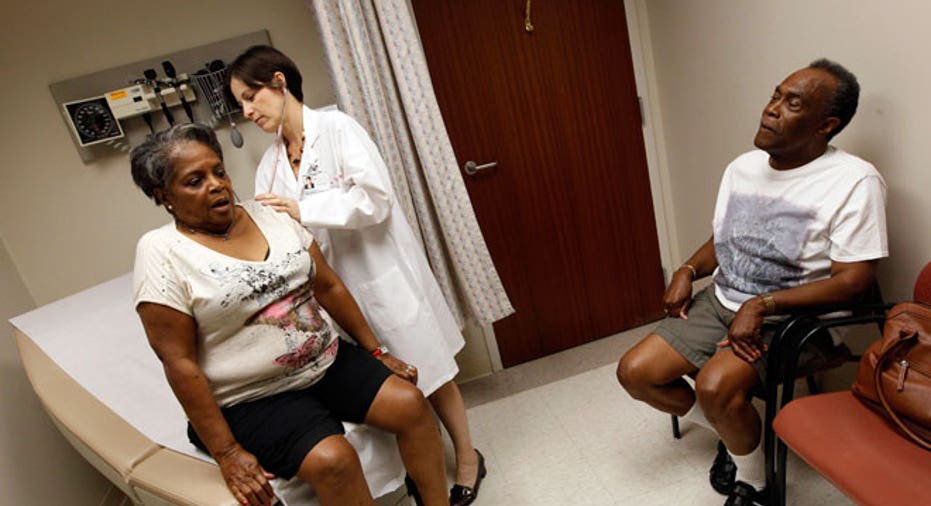 In the face of rising health-care costs, consumers are looking for any assistance to reduce medical expenses and stay healthy. At the same time, doctors are seeking ways to improve their communications with patients, increase patient adherence to drug regimens and care plans and overall improve the quality of care. Both parties are turning to the same tool: mobile health.
Consumers, employers and physicians are increasingly getting onboard with mHealth's innovative devices, compelling apps and seamless connectivity to save budgets without sacrificing care.
Apps are making consumers better patients and doctors more thorough and communicative. In the past, patients relied on their own memory to remember previous weights or past illnesses. Now it's being 'mashed up' with other data sets to provide a comprehensive look at a person's individual health, says Kabir Kasargod, staff manager, business development at QualComm Life that provides wireless solutions for sharing and managing medical device information.
What's more, mHealth's ubiquitous, real-time quality enables self-tracking which keeps consumers focused on their health and allows them to more easily access their physicians to report and share important health information. These features not only help to reduce routine doctor visits, but also head off health emergencies, eliminate trips to the ER and limit the number of hospital admissions and the readmissions for which hospitals will be penalized come October under the Patient Affordability Act.
Ben Chodor, CEO of Happtique, a mobile health application store and app management solution that helps providers, physicians and patients integrate mobile health, says app use among doctors who want to facilitate patient engagement and compliance and improve outcomes has grown to become part of most physicians' daily work flow.
Still, the thousands of apps that exist vary in grade and quality.
Experts credit Happtique, which functions as an agnostic library that categorizes, curates and certifies applications for compliance to safety and HIPPA privacy rules, as laying the groundwork for the identification of trusted apps that will be eligible in the future for insurance reimbursement—even becoming a part of payers' app formularies.
Here's a look at apps that advocate a more healthy lifestyle and doctor-patient relationship:
Macaw combines the science of clinical preventive medicine with wireless devices to engage people who already exercise regularly and those who are just starting out, says director of mobile solutions Jason Fey. The app administers a brief health risk assessment and allows users to set and track weight and exercise. To keep people motivated, they can earn prizes when they hit certain goals.  Gender- and age-specific alerts remind users of recommended preventive screenings.
SweetBeat, an iPhone app from SweetWater Health, is designed to help users monitor and manage stress anytime, anywhere. Using a compatible heart monitor, SweetBeat notifies users of their stress levels and helps them obtain clinical-grade data. Overtime, SweetBeat can help users train themselves to reduce their overall stress level by using the relax screen to do precisely-timed deep breathing that balances the nervous system and instantly reduces stress. Charts provide additional information including levels of willpower, stamina and resistance that can be stored and retrieved online for subsequent examination.
The soon-to-be-released version of SweetBeat will deliver a new feature to help users lose weight by detecting and eliminating food sensitivities.  Like stress, undetected food sensitivities can create inflammation and prevent weight loss, says Kathy Keenan, SweetBeat's director of outbound marketing. Based on a pulse test, the app can test users bodies' response to food and eliminate offending foods, making it easier to lose weight.
Zeo Sleep Manager Pro is a sleep-tracking app that can monitor all phases of your sleep, including restorative REM and deep sleep. Users wear a lightweight, wireless headband that reads brain waves, muscle tone and eye movement that is transmitted to a smartphone for analysis.  "In the morning, you wake up to a complete picture of your sleep, says Zeo's Kate Binette. "Over time, Zeo provides tips and tricks to help you sleep better, feel better and do more during the day."
Asthmapolis, an asthma sensor and companion software with FDA 510(k) clearance attaches to most inhalers of patients who have asthma or Chronic Obstructive Pulmonary Disease (COPD). The Spiroscout sensor with its built-in GPS locator transmits data to a companion app on the user's mobile phone every time the inhaler is used. Thanks to a wireless collaboration between Asthmapolis and Qualcomm Life, Asthmapolis allows physicians and authorized caregivers to remotely monitor their patients' adherence to prescribed medications and to assess their level of disease control. Even a mother can track the inhaler usage and compliance of her asthmatic child improving disease management, the avoidance of emergency episodes and improve quality of life, says Anthony Shimkin, Qualcomm Life's senior director of marketing.
WellDoc's diabetes product provides virtual patient coaching and education for adults with Type 2 diabetes.  Today, patients and their case managers have access to the WellDoc Diabetes Manager through disease management programs offered by large employers. In contrast to digital applications which simply provide information, WellDoc's mHealth product actually provides patients with actionable recommendations to enhance the self-management of their disease, says Chris Bergstrom, chief strategy and commercial officer.  Furthermore, next year, WellDoc will launch a new diabetes product available to all adult type 2's via a prescription from their doctor.  In addition to patient coaching, this product also helps physicians optimize the patient's treatment plan.  Through the use of evidence-based guidelines and clinical algorithms, WellDoc provides the physician with clinical decision support to change or titrate medications and advise on lifestyle and behavioral changes.
Epocrates is a tool for physicians, nurses, physician assistants, EMTs, even police officers, who need clinical content, drug information and dosing calculator. Drug side effects and interactions and pill ID features prevent adverse drug effects, and Epocrates is being integrated into some medical school curriculums. The app, downloadable on the iPhone, Android and Blackberry, may soon be used by patients as physicians 'prescribe' it for their patients. "What better app to use as a patient than a version of the one your physician and physicians across the country routinely use," says Andy Hurd, Epocrates' president and CEO.
BodyMedia FIT's free mobile apps combine fun and good science to create personalized weight loss for the overweight population. A Bluetooth-enabled armband sends a real-time readout of calorie and activity data to a user's smartphone, allowing self-monitoring of energy expenditure, calorie intake and weight loss and providing the ability to create a personalized workout program and listen to tunes from your phone to power you through your workout. The armband, registered with the FDA as a Class II medical device, has four on-body sensors, and provides sufficient biometric readings for the most accurate prediction of calorie burn outside a lab, says Christine Robins, BodyMedia president and CEO. Clinical science and studies provide the basis for energy expenditure information on activity, calorie consumption, nutrition, and, importantly, sleep. BodyMedia is sold through Jenny Craig and personal fitness trainers at 24-Hour Fitness, Best Buy, Target, Costco and Amazon.com.