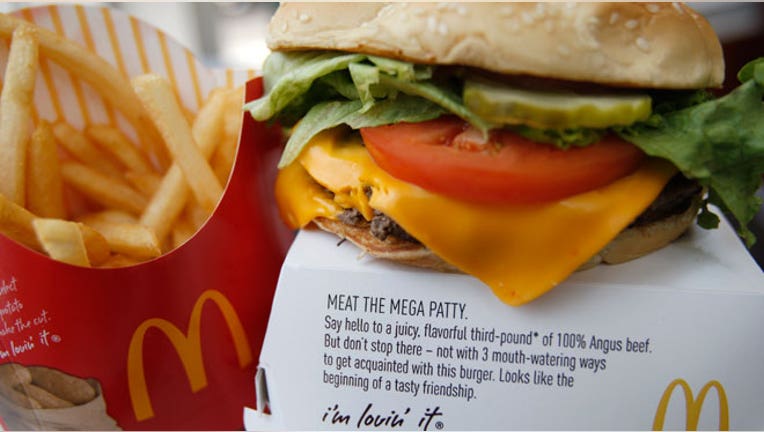 If you want to put a finger of the pulse of the American consumer, you could look at the Labor Department's gauge of consumer inflation.
Or, you could look closer to ground level: Big Macs and Coca-Cola – a classic American pairing.
McDonald's (NYSE:MCD) and Coke (NYSE:KO) were both out with their second-quarter earnings results Tuesday, and both were relatively disappointing.
The world's biggest burger chain posted a miss on both the top and bottom lines for the second quarter. Diluted profits-per-share of $1.40, were four cents below Wall Street expectations, a 1% increase from the first quarter of the year. Revenues, meanwhile, came in at $7.18 billion, below the $7.29 billion expected.
McDonald's noted its global same-store sales were flat for the quarter as a result of higher-than-average checks, but negative overall foot traffic in all of its major segments. Comp sales in the U.S. fell 1.5%, compared to a shallower fall in Europe where same-store sales fell 1%. In a sharp contrast, the Asia/Pacific, Middle East, and Africa markets saw an increase in same-store sales of 1.1%, reflecting strong performance in China.
Efraim Levy, an equity analyst at S&P Capital IQ, said the better overseas results reflect international opportunity that's wide open for brands like McDonald's and Yum Brands (NYSE:YUM).
"There's opportunity for new stores and growth in those stores as consumers get wealthier and eat out more," he said.
He compared the opportunity available for those brands to others like Chipotle, which saw global comp sales blow away analysts' estimates when it reported quarterly results after the bell Monday.
"Comp sales were strong and they put in a price increase, which means McDonald's has to be careful," Levy noted. "But if you have what people want to buy, they'll (buy) it at a higher price. "
Added to the golden arch's overall weak results, the company didn't give investors much to hold onto for the coming quarters as its CEO Don Thomson warned of muted near-term results for the remainder of the year.
"Full year 2014 global comparable sales are expected to be relatively similar to year-to-date June performance with July global comparable sales expected to be negative," he noted in a press release. "While near-term results are expected to remain muted, sizable growth opportunities remain and we are committed to pursuing these opportunities through continuous improvement in everything we do."
Coca-Cola , which reported mixed second-quarter results ahead of the opening bell Monday, didn't do much to excite U.S. investors as far as confidence in the American market either.
The iconic American beverage giant's profits came in at 64 cents per share, beating estimates by a penny. However, revenues of $12.57 billion missed expectations for sales of $12.83 billion for the quarter.
The company posted global volume growth of 3% for the quarter, and 2% year-to-date, attributing growth of its sparkling beverage volume, which grew 2% in 2Q, to  Coke's sponsorship of  the FIFA World Cup and its Share a Coke marketing campaign worldwide. Just in its China market alone, the company saw a 10% increase in sparkling volume for the quarter as it focused on driving sales of single-serve packages.
Still, the company noted North America volume was flat quarter-over-quarter, despite an uptick in sparkling-beverage volume in the region.
What's hitting consumers, in the U.S. particularly, especially hard is the continuing economic recovery that's slogged on for more than four years.
"The stock market is still near records, so for people with money in the market, they're feeling better, and if you have a job, things are not as bad," Levy said. "For low-end jobs, we've gotten rid of economic assistance, which means less money for eating out. It's still cheaper to eat at home."
He added those consumers tend to focus on menu items at a discount, for example, McDonald's dollar menu offerings, as opposed to more upscale items.
Put up against rivals like Chipotle, which offer fresher menu items for a higher price – but whose quarterly results have easily exceeded analysts' estimates, companies like McDonald's and other fast-food chains haven't performed as well, at least over the last quarter.
But that doesn't mean brands like McDonald's have to reinvent themselves to attract more consumers.
"They have a  very successful core business model, and they're still generating lots of sales," Levy said. "They do have to evolve, but that doesn't mean going to direct competition with Chipotle. They have to figure out how they can fight the best…their consumers are going for 99-cent hamburgers. They just want something that tastes good and is relatively good quality. They're not expecting filet mignon at that price."
In recent trading, shares of McDonald's were 1.46% lower, while Coca-Cola shares were down 2.9% on the day.