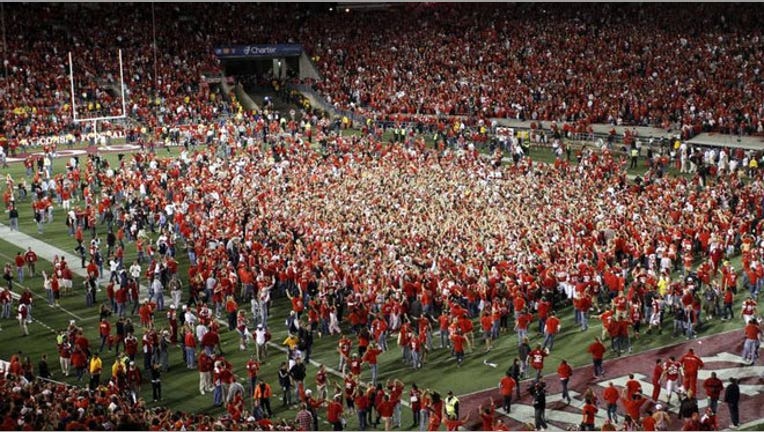 The NCAA lost a court battle this week when a federal judge shot down a motion that would have prohibited college athletes involved in a lawsuit from receiving a portion of the billions of dollars generated by live television rights.
The ruling comes as college athletes find themselves cut out of an increasingly-lucrative industry where major networks like Disney's (NYSE:DIS) ESPN pay top dollar to televise hugely popular college football and basketball games.
Last year a long-running antitrust lawsuit led by former college basketball star Ed O'Bannon amended its suit to claim a piece of all TV game revenue, instead of just money generated by rebroadcasts.
While the NCAA objected to the amendment on procedural grounds, on Tuesday federal Judge Claudia Wilken rejected the NCAA's motion to preclude the lawsuit from advancing.
"Now the (NCAA and its co-defendants) are facing potential liability that's based on the billions of dollars in revenue instead of tens or hundreds of millions," Michael Hausfeld, interim lead counsel for the plaintiffs, told ESPN. "It's a more accurate context for what the players deserve."
The NCAA didn't immediately respond to a request for comment on the ruling.
"Although our motion to strike was denied, the judge has signaled skepticism on plaintiff's class-certification motion and recognized the plaintiffs' radical change in their theory of the case," said NCAA general counsel Donald Remy. "This is a step in the right direction toward allowing the NCAA to further demonstrate why this case is wrong on the law and that plaintiffs have failed to demonstrate that this case satisfies the criteria for class litigation."
In her ruling, Wilken wrote that the NCAA's claim "is not reason to preclude" the plaintiffs from moving for class certification. However, Wilken said: "These contentions are more properly considered as arguments supporting denial of the motion…on its merits."
The lawsuit, which also names video game giant Electronic Arts (NASDAQ:EA) as a defendant, was first unveiled in 2009 and has since been joined by big-name college athletes such as Bill Russell and Oscar Robertson.
The judge set a tentative date for a 15-day jury trial for June 2014.