JPMorgan's Dimon is Sick: How Much Do We Need to Know?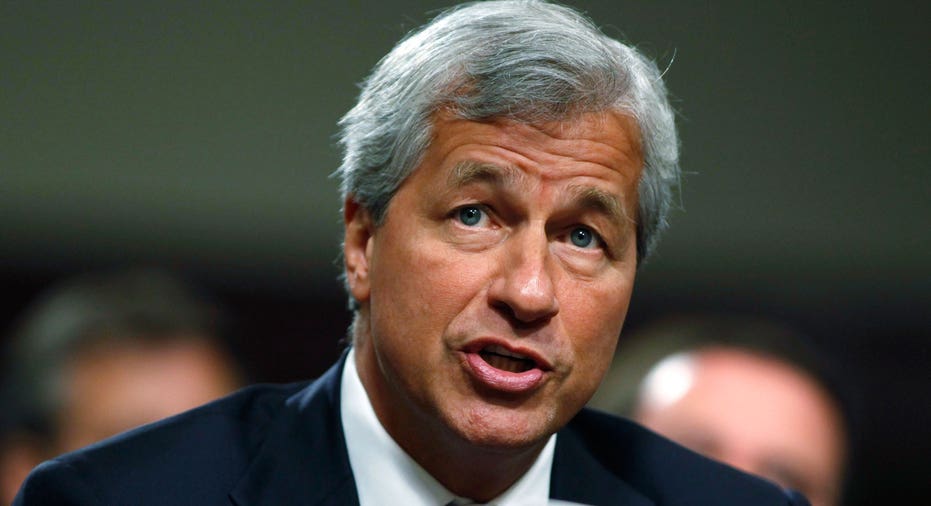 So Jamie Dimon has throat cancer. But just in case JPMorgan Chase (NYSE:JPM) employees or shareholders are worried, the 58-year-old banking boss promises it'll be business as usual. Dimon says his prognosis is excellent and that he will continue working through much of the treatment.
He acknowledges he might have to cut down on his travel, but he's apparently advised the bank's board that he's game for everything else, and doing everything else. Good for him. He says he feels fine and caught this early, and J.P. Morgan is fine and has a very deep bench. So again, all good.
Thing is, these kind of things often have a way of turning bad. Treatments can drag on, and a favorable prognosis sometimes can turn not so favorable. That's not me wishing this CEO ill; that's me looking at the history of other CEOs who became ill.
When Steve Jobs was diagnosed with pancreatic cancer in 2003, Apple waited until after his surgery to tell the public. A short time later, when the New York Times questioned Jobs on his increasingly emaciated appearance, Jobs would only say that his condition was more serious than a "common bug but not life threatening."
We now know Jobs wasn't just being coy, he was being dishonest. To be fair, the famously private Apple founder was trying to keep his distance and keep this highly personal battle just that – personal. Who could blame him? But when the executive in question is the very embodiment and life force of the company he runs, his health concerns rightly become a lot of folks' concerns.
Once the public got wind of the serious nature of Jobs's progressive disease, skittish investors started selling Apple stock. Ironically the very issue Jobs tried to keep to himself soon mushroomed into a near worldwide obsession over the fate of a company.
Sometimes company bosses are damned if they do, damned if they don't when it comes to addressing their ailments. Former Tenneco (NYSE:TEN) Chairman Michael Walsh immediately disclosed his brain cancer diagnosis in January 1993.  He was even featured on a Fortune Magazine cover that also included his trusty lieutenant and later, successor, Dana Mead. The thrust of the story was that Walsh was a fighter and would beat this, and that his number two Dana Mead was a seasoned pro who would be running day-to-day operations so the company wouldn't miss a beat during this.
Sadly, Walsh succumbed to that cancer a little more than a year later, but the transparency Tenneco showed through the tragedy continues to serve as a model for full and open corporate disclosure.
To be sure, health issues are personal issues, and chief executives are human beings, entitled to some privacy. But they're not entitled to the same privacy lower subordinates might be. That's because a lot more is riding on the boss. Shareholders get restless, the media gets relentless, and no one wants to end up looking clueless. Many companies have found out the hard way not opening up on personal issues often creates far bigger professional issues.
That doesn't mean companies and their bosses still don't try to control exactly how much they open up, or how much information they share. When American International Group (NYSE:AIG) CEO Robert Benmosche acknowledged he was fighting an undisclosed cancer, he carefully avoided making his illness the subject. "I'm sick but I'm getting treatment, that's all you need to know," he told me at the time.
That doesn't mean I didn't try to get more information out of him. The illness came up in every interview I conducted with Benmosche throughout his supposedly "aggressive chemotherapy regime."
He would only say the treatments were tough, but they were going well; then he would take the subject back to AIG and the company's remarkable turnaround. Throughout, his focus was on Americans taxpayers receiving their full investment back in AIG, plus a $22 billion positive return. He'd coyly add, "AIG is healthy again," even as he refused to confirm the same about himself.
Benmosche was and is that rare corporate bird who finds the right balance between protecting his privacy and protecting his employees and investors. He sees all their needs, without necessarily sacrificing his family's needs. Such might be Jamie Dimon's delicate balance today, because from all I can read and hear, Benmosche is doing well. He's stepping down at AIG, but his health appears to be looking up. I guess we'll never know for sure…which is the way Bob probably likes it…and the way Jamie Dimon probably wants it.
To their health, and their honesty. And to their investors' health, and peace of mind.