JPMorgan to Shell Out Over $1B to Settle Madoff Probe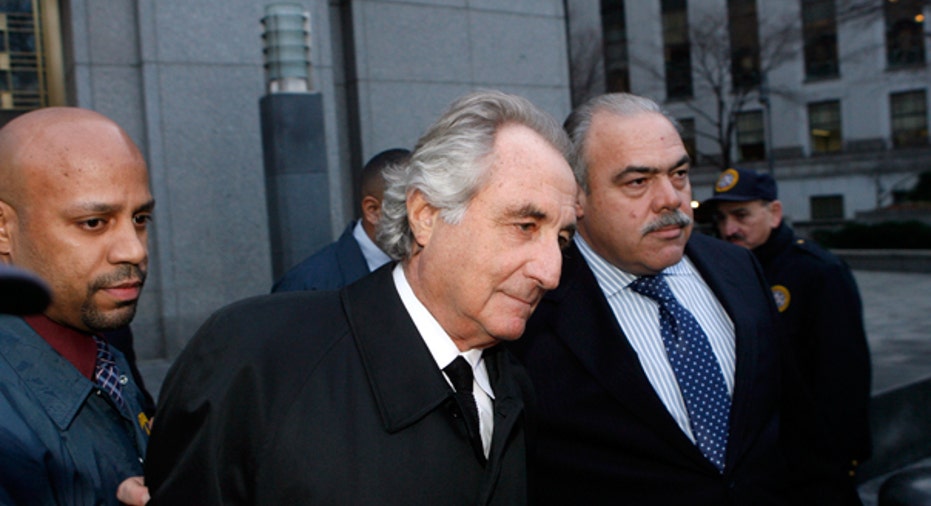 Five years after Bernie Madoff's arrest, JPMorgan Chase (NYSE:JPM) is nearing a deal to pay more than $1 billion in penalties to the Justice Department to put to bed a criminal probe over whether it provided adequate warnings about the Ponzi scheme mastermind, sources confirmed to FOX Business's Charlie Gasparino.
A settlement over the Madoff matter would represent another effort by the largest U.S. bank to get out from beneath a cloud of legal and regulatory uncertainty.
A deal could be reached by the end of the year and would also include a deferred-prosecution agreement with U.S. Attorney Preet Bharara.
Investigators have been probing whether JPMorgan reacted sufficiently to red flags in dealings with Madoff and why the bank didn't provide a formal report about its concerns with U.S. regulators.
JPMorgan is also expected to pay an additional set of fines to U.S. regulators tied to inadequate warnings and control weaknesses even though they tipped off British authorities.
The New York-based lender served as Madoff's bank for 20 years and has been accused of turning a blind eye while Madoff and his client Norman Levy allegedly tried to keep the Ponzi scheme alive.
"There's no question that JPMorgan is guilty; they would have to be idiots to not realize what was going on," Madoff told FBN's Adam Shapiro in May.
A senior executive inside JPMorgan also told Gasparino that the bank "hopes" to clean up nearly all of its outstanding investigations by the end of 2013 or early 2014.
JPMorgan declined to comment.
The Madoff settlement talks were earlier reported by The Wall Street Journal.
Despite JPMorgan's hopes to resolve its legal issues, the bank is still involved in a number of probes, including one over its hiring practices in China. A recent report revealed JPMorgan's hiring program in China that held well-connected children to relaxed standards to win business was an "open secret."
Last month, JPMorgan inked a $13 billion settlement over misrepresenting mortgage-backed securities that fueled the financial crisis.
Shares of JPMorgan were largely unmoved by the Madoff settlement news, ticking up 0.05% to $56.10 Thursday morning.