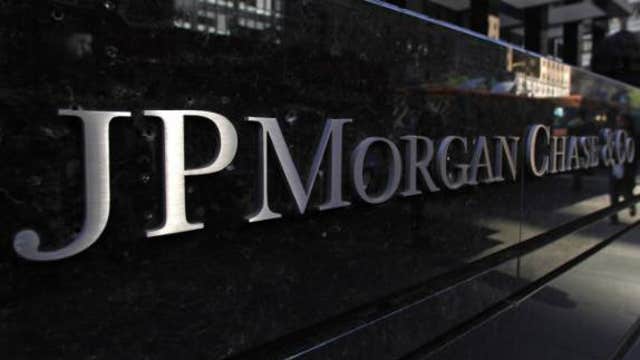 JPMorgan Chase & Co, the biggest U.S. bank by assets, reported a better-than-expected rise in first-quarter profit, with a rebound in bond trading bolstering Chief Executive Jamie Dimon's argument that size and diversification are advantages.
Some analysts have suggested JPMorgan should be broken up to reduce capital requirements and complexity.
Trading picked up early in the quarter after the Swiss National Bank shocked markets by scrapping a three-year-old cap on the Swiss franc without warning.
That helped to boost JPMorgan's revenue from trading fixed income, currencies and commodities (FICC) by 5 percent to $4.07 billion.
The bank's shares rose about 2 percent to $63.34 in early trading on Tuesday.
JPMorgan's investment bank, which includes FICC, is the world's biggest by revenue, according to research firm Coalition. Its revenue rose 8.4 percent to $9.58 billion in the three months ended March 31.
But the unit has been under pressure to cut costs as customers have reduced trading since the financial crisis and regulators have demanded that big banks take fewer risks, hold more capital and improve controls.
JPMorgan was the first big U.S. bank to report results for the quarter. Overall, results are expected to show that trading, debt underwriting and mortgage refinancing were strong even as low interest rates cut into profitability on loans.
Profit at Wells Fargo & Co, the No. 1 U.S. mortgage lender, which also reported on Tuesday, was also better-than-expected as mortgage banking recovered.
JPMorgan's mortgage loan originations jumped 45 percent to $24.7 billion.
Net income rose to $5.91 billion, or $1.45 per share, from $5.27 billion, or $1.28 per share, a year earlier.
Analysts on average had expected earnings of $1.40 per share, according to Thomson Reuters I/B/E/S.
The results for the latest quarter included an after-tax charge of $487 million for legal expenses. The bank has said its legal troubles should normalize by 2016.
Chief Financial Officer Marianne Lake said the bank hoped to reach an acceptable resolution in a Department of Justice probe into currency-market manipulation in coming weeks.
The bank's revenue increased 3.7 percent to $24.07 billion.
Non-interest expenses in the investment banking division rose to $5.66 billion from $5.60 billion, while total expenses, adjusted for legal costs, fell by $402 million to $14.2 billion.
Provision for credit losses rose 12.8 percent to $959 million. The bank's interest margin fell to 2.07 percent from 2.20, reflecting low interest rates. (Additional reporting by Sweta Singh; Editing by Ted Kerr)