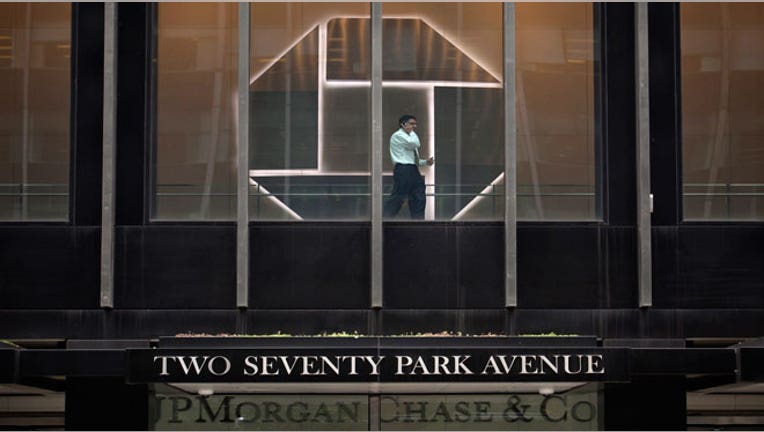 JPMorgan Chase (NYSE:JPM) has agreed to pay a $100 million fine in another settlement with regulators related to the London Whale trading scandal, a deal in which the largest U.S. bank by assets admitted its traders acted "recklessly."
This settlement, announced Wednesday with the Commodities Futures Trading Commission, brings the total amount of fines related to the bank's failed derivatives trades in its London office last year to over $1 billion.
JPMorgan agreed last month to pay $920 million to an array of U.S. and European regulators for its conduct in allowing the losses to snowball.
The CFTC, using a new regulation contained in the Dodd-Frank banking reform bill, accused JPMorgan of manipulative conduct by selling a "staggering volume" of complicated securities known as credit default swaps into the market "in a concentrated period."
The CFTC said JPMorgan traders dumped more than $7 billion of the securities into the market on February 29, 2012, "far and away" the most ever sold by the firm on a single day in an effort to stem their losses.
The actions conducted by JPMorgan's traders "recklessly disregarded the fundamental precept on which market participants rely, that prices are established based on legitimate forces of supply and demand," the CFTC said in a statement.
"As this case demonstrates, the (CFTC) is now better armed than ever to protect the market from traders, like those here, who try to 'defend' their position by dumping a gargantuan, record-setting, volume of swaps virtually all at once, recklessly ignoring the obvious dangers to legitimate pricing forces," David Meister, the CFTC's Director of Enforcement, said in a statement.
JPMorgan, according to the CFTC, admitted that its traders acted recklessly. The bank reported losses of more than $6 billion related to the soured bets.
"We are pleased to be able to put behind us another aspect of the CIO trading matter by the resolution of the CFTC investigation," JPMorgan said in a statement Wednesday.
Two former JPMorgan traders are facing criminal charges filed by the Justice Department for allegedly misleading regulators as to the extent of the bank's losses stemming from the trades.
JPMorgan has been besieged in recent months by litigation tied to various arms of its sprawling operations. Litigation expenses cost the bank $7.2 billion last quarter, resulting in a net quarterly loss, the first under current Chief Executive Jamie Dimon.
Still in negotiations is a possible settlement reportedly for as much $11 billion with regulators over allegations the bank misled investors about mortgage-backed securities created and sold by JPMorgan in the runup to the financial crisis of 2008.