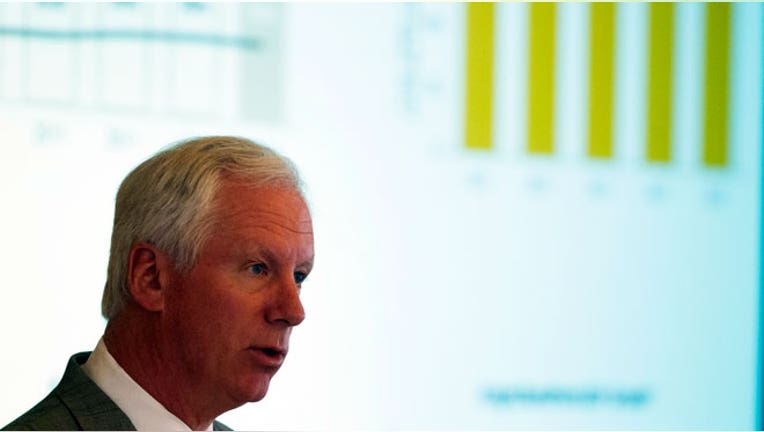 Knight Capital Group (NYSE:KCG) chief Tom Joyce is once again on the warpath against Nasdaq OMX Group (NASDAQ:NDAQ), this time demanding that officials at the electronic exchange stop referring to Knight's infamous technical meltdown when attempting to gain a business advantage over the rival New York Stock Exchange, FOX Business has learned.
Nasdaq officials have been using Knight's 2012 meltdown to point out alleged technical glitches on the NYSE, where shares of Knight trade, when trying to convince companies to bring their business to the Nasdaq Stock Market, including having shares listed on the exchange.
Knight's massive trading snafu nearly led to the firm's demise. Indeed, the market maker was subsequently bailed out by a consortium of Wall Street firms and purchased by high-speed trading company Getco.
Without the bailout, Knight would have filed for bankruptcy. Joyce will become executive chairman of Getco after the purchase is completed later this year.
Joyce, however, is said to be incensed by Nasdaq's sales pitch, and demanded that senior Nasdaq officials stop. Joyce has argued that NYSE Euronext (NYSE:NYX) had no role in the software meltdown that led to errant trades and Knight losing more than $400 million.
A spokesman for the Nasdaq declined to comment, as did a spokesman for Knight. Joyce and Nasdaq have butted heads in the past; Joyce was an outspoken critic of Nasdaq's mishandling of the disastrous Facebook IPO, where a technical glitch on the exchange caused trading firms like Knight to lose tens of millions of dollars.
People at Nasdaq say it's only fair to bring up the Knight fiasco when competing with the NYSE for business since the NYSE uses the Facebook debacle in its business pitches. People at Nasdaq say if the NYSE had better technology, it could have discovered the Knight implosion sooner and before losses deepened.
But NYSE officials say Knight's implosion had little to do with NYSE trading technology; the Facebook IPO, meanwhile, was caused directly by a trading system error at the Nasdaq.
In recent months, NYSE has made inroads in attracting listings of technology companies, an area where the Nasdaq had once dominated. Industry analysts say more companies are turning to the NYSE as a result of the botched Facebook IPO.