John Deere 3Q Profit Falls Short on Drought Woes, Slow International Sales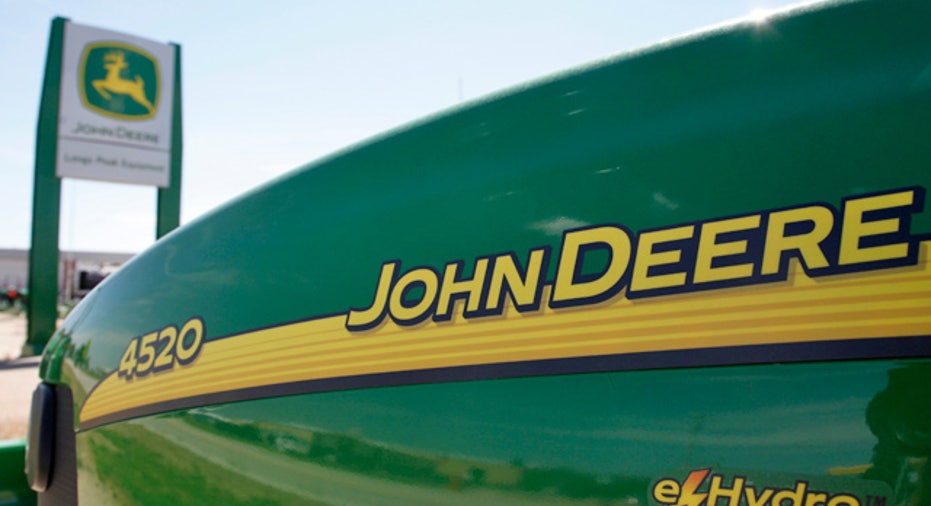 Deere (NYSE:DE) revealed disappointing third-quarter earnings on Wednesday, with the maker of agricultural and construction equipment saying sales were pressured by the drought in the U.S. and Argentina that has weighed on tractor sales as well as slow sales in other international markets.
However, Deere said it believes the arid terrain will further tighten grain supplies, which could lead to higher commodity costs and increased tractor usage in the 2013 crop season.
The Moline, Ill.-based tractor maker reported net income of $788 million, or $1.98 a share, compared with a year earlier $712.3 million, or $1.69 a share, below average analyst estimates of $2.38 in a Thomson Reuters poll.
Revenue for the three months ended July 31 climbed 15% to $9.6 billion from $8.4 billion a year ago, slightly above the Street's view of $9.53 billion.
Shares of Deere fell more than 7% to around $74.50 following the announcement.
"Although a strong quarter, we are not satisfied that sales fell short of our expectations due to weakening in certain international markets and short-term manufacturing inefficiencies resulting from the introduction of a record number of new products," Deere CEO Samuel Allen said in a statement.
Earnings were impacted by price realization of 5% and an unfavorable currency-translation effect of 5% for the quarter. Sales gains were led by a 28% increase in the U.S. and Canada, partially offset by flat sales in its international markets.
In its equipment group, operating profit improved to $1.13 billion from $969 million a year ago, led by price realization and higher shipment volumes. However, high products and raw material costs, as well as a strong dollar, negatively impacted the segment.
Deere expects equipment sales to increase by about 13% for both fiscal 2012 and the current quarter, including an expected unfavorable currency-translation impact of about 3%.
"Global economic conditions and dryness in several key markets warrant some caution in coming months," Allen said. "However, this year's drought could positively influence our outlook as it spotlights the need for John Deere's highly productive agricultural equipment."
Agriculture and turf sales grew by 14% during the quarter, while construction and forestry sales grew by 23%. Looking ahead, Deere sees agriculture and turf sales growing by 13% in 2012, while agricultural machinery in the U.S. and Canada grows by more than 10%.
Sales in Asia are projected to be down moderately for the full year due to softening in India and China, while sales in South America are expected to fall by as much as 5% to 10% as a result of "uncertainty in Argentina and drought conditions earlier in the year," Deere said.
The company noted that global grain supplies are expected to further tighten because of the drought, which would lead to higher commodity prices and result in "robust field activity" in the 2013 crop year.
Deere sees construction and forestry worldwide sales growing by about 17% in 2012.
The manufacturer noted that while construction equipment sales in the U.S. continue to "show strong recovery," it has experienced slower-than-expected sales in some international markets. World forestry markets are projected to be flat.