Jobs Pose Concern for Vets Flocking to Charlotte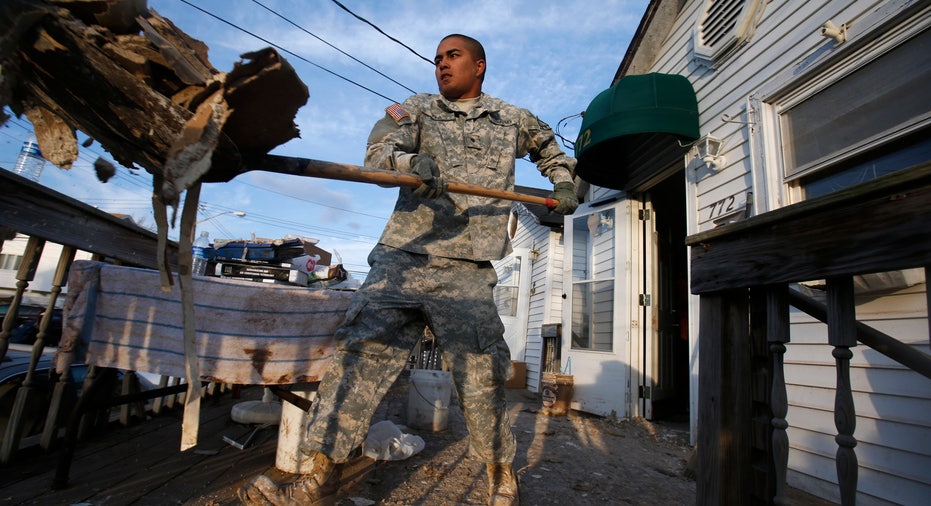 As the U.S. continues to withdraw forces from Afghanistan, Charlotte, North Carolina is preparing for an influx of veterans.
Last week, West Point graduate Paula Broadwell spoke to the Charlotte Rotary Club on behalf of veterans, saying the Department of Veterans Affairs expects between 7,000 and 10,000 veterans to move to the Charlotte area within the next 18 months. Broadwell, a Charlotte transplant herself, is the author of a best-selling biography of Gen. David Petraeus; she made headlines last year for her extramarital affair with the general, which led to his resignation as CIA director.
While a spokesperson for the VA was unable to confirm the exact number cited by Broadwell, military experts in Charlotte say the city -- which is popular among soldiers returning to civilian life -- is expecting thousands of new veterans in the year ahead.
"If you're familiar with North Carolina, there are a lot of military bases … There are roughly 55,000 veterans in Charlotte, spanning the generations," says Blake Bourne, an Army veteran and the director of community initiatives for Charlotte Bridge Home, which connects veterans with employment opportunities in the Charlotte area. "I wouldn't be in this job if [employment] weren't a concern – that's why I'm doing what I'm doing."
Taking Advantage of Charlotte Corporations
Despite an unemployment rate of 9.5% in Charlotte-Mecklenburg County, a relatively low cost of living and good schools attract many newcomers to the area, says Charlotte Chamber of Commerce research director Andrew Bowen.
"There have been many opportunities here traditionally, and people still see it as a place where you can come without a job and find a job," says Bowen, citing financial services companies like Bank of America and Wells Fargo, which have headquarters in Charlotte.
To that end, Charlotte Bridge Home has put together a coalition of companies, including the two big banks, with the aim of finding qualified veterans jobs that engage their unique talents. CAVE, or the Charlotte Area Veterans Employment coalition, also includes Siemens, Duke Energy and Family Dollar.
"These are key organizations – employers that want to not just do lip service, but actually hire veterans for their workforces and share best practices," says Paul Passaro, a 22-year Army veteran and program director at Charlotte Bridge Home.
Next month, the organization will host an event at Fort Bragg where prescreened applicants will interview with hiring managers from the companies. In order to prepare veterans for the job-seeking process, Charlotte Bridge Home offers tips for formatting resumes and networking skills.
Additionally, Charlotte Bridge Home, which launched in 2011, has created a three-tier program to improve the chances for veterans seeking employment. The first and second tiers involve working with veterans face-to-face and getting them connected to available resources in the community, while the third tier is aimed at bringing about change on a policy level, such as bringing down tuition costs at in-state colleges for vets. Passaro says Broadwell is working with the organization in an unofficial capacity on that third tier of goals.
"To be completely frank, when I first heard about [Broadwell], I was relatively new to the area and I was a little standoffish. I had never met her yet," says Passaro, referring to the affair scandal.
"But when I met her … I made my own judgment, and that's what people need to do," says Passaro. He says Broadwell's commitment to the issue is genuine, rather than an attempt to rehab her image, and she's already helped facilitate valuable connections for job-seeking veterans.
Veteran Business Owners Weigh in on Charlotte
Veteran business owners living and working in the Charlotte area say the city is great for vets, and local businesses looking to hire stand to gain.
"I'm partial because I'm ex-military, but the vets we've worked with in the past have a work ethic we've not seen [from non-military employees] … we like to hire veterans," says Justin Whitaker, the owner of AVF Construction, a military subcontracting business.
Whitaker says new vets moving to the city will also help the local economy.
"It's good for local businesses, because they've got money to spend," says Whitaker.
Ed Harris, an army vet and the owner of Building Green Suppliers, agrees.
"Charlotte is a great place – beautiful and expanding, and new corporations are coming," says Harris.
But not all those closely connected to the veteran community have such a rosy outlook.
"Our city needs to be more equipped to handle the veteran population. We have so many now that are lacking the resources they need, and we're getting an abundance of more," says Fostoria Pierson, the director of non-profit organization GrandMaz Hands, which works with homeless veterans.
Pierson estimates there are 500 to 700 homeless veterans in Mecklenburg County.
Pierson, who was married to a Marine, says the community needs to better understand the challenges faced by veterans, especially those suffering from PTSD. She also says the local government needs to become more responsive to the needs of this at-risk population.
"They're not welcoming. I hear the complaints every day from veterans about the lack of support from city and state officials," says Pierson.