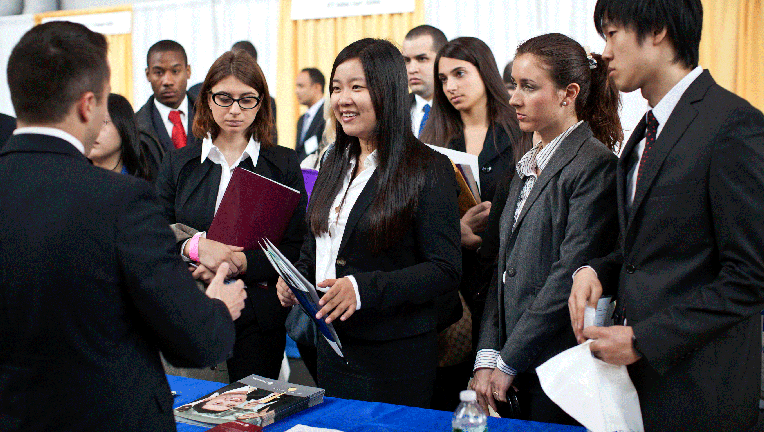 While Friday's jobs report was certainly dismal with employers only adding 113,000 jobs in January, the hiring picture for teens is also looking bleak.
January's report saw unemployment among young workers ages 20 to 24 years-old at 11.9%, compared to the national unemployment rate of 6.6%, according to the Department of Labor.
Corie Whalen, spokesperson for Generation Opportunity, an advocacy group for economic opportunity among young adults, says government regulation is the main obstacle this age group faces when it comes to finding a job.  The group says 18 to 29 years olds face an unemployment rate of 11.3%, close to double the national average. What's worse, those in the same age group who have given up looking for work is even higher at 15.8%.
"More and more government burdens are being placed on businesses, and these are the businesses that would he hiring young people. That is the main problem in terms of lack of job growth," Whalen says. "The economy is growing at the slowest rate in a long time, and we are seeing income inequality that we haven't seen since the Great Depression."
In addition to these factors, Whalen says the economy is also forcing baby boomers nearing retirement to stay in the workforce, leaving fewer opportunities for new workers to enter and climb up the ladder.
Labor analyst Pam Villarreal of the National Center for Policy Analysis, says the competition is increasingly tight for young Americans attempting to break into the labor force.
"We have college grads competing with a high school student for jobs," Villarreal says. "It's one of the biggest challenges. And teens aren't always able to be as flexible with their hours."
ObamaCare mandates might also being putting pressure on companies' budgets. A Congressional Budget Office report released Tuesday cites the president's signature legislation for the loss of 2.3 million jobs through 2017 due to employers either not hiring or moving workers to part-time status. In 2015, every company with at least 50 or more full-time workers has to offer them coverage or they will face a penalty of $2,000 per worker, per year, for failing to comply.
"ObamaCare is gutting the jobs that young people needed to get their foot in the door," Whalen says.
And in addition, Whalen says the Obama Administration's push for a hike in the federal minimum wage nationwide to $10.10 would also be a jobs killer.
"It would absolutely cut jobs," she says of a hike. "The minimum wage isn't meant to be a living wage, it's meant to help young people get entry level jobs and get their foot in the door."
Proponents argue a higher minimum wage will help lift the working poor out of poverty, and give workers starting out a decent chance.
But increasing the cost to have employees could force companies to further tighten their belts.
"Whenever the minimum wage increases, there tends to be an impact on the lowest skilled workers," Villarreal says. "It's just a natural consequence of employers wanting to get the most bang for their buck."