Job Market Improves for Class of 2012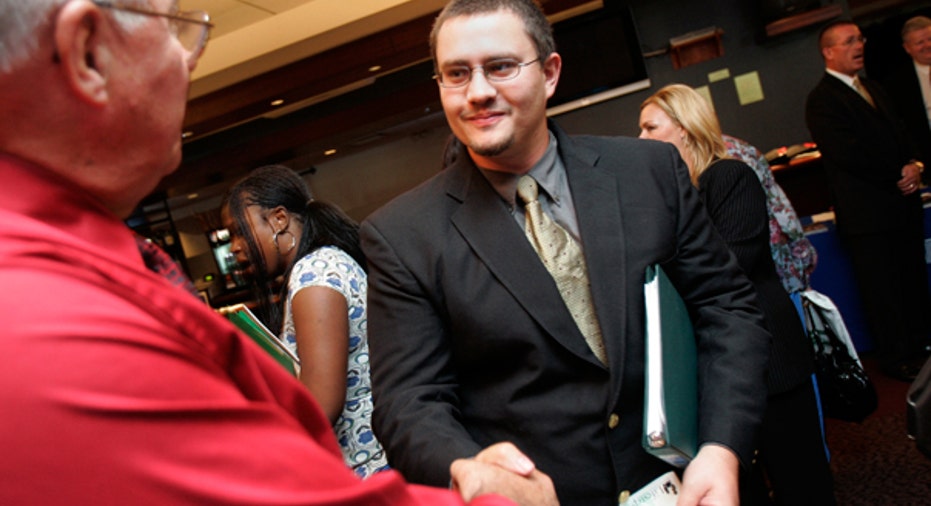 Growing up is tough enough without the worries of your financial future, so Money101  is here for you. E-mail us your questions and let us take off some of the pressure.
As the class of 2012 walks across the stage, there may be another reason to celebrate: There are new signs that companies are increasingly hiring colleges grads.
According to the Job Outlook 2012 Spring Update Survey from the National Association of Colleges and Employers (NACE), employers plan to hire 10.2% more new college graduates from the college Class of 2012 than they did from the Class of 2011. The increase is slightly above the NACE's initial projection of 9.5% made last fall, and marks the second consecutive year in which employers have adjusted their hiring expectations upward.
Although numbers are looking up, grads still face the challenge of distinguishing themselves from the pool of other qualified candidates.
"There will be nearly 33 applications for every job opening posted with a college or university career center across the country," says Jeff Livingston, senior vice president of college and career readiness at McGraw-Hill Education. "With so many applicants for one position, students will have to go above and beyond."
For grads to successfully land a job, we talked to the experts about the change in employer hiring perspectives, what this means for students who still have time to prepare and how grads can get the attention of the hiring manager.
What Employers Want
With slow, but sure signs of recovery, employers are starting to dip their toes back into the hiring pool with cautious optimism, according to Dan Black, director of campus recruiting at Ernst & Young LLP and a member of NACE's Board of Directors.
Ernst & Young LLP is on track to hire approximately 5,400 college graduates from U.S. campuses to fill full-time positions and internships in its 2012 fiscal year, marking the return of the firm's campus hiring to pre-recession levels.
"We are definitely experiencing growth in the markets, so that's additional work for existing clients and we are winning more than our fair share of new clients and getting continued growth in what we would call 'advisory practice,'" Black says.
The economic pickup has created more business activity and employers are putting less emphasis on internal talent development and are seeking more entry-level candidates that can be trained over time, says Kimberly Baker, career services manager at Bryant & Stratton College Online.
"Employers in 2012 are looking more to hire new graduates who have the necessary skills to get up to speed quickly rather than those candidates who need significant training," she says.
How Students Can Take Advantage
Although the increase in hiring is a good sign, it's important to understand that there are certain fields experiencing more growth  than others, says Livingston.
"There's a high demand for college graduates with degrees in engineering, business and computer sciences, he says. "College grads with more general degrees may find it difficult to land a job when their skill set doesn't exactly align with what employers are looking for."
Jackie Sokulski, a Wake Forest University student who recently completed a spring internship with Ernst & Young and accepted a full-time job offer with the firm, recommends students in any major should take advantage of all of their resources on campus (career services, professional organizations, job fairs) to build on professional networking contacts and demonstrate interest in their field.
"I got involved early in things that I was very interested in and the leaders in the Wake Forest community find it very easy to get jobs because they've been dedicated so early and know exactly what they want--those are the types of people that find it easy to get jobs," she says.
How to Get Noticed
Black explains that candidates should make their interest in a company well known before their resume even hits a hiring manager's desk.
"Any time a candidate has the chance to engage with an employer, he or she is enhancing the reputation with that employer," he says.
Sokulski says that when it came time for recruiting season, companies already knew her name and credentials because she had already established contact and started a relationship.
"I had been emailing them to coordinate things and it was so easy in that way because I got to [know them] before I sat down at an interview," she says. "I think networking ahead of time is extremely important for young people in college to get jobs and to start the recruiting process."
The experts unanimously agree that going beyond traditional ways of making connections can allow graduates to take their research past the company website and find out more information about the business and employees.
"Look for opportunities to get involved in your industry through LinkedIn groups, local industry association meetings, and networking events," says Baker. "Stay up to date with news from your industry and don't forget to use avenues online like blog or social media sites to establish and maintain a professional network."