Jeter, Jeb Bush Among Billion-Dollar Bidders for Battered Marlins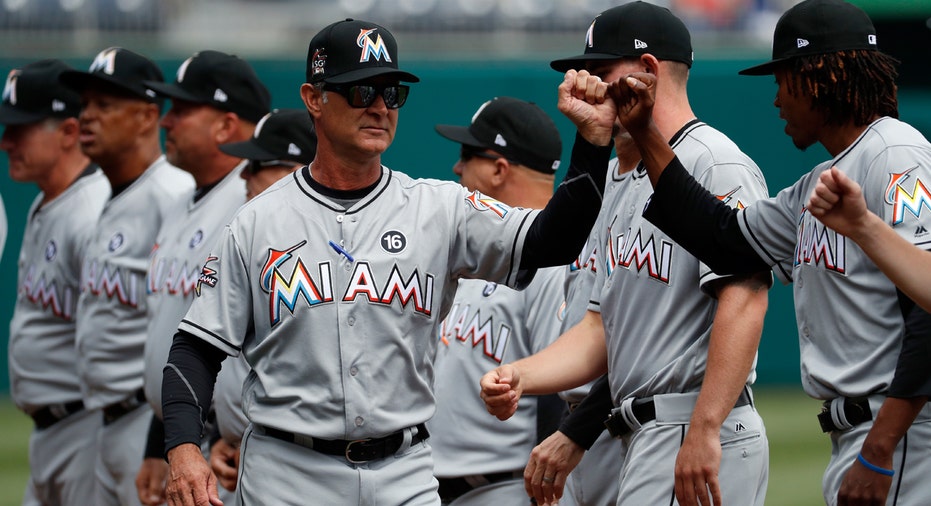 It's opening week for Major League Baseball and a multibillion-dollar bidding war could soon start over one of the worst franchises in the sport.
At least three possible bidders have emerged to purchase the Miami Marlins baseball team including one representing the country's most prominent political family, and one representing a future Hall of Famer, the FOX Business Network has learned.
Former New York Yankees star shortstop Derek Jeter has expressed interest in bidding for the team, according to people with direct knowledge of the matter. He is being represented in talks with Marlins president David Samson by veteran Wall Street executive and former Morgan Stanley (NYSE:MS) brokerage chief Gregory Fleming, who now runs his own investment banking boutique, the people say.
Another major contender is a group headed by former Florida Governor and one-time GOP presidential candidate Jeb Bush, who is teaming up with Citigroup (NYSE:C) to finance a possible official bid, these people add.
At least one other group is in the running for a possible bid, these people add. This group involves a number of businessmen who have gained financial backing from Goldman Sachs (NYSE:GS), which has one of the best investment banking franchises with a focus on sports. The firm, for example, has served as an investment banker to the Yankees and its YES television network. Meanwhile, Goldman has partnered with the Yankees in a business that includes running stadium concessions for the Dallas Cowboys as well as at Yankee Stadium.
It's unclear what role Morgan Stanley might play in a bidding war, or whether it might back the Jeter-Fleming bid.
Spokesmen for Jeter, Bush, Goldman, the Marlins and Citigroup didn't return calls for comment.
The Marlins' current owner Jeffrey Loria has expressed interest in selling the Marlins since late last year, and people involved in the process say while the timetable is fluid, any deal could be completed by May of this year. Loria paid $158 million for the team back in 2002, and even though the Marlins are considered one of the league's worst teams, he could fetch a significant premium in any sale given the scarcity value of MLB teams. People involved in the bidding process say the price tag could range anywhere from $800 million to $1.6 billion.
The Marlins finished the 2016 season in third place in the National League Eastern Division with a 79-82 record. They lost their first game Monday night to the Washington Nationals by a score of 4-2. They play tonight against the Nationals at Nationals Park in Washington, D.C.
The Marlins do have potential, investment bankers tell FOX Business. They won a World Series in 2003, and the South Florida sports market is considered a healthy one, particularly for a winning franchise. The team also has a relatively new stadium, financed by low cost municipal bonds issued by Dade County.
Still, a sale of a baseball team needs approval from MLB Commissioner Rob Manfred, who is said to be against approving the sale to a bidder who needs to borrow significant sums of money to complete the purchase. One problem for Jeter and Bush is that despite their substantial net worth, they would need partners to finance the transaction, and financing from outside sources that the league might find problematic.
The Marlins may ultimately decide not to sell the team if they can't get an offer close to $1.6 billion, people with knowledge of the matter say.
"From what I understand whoever has the most cash will get the deal," said one senior baseball executive who spoke on the condition of anonymity.  "And who knows what the Marlins might do in the end if they don't get the number they want."
In recent weeks, another potential bidder has been the Kushner real estate family, run by venture capitalist Joshua Kushner and his brother-in-law Joseph Meyer. But people close to the deal say that at least for the moment, they are no longer in the running. One reason:  Loria, the Marlins' owner, might get an ambassadorship from the Trump administration, and Joshua's brother, Jared, is one of the president's most powerful White House advisers.
If Loria doesn't get such a role the Kushner's could still be in play for the bidding if they are able to drum up enough cash to satisfy the commissioner's office.
Meanwhile, bankers said to represent a group that included former Massachusetts Governor and 2012 GOP presidential candidate Mitt Romney have also made inquiries about a bid, according to people involved in the process. A spokeswoman for Romney said "Mitt Romney is not involved in an effort to buy the Marlins."
Jeter has made no secret of his desire to buy an MLB team, as FOX Business was first to report in 2015. During his 20 seasons with the Yankees, he has won the MVP award and numerous World Series, and his considered a lock for the Baseball Hall of Fame. More recently, he has launched a series of private businesses including The Players' Tribune, where athletes provide first-person accounts of their lives and careers.
He has also maintained ties to at least two Wall Street firms, Morgan Stanley and Goldman Sachs, where executives have expressed interest in hiring him in some capacity. But over the past year, people who know Jeter say he is most animated with the possibility of being a team owner – a move that has set off a frenzy of investment banking discussions about how to best finance such a deal.