Jeter could see new chance at running Marlins, thanks to mystery bidder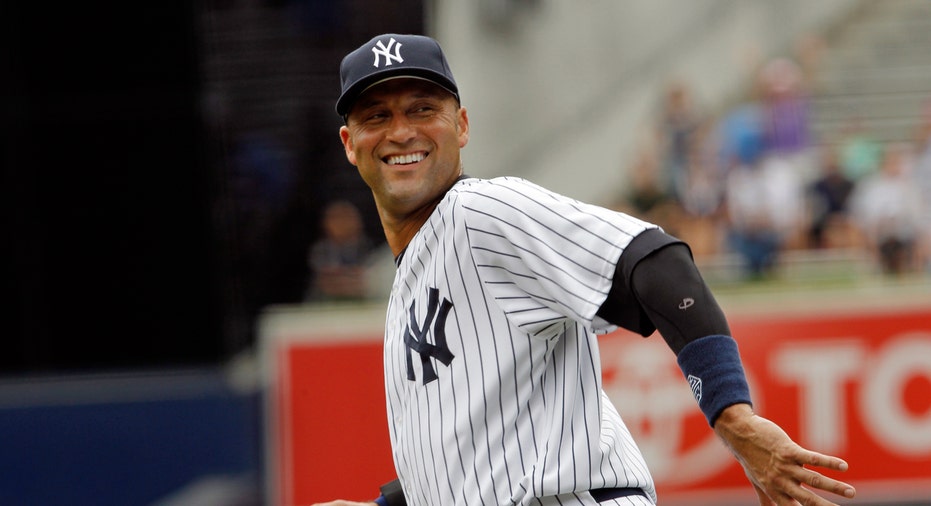 A mystery bidder has emerged in the sale of the Miami Marlins that might give former New York Yankees shortstop and future Hall of Famer Derek Jeter a way to fulfill his dream of running a Major League Baseball franchise, FOX Business has learned.
The mystery bidder was discussed today at a meeting between Major League Baseball Commissioner Rob Manfred, Jeter and representatives of the Marlins, where Jeter revealed, as FOX Business previously reported, that he was still far short of collecting enough cash from outside investors to fulfill his $1.3 billion bid for the team, according to people with direct knowledge of the matter.
Jeter's plan was to post a relatively small amount of his own money—around $20 million—but raise a substantial amount of cash from silent investors who would let him run the team. Also attending the meeting was Jeter's investment banker, veteran Wall Street executive Gregg Fleming, who has recently told people while he is hundreds of millions of dollars short of raising the necessary cash commitments from investors, he continues to dial for dollars and seek out possible investors, these people add.
During the meeting, the commissioner also heard that another bidding team headed by Tagg Romney, a hedge fund executive and son of former 2012 GOP presidential candidate Mitt Romney, is falling short of coming up with the cash necessary to buy the team for his proposed bid of around $1.3 billion, these people add.
But there was some good news for Jeter in his quest to run a big league baseball team and Marlin's owner Jeffrey Loria in his mission to sell one: Manfred spoke during the meeting of a mystery bidder that might emerge publically in the coming days after due diligence on the team's finances. Manfred said the bidder might be willing to pay around $1 billion for the struggling franchise and added it might be feasible that Jeter could team up with the individual and possibly run the team, these people add.
The individual has been described as a South Florida businessman who has the resources to meet requirements from Major League Baseball that he buy the team without incurring much debt and using mostly cash. The name of the mystery bidder could not be obtained, but people close to the matter say he has expressed interest in buying the team for an amount of around $900 million to $1 billion, significantly less than what Jeter and Romney bid.
Representatives for Manfred, Jeter and the Marlins didn't return emails and telephone calls for comment.
The bidding war for the Marlins has captivated both baseball and finance for months now since FOX Business first reported that a number of people—from Jeter to former Florida Gov. Jeb Bush to Romney— were interested in buying the money-losing team.
But the bidding process has been fraught, with the publically announced investing teams finding it difficult to win over possible investors because of the dire condition of the Marlins' finances. The team is losing money and heavily in debt. Its purchase price has skyrocketed largely because of the scarcity value of Major League Baseball franchises.
After joining forces with Jeter, Bush dropped out of the bidding process weeks ago and Romney is said to be all but out of the process now unless Loria lowers his price tag. Indeed, Loria, who made his fortune through art dealing, bought the team for a fraction of its current selling price.
Now, he is using the dearth of teams on the market to his advantage by creating a bidding war that many baseball experts say has inflated the value of the Marlins well beyond what the franchise is worth.