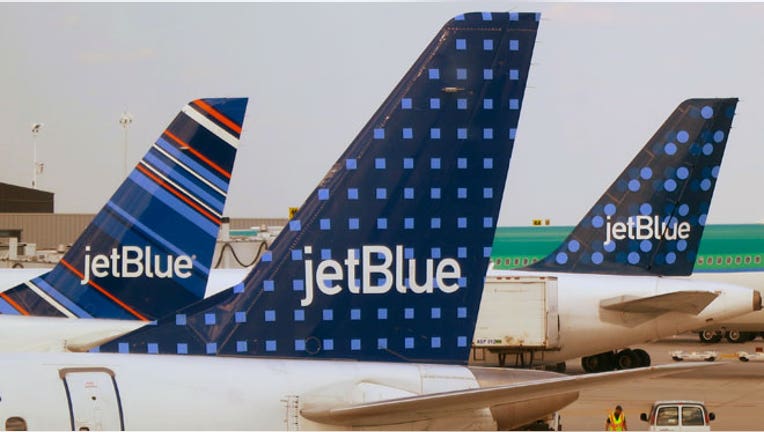 JetBlue Airways (NASDAQ:JBLU) said it planned to suspend flights at New York and Boston airports later on Monday, and gradually resume them on Tuesday, as extreme cold hobbled airline operations in the U.S. Midwest and Northeast regions.
Temperatures below zero in the U.S. Midwest were making it difficult for airlines to fuel planes and posing exposure hazards for ramp employees.
The brunt of the impact was felt in areas such as Chicago, Minneapolis and Cleveland. More than 1,600 flights were canceled at Chicago O'Hare, an airport that typically has 2,400 daily flights.
"Even though there is not a lot of precipitation falling, extreme cold weather can severely impact operations," Andrea Huguely, a spokeswoman for American Airlines Group (NASDAQ:AAL), said in an email.
American and American Eagle canceled more than 500 flights on Monday, roughly 14 percent of its typical daily flights of 3,500. At Chicago O'Hare, American had "minimal operations" and canceled nearly 380 flights, including American Eagle flights.
"The problem we - and other carriers - faced very early is the fueling pumper trucks wouldn't work," said American spokeswoman Mary Frances Fagan. "Parts were frozen. Fuel nozzles were also frozen and had to be taken to a hangar to thaw out. It's slow going."
Southwest Airlines (NYSE:LUV) suspended flights at Chicago Midway airport on Monday, also citing fueling problems. United Continental Holdings (NASDAQ:UAL) canceled 460 flights at O'Hare, including 380 on regional carriers.
JetBlue said halting its flights at John F. Kennedy International, LaGuardia, Newark Liberty and Boston Logan airports would allow time to melt ice from its planes, position flight crews and take other steps to recover from snow storms that recently struck the Midwest and parts of the Northeast.
"It's a combination of everything that has had a domino effect the last few days," JetBlue spokesman Anders Lindstrom said. "As one of the largest carriers in the Northeast, weather in this area impacts our entire route network and operations."
Winter and accompanying storms are a major issue for U.S. airlines in the first quarter. Airlines typically will proactively cancel flights during a major storm to minimize disruptions.
David Fintzen, an airline analyst with Barclays, said it was too soon to comment on financial impact from the flight cancellations tied to the recent bad weather.
"Only thing I would say is that with U.S. airlines in much stronger financial positions and investors increasingly focused on the bigger industry picture, severe weather in any one quarter is increasingly looked through by the markets," Fintzen said in a statement to Reuters.
"Moreover, short-term weather impact is disruptive to passengers but financially is a minor factor for earnings versus trends in the overall economy or fuel prices," Fintzen added.
Delta Air Lines (NYSE:DAL), which has major operations in Minneapolis and the New York area, said it had 400 cancellations across the Delta and Delta connection networks, out of a systemwide total of more than 5,000 daily flights.
"We're treating today as a recovery day and things look better for tomorrow," Delta spokesman Morgan Durrant said.
Shares of JetBlue were down 4 percent at $8.68 on Monday as most U.S. airlines traded weaker. Southwest shares were off 1.4 percent at $19.15. Delta was up 0.2 percent at $29.29 in afternoon trading, while American Airlines gained 1.5 percent to $26.95.
(Reporting by Karen Jacobs; Additional reporting by Nivedita Bhattacharjee in Chicago; Editing by G Crosse and Steve Orlofsky)