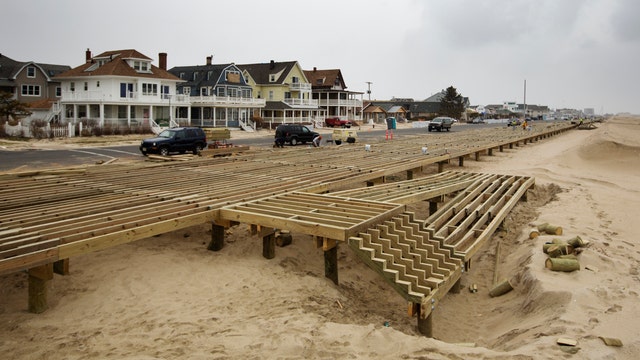 Superstorm Sandy struck almost seven months ago – but it's not old news in the minds of Jersey Shore business owners as they prepare for the summer season.
While some tourists seem eager to visit the summer destination spot and survey the damage, business owners say other would-be vacationers are worried destroyed beaches and closed shops might spoil the summer fun.
"Many are reluctant to make reservations, because they think the beaches won't be up and running," says Renee Typaldos, the owner of the Grenville Inn, in Bay Head, New Jersey.
And Glenn Kithcart, owner of Bay Head's Bentley Inn, says callers are concerned about the size of the beach.
"It's there, but it's much shorter and smaller than it used to be," Kithcart says.
FOXBusiness.com spoke with small business owners along the Jersey Shore to see how they've been preparing for the summer – and whether tourism will help them rebuild.
Expensive Damage -- and Not a Lot of Government HelpThe Grenville is situated one short block from the Atlantic Ocean, and an equal distance from Twilight Lake. The 125-year-old hotel lost electricity for 90 days, but lack of power was just the beginning.
"We have our roof which needs to be repaired, all our electric needed to be rewired, our heating and AC is in the process of being redone, and the elevator had to be replaced," says Typaldos.
On top of the structural damage, The Grenville lost its stock of wines, banquet silver, refrigerators, washers and dryers. Typaldos submitted insurance claims for over $500,000, and is out of pocket another quarter of a million dollars.
"We're still waiting for wind coverage to pay out, but flood insurance paid out immediately," Typaldos says. As for government help, Typaldos hit a bump: The first application to the Small Business Administration was denied, but she's currently in the process of filing another.
"We've applied to every fund that's available," she says.
Tangerine Boutique, a women's clothing store in Bay Head, had four feet of flooding in the store during the height of the storm.
"We lost all the merchandise and just opened a month ago," says Joan Ferrara, a sales associate, who adds that Tangerine also lost its point of sale system, computers and phones.
Ferrara says the store hasn't received "one penny" from the government. "The owner has been trying to work it out with the SBA, but every time she submits papers, she gets more – it's been like starting a business over again," she says.
The same goes for Kithcart, who has submitted applications to the SBA, but hasn't received any money yet. "We had major flooding that wiped out our utilities, and wind damage, but we were relatively lucky," he says, noting that the total cost came to about $200,000.
Concerns and Hopes for the Summer Season Typaldos says bookings have not been as strong as in previous years. While the hotel's restaurant has been open for business, the Grenville has been dependent on out-of-town visitors, as many residents have not been able to return to their homes.
"During the week, we're at 50% to 75% occupancy for the hotel," she says.
While Long Branch's Ocean Place Resort had minimal damage from the storm, director of sales Mary Lou Pollack says the hotel's regular clientele was hard-hit by Sandy.
"We've had a very good leisure guest following from northern New Jersey, metropolitan New York and specifically Staten Island. We've seen a decrease in business from Staten Island, because it was hit so hard and people really don't have the discretionary income," says Pollack.
"You're in a state of denial if you think there won't be challenges this summer," she says.
Kithcart says the Bentley is behind 20% in bookings, but he and other business owners are hopeful that fewer options will make this summer a success – even if there are fewer tourists.
"There are less rental properties available, and owners who are repairing their summer homes but still want to come to the beach may give us some business, too," says Kithcart.
Pollack says she's feeling optimistic as well, given the "compression in the marketplace."
"Businesses that may have competed with us are not on their feet again," she says. Pollack adds that there's been a groundswell of support from New Jersey's Fortune 500 companies that is helping Ocean Place.
"There are many businesses, executives and senior leaders from New Jersey's wonderful Fortune 500 companies who are deciding to have corporate meetings on the shore," she says.
"It seems like they woke up in January and said, I won't have my Chicago meeting in Chicago – I'll have it at the Jersey Shore."
Wary Owners Reconsider Their Business PlansDespite a sense of optimism, business owners along the shore are viewing their options pragmatically.
Ferrara says while some of Tangerine Boutique's neighbors have reopened shop, others have decided to close altogether.
"One woman was elderly, and she's not reopening – she lost her house and her business, which was a woman's clothing store with children's clothing in the back," says Ferrara.
And at Glide Surf Co., owner Philip Brown has decided to move his business from Ocean County's Normandy Beach – where the shop experienced 6 inches of flooding – to Asbury Park in Monmouth County.
"Only a quarter of the residences are habitable in Normandy Beach," says Brown. "I can't imagine real commerce going on there for quite some time.
"With the lack of commerce, I think the economic effects of staying would have been tenfold the effects of the physical damage."
Brown is choosing Monmouth County because he says it was "hit less hard than Ocean County."
"They're already up and running with the boardwalk by Memorial Day Weekend," he says.