Jeb Bush Wants to 'Unleash the Energy Revolution'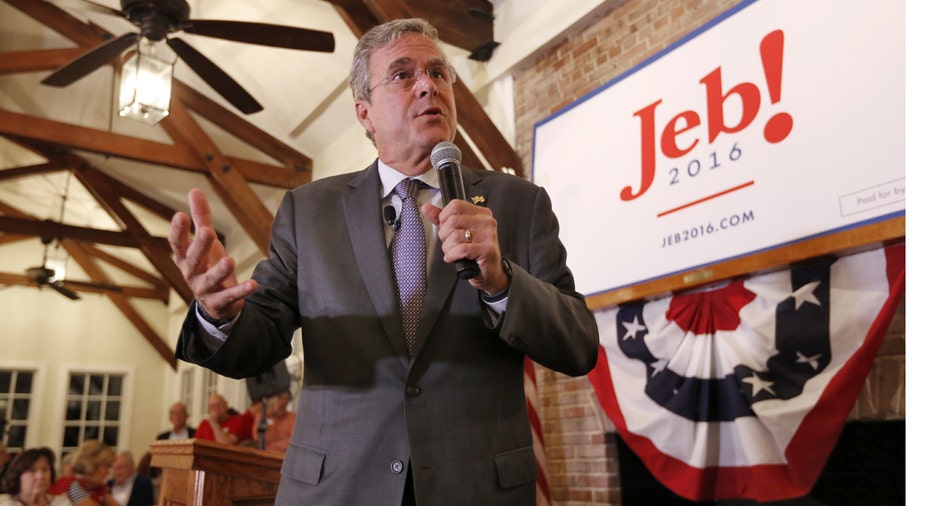 A revved up Jeb Bush rolled out his energy reform plan in Canonsburg, Pennsylvania on Tuesday.
"We should lead the world in creating a 21st century manufacturing sector with great workers with great innovation and low energy costs and energy sources as far as the eye can see!"
Bush's proposal includes approving the Keystone XL Pipeline, lifting a 40-year-old ban on exporting crude oil, easing restrictions on natural gas exports, reducing some environmental regulation and allowing states to determine their own energy desires.
The former Florida governor says his "four common-sense ideas" partnered with the tax plan he unveiled earlier this month will jump start the economy and restore opportunity.
"Four percent growth means that we lead the world, which is exactly what the United States should do," said Bush.
During the press conference, Bush said having energy security with North American resources would also create "the lowest cost source of energy."
"I am sick and tired of people thinking that the Chinese are eating our lunch. What we need to do is to tear down the barriers so we could out compete the Chinese and anybody else and I know America can do it," said Bush.
Speaking about the Keystone XL pipeline Bush added, "The radical environmentalists in this country are not allowing Hillary Clinton and Barack Obama to do what they know is the right thing to do. Well I won't be pressured; I will support the XL pipeline and it will make sense for our country and it will create jobs."
He says economic interests and environmental progress can be balanced. In response, environmentalists were quick to criticize Bush's proposals.
Sierra Club Political Director Khalid Pitts released the following statement:
"This dangerous energy plan isn't 'low energy' or 'high energy'-- it's every type of 'dirty energy.' This plan promises voters the world, but the truth is that the world is exactly what it would sacrifice to fatten the wallets of dirty energy conglomerates like Koch Industries--all while failing to tackle the moral imperative of the climate crisis and just days after Pope Francis made clear that this is one of the greatest challenges facing humanity."
As part of his plan, Mr. Bush said he would repeal the renewable fuel standard and likely eliminate the mandate by 2022. While the mandate is supported by most voters in the battleground state of Iowa, it is opposed by the oil and natural gas industry. Other GOP candidates also have mixed positions; Senator Ted Cruz opposes the renewable fuel standard mandate, while Governor Chris Christie and former Arkansas Governor Mike Huckabee support it.