Jeb Bush and Derek Jeter will not be buying the Miami Marlins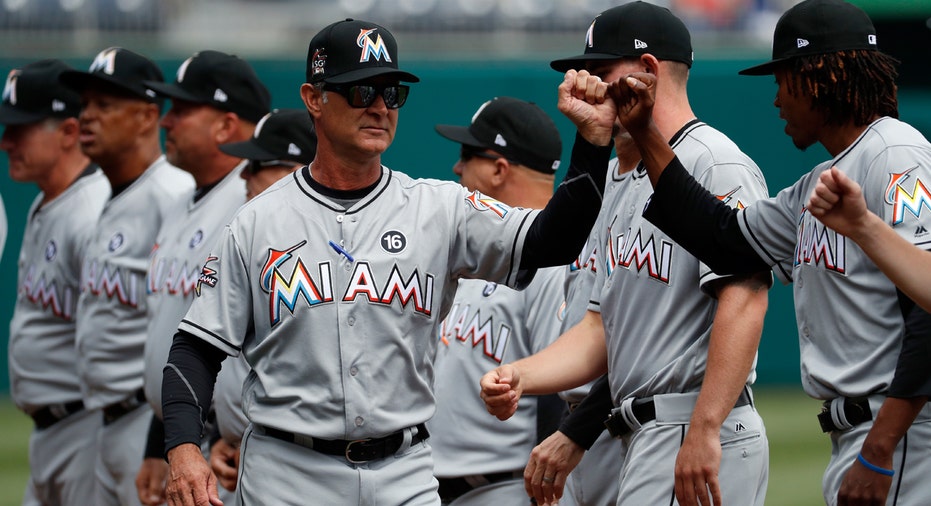 The deal that would have paired the 2016 GOP presidential hopeful, Jeb Bush, and former New York Yankee star, Derek Jeter, is dead.
FOX Business has confirmed that the investment team -- which once held the "preferred bid" to purchase the baseball franchise for $1.34 billion -- has dropped out of the race to buy the team after failing to come up with enough cash to secure the deal.
Jeter, the former All-Star short stop for the New York Yankees, may jump to another investor group to fulfill his post-baseball dream of owning a team, these people say. But with Bush, the former Florida governor and 2016 GOP presidential candidate out of the running, the leading investor group to buy the team appears to be the one headed by Tagg Romney, a wealthy private equity executive.
Romney has bid around $1 billion or possibly more for the money-losing team.
Tagg Romney is the son of 2012 GOP presidential candidate Mitt Romney, who was also the co-founder of private equity powerhouse Bain Capital; the Romney family has connections to a broad array of potential investors that would satisfy Major League Baseball requirements that any purchase contain a large cash component.
Earlier this month, FOX Business was first to report that the Jeter-Bush bid was in jeopardy with the duo's bankers hitting a roadblock in raising the $1.34 billion, mostly cash, bid to buy the team, according to two people with direct knowledge of the deal.
The report of the difficulties came after multiple news outlets said Jeter and Bush had actually won the right to purchase the Marlins.
FOX Business accurately reported that their investment team merely held the preferred bid of $1.34 billion -- higher than other possible bidders--for the team. These other bidders, including the Romney group were still in the running, if the Bush-Jeter team failed to come up with the necessary cash to secure their bid.
The developments involving Bush's official withdrawing from the bidding were first reported by the Associated Press, which cited a person close to the negotiations, without giving a reason. FOX Business has confirmed the matter as well.
Spokespeople for Bush, Jeter and Romney did not return FOX Business' requests  for comment at the time of publication.
One obstacle for the Bush-Jeter team in winning over possible investors was the dire condition of the Marlins' finances. The team is losing money and heavily in debt. Its purchase price has skyrocketed largely because of the scarcity value of Major League Baseball franchises.
Owner Jeffrey Loria, who made his fortune through art dealing, bought the team for a fraction of its current selling price. Now, he is using  the dearth of teams on the market to his advantage by creating a bidding war that many baseball experts say has inflated the value of the Marlins well beyond what the franchise is worth.