Japanese PM kicks off six-nation European tour in Estonia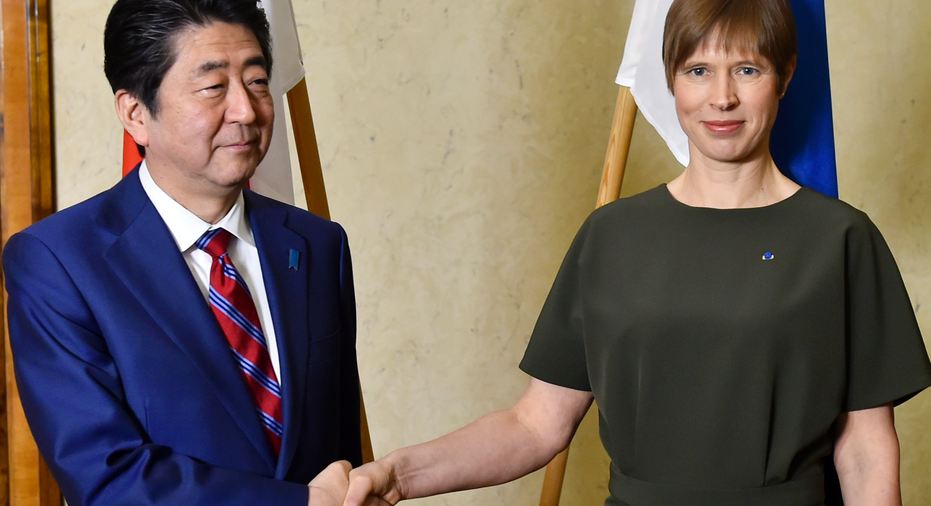 Japan's prime minister has kicked off a five-day European tour to Estonia, Latvia, Lithuania, Bulgaria, Serbia and Romania — becoming the first-ever head of the Asian nation to visit those countries.
Prime Minister Shinzo Abe arrived Friday in Estonia's capital of Tallinn, where he focused on cybersecurity and information technology issues. The small Baltic nation of 1.3 million people is considered one of Europe's most advanced technological nations.
Tokyo has been increasingly worried about potential cyberthreats from North Korea and China, and is looking to learn from Estonia, whose public institutions and private companies were hit by a large-scale cyberattack in 2007.
Following a meeting with Estonian Prime Minister Juri Ratas, Abe said both leaders agreed about the threat posed by North Korea's nuclear arms program. He urged the international community to "maximize the pressure" on Pyongyang.
Abe is expected to address the North Korea issue in more detail when he visits Bulgaria, which took over the European Union's rotating presidency from Estonia on Jan. 1.
Abe announced that Japan would join NATO's cyberdefense center in Tallinn to boost its capabilities to deal with digital threats.
Abe also met with Estonian President Kersti Kaljulaid over discussions on EU-Japan relations and bilateral trade, accompanied by a business delegation with several dozen representatives from Japanese companies.
He travels to Estonia's Baltic neighbors Latvia and Lithuania on Saturday.