Japanese Engineers Aim to Restore Power to Avert Catastrophe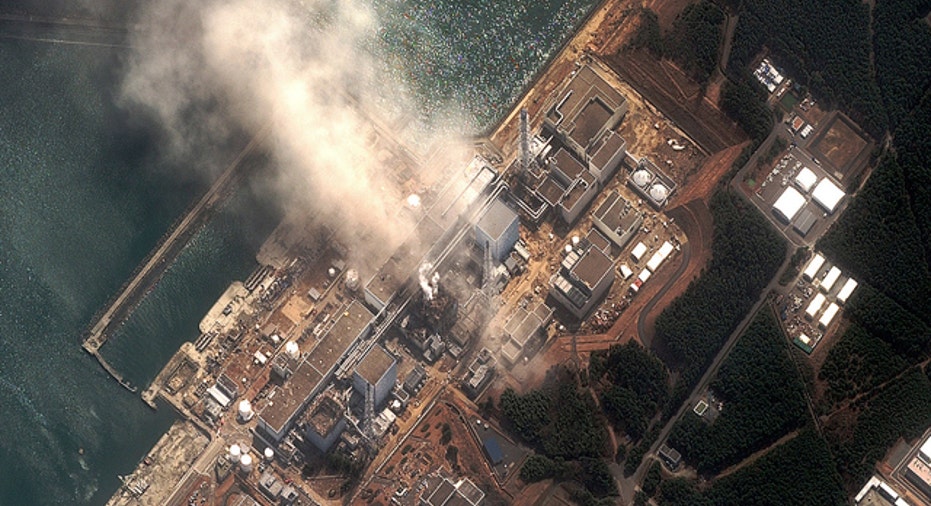 Japanese engineers worked through the night to lay a 1.5 km (one mile) electricity cable to a crippled nuclear power plant in the hope of restarting pumps desperately needed to pour cold water on overheating fuel rods and avert a catastrophe.
Officials could not say when the cable might be connected, but said work would stop on Friday morning to allow helicopters and fire trucks to resume pouring water on the Daiichi plant, about 240 km (150 miles) north of Tokyo.
"Preparatory work has so far not progressed as fast as we had hoped," an official of plant operator Tokyo Electric Power Co (TEPCO) told a news briefing, adding that a cold snap was hampering the effort.
Washington and other foreign capitals have expressed growing alarm about radiation leaking from the plant, severely damaged by a magnitude 9.0 earthquake and tsunami a week ago that triggered a series of destructive explosions which compromised the nuclear reactors and spent fuel storage tanks.
Yukiya Amano, head of the Vienna-based International Atomic Energy Agency (IAEA), was due back in his homeland later on Friday with an international team of experts after earlier complaining about a lack of information from Japanese authorities on the crisis.
Even if TEPCO manages to connect the power, it is not clear the pumps will work as they may have been damaged by the natural disaster or subsequent explosions. Work has been slowed by the need to frequently monitor radiation levels to protect workers.
U.S. officials took pains not to criticize Japan's government, but Washington's actions indicated a divide with its close ally about the perilousness of the world's worst nuclear accident since the Chernobyl disaster in 1986.
COOLING POOL MAY HAVE RUN DRY
The top U.S. nuclear regulator said the cooling pool for spent fuel rods at the complex's reactor No.4 may have run dry and another was leaking.
Gregory Jaczko, head of the U.S. Nuclear Regulatory Commission, told a congressional hearing that radiation levels around the cooling pool were extremely high, posing deadly risks for workers still toiling in the wreckage of the power plant.
"It would be very difficult for emergency workers to get near the reactors. The doses they could experience would potentially be lethal doses in a very short period of time," he said in Washington.
Japan's nuclear agency said it could not confirm if water was covering the fuel rods. The plant operator said it believed the reactor spent-fuel pool still had water as of Wednesday, and made clear its priority was the spent-fuel pool at the No.3 reactor.
On Thursday, military helicopters dumped about 30 tons of water, all aimed at this reactor. One emergency crew temporarily put off spraying the same reactor with a water cannon due to high radiation, broadcaster NHK said, but another crew later began hosing it.
Latest images from the plant showed severe damage, with two of the buildings a twisted mangle of steel and concrete.
"The worst-case scenario doesn't bear mentioning and the best-case scenario keeps getting worse," Perpetual Investments said in a note on the crisis.
FINANCIAL LEADERS BID TO AVERT GLOBAL CRISIS
Financial leaders of the world's richest nations will hold talks on Friday on ways to calm global markets roiled by the crisis amid concern it will unravel a fragile global economic recovery.
Japanese Economics Minister Kaoru Yosano told Reuters the country's markets were not unstable enough to warrant joint G7 currency intervention or government purchases of shares.
That said, the yen surged to a record high against the dollar on market speculation Japan would repatriate funds to pay for the massive cost of post-disaster reconstruction, rising as high as 76.25 to the dollar and surpassing the previous record high of 79.75 reached in the wake of the Kobe earthquake of 1995.
Japan's Nikkei average fell sharply on opening on Thursday, but ended the day down just 1.44 percent. The Nikkei has fallen more than 12 percent this week.
Sebastian Pflugbeil, president of the private German-based Society for Radiation Protection, said Japan's efforts to pull the Fukushima plant back from the brink signaled "the beginning of the catastrophic phase".
"Maybe we have to pray," he said, adding that a wind blowing east into the Pacific would limit any damage for Japan's 127 million people in case of a meltdown or other releases, for instance from spent fuel storage pools.
POSSIBLE LARGE_SCALE BLACKOUTS
The government warned Tokyo's 13 million people to prepare for a possible large-scale blackout but later said there was no need for one. Still, many firms voluntarily reduced power, submerging parts of the usually neon-lit city in darkness.
In a possible sign of panic, one bank, Mizuho, said all its automated teller machines in the country crashed twice on Thursday after excessive transactions.
On Thursday, the U.S. embassy in Tokyo urged citizens living within 80 km (50 miles) of the Daiichi plant to evacuate or remain indoors "as a precaution", while Britain's foreign office urged citizens "to consider leaving the area".
The latest warnings were not as strong as those issued earlier by France and Australia, which urged nationals in Japan to leave the country. Russia said it planned to evacuate families of diplomats on Friday, and Hong Kong urged its citizens to leave Tokyo as soon as possible or head south.
Japan's government has told everyone living within 20 km (12 miles) of the plant to evacuate, and advised people within 30 km (18 miles) to stay indoors.
At its worst, radiation in Tokyo has reached 0.809 microsieverts per hour this week, 10 times below what a person would receive if exposed to a dental x-ray. On Thursday, radiation levels were barely above average.
TOKYO RESIDENTS STAY INDOORS
Many Tokyo residents stayed indoors, however, usually busy streets were nearly deserted and many shops were closed. At the second-floor office of the Tokyo Passport Center in the city's Yurakucho district, queues snaked to the first floor.
"Since yesterday we have had one-and-a-half times more people than usual coming to apply for a passport or to enquire about getting one," said Shigeaki Ohashi, a center official.
The plight of hundreds of thousands left homeless by the earthquake and tsunami worsened following a cold snap that brought heavy snow to worst-affected areas.
Supplies of water and heating oil are low at evacuation centers, where many survivors wait bundled in blankets.
About 850,000 households in the north were still without electricity in near-freezing weather, Tohuku Electric Power Co. said, and the government said at least 1.5 million households lacked running water.
The National Police Agency said on Friday it had confirmed 5,692 deaths from the quake and tsunami disaster, while 9,522 people were unaccounted for in six prefectures.