Japan Banks May Lend $25B to Nuclear Operator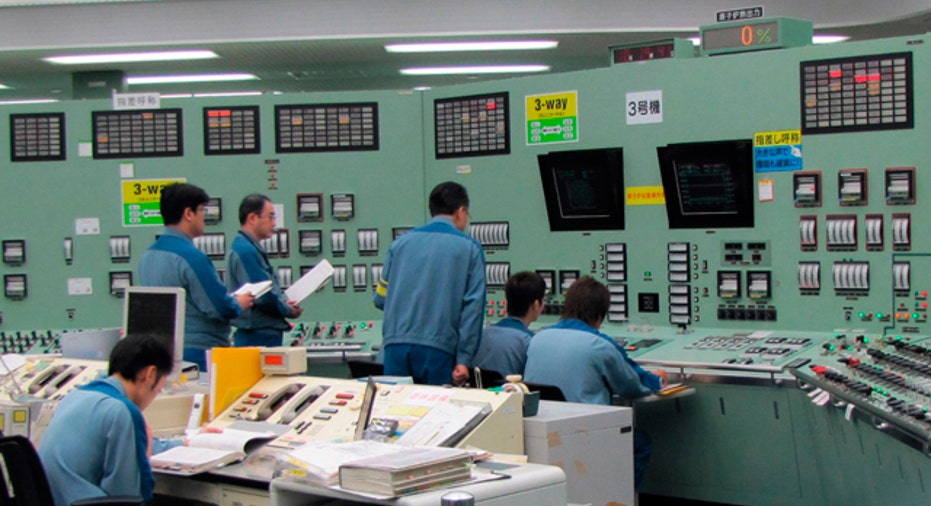 Japan's largest banks are in talks to provide up to $25 billion in emergency loans to Tokyo Electric Power to shore up its finances and rebuild its power network following a disaster at one of its nuclear plants.
Tokyo Electric, Asia's largest utility, is waging a desperate battle to cool reactors at its Fukushima-Daiichi power plant which were crippled by the powerful earthquake and tsunami on March 11 and have leaked radiation.
The disaster knocked out about 20 percent of Tokyo Electric's operating thermal and nuclear generation, forcing it to implement rolling blackouts set to last months until it can secure alternative sources of power.
Highlighting the uncertainty over its financial prospects, the company -- known for its rich and steady dividends -- said on Wednesday that it was now not sure what its annual dividend would be, erasing its prior forecast for a payout of 60 yen per share.
Sumitomo Mitsui Financial Group, the utility's main lender, is expected to provide more than 500 billion yen in loans out of an emergency package that could total 2 trillion yen ($25 billion), sources with direct knowledge of the matter said.
Mitsubishi UFJ Financial Group and Mizuho Financial Group are considering loans of 200-500 billion yen each. Sumitomo Trust and Banking and other major trust banks are also expected to offer funds, the sources said.
The loans would be used to fix damaged plants and for other reconstruction efforts and may be extended to the utility as early as this month, according to the sources, who were not authorised to speak publicly about the matter.
"Interesting, as one suspects that the government has implicitly guaranteed the survival of TEPCO as a regulated entity if all these institutions are willing to accept the risk," said Penn Bowers, an analyst at CLSA Asia-Pacific Markets in Tokyo.
"Given the amount of cash on the balance sheet, I am surprised at the urgency of talks but certainly the need to prevent a crisis of confidence could be seen as necessary to keep recovery efforts stable," he said.Tokyo Electric, which provides power to about one-third of the Japanese population, had 432 billion yen in cash and equivalents at the end of December and 7.5 trillion yen in outstanding debt, according to its financial statements.
Of its $64 billion in outstanding bonds, the company is due to repay $4.8 billion this year, and another $5.6 billion in 2012, underscoring the importance of refinancing to meet its funding needs.Last week, credit ratings agency Standard & Poor's cut its long-term and short-term ratings on TEPCO by one notch to "A+" and "A-1" respectively. Moody's also cut the firm's long-term rating by two notches to "A1."
The spread of Tokyo Electric's bonds over Japanese government bonds expanded to about 100 basis points at their peak from 7 or 8 basis points before the quake, pushing them into oversold territory, a senior fund manager said.
"The general perception of the market now is that the situation at Tokyo Electric's Fukushima Daiichi plant is settling down gradually," said Nobuto Yamazaki, the head of fixed income at asset manager Diam Co Ltd.
RISING FUEL COSTS
At the six-reactor Fukushima-Daiichi plant, engineers are battling to cool the reactors to contain further contamination and avert a meltdown.
But even if TEPCO is able to regain control of Fukushima-Daiichi, it faces lengthy repairs and inspections at other nuclear facilities and will have to burn more oil and gas to make up for the nuclear shortfall, eating away at its finances.
In addition to the destroyed Fukushima-Daiichi plant, Tokyo Electric's Fukushima-Daini plant is also out of action, along with some 18 percent of the company's thermal power capacity.
Damage to plants, lines and networks in the most affected northeast of the country is expected to linger, raising the prospect of blackouts during the peak summer demand season.
Tokyo Electric has said it would likely be able to secure 54 gigawatts of supply by summer, up from around 35 gigawatts now, as it restores some of the damaged thermal plants and brings on other plants that were mothballed or down for maintenance.
When the company announced third-quarter results in January, it said that every one percent fall in its nuclear power utility rate would trim its annual profit by 11 billion yen in the form of increased fossil fuel costs.
CLSA's Bowers says its fuel costs could rise by 700 billion yen in the financial year to March 2012 "given the change in fuel mix - the ability to pass this through will be the key long-term factor for funding."
Five-year credit default swaps for insuring against a Tokyo Electric default hit a record high of 373 basis point on March 17. The spread has since tightened to close at 245 on Monday, reflecting some progress in containing the crisis.
"We don't have a problem with cash at hand, but as we see a need for large funds in next financial year (beginning on April 1), we are procuring funds as needed," said Hajime Motojuku, a TEPCO spokesman, declining to elaborate.
A spokeswoman for Sumitomo Mitsui Banking Corp, the core commercial banking unit of SMFG, declined to comment on transactions with a specific client but said the bank would like to give "maximum support for TEPCO as its main lender."
A spokesman for MUFG said the bank has been approached by TEPCO for loans but details have not been decided yet. A Mizuho spokesman said he could not comment on individual transactions.
Shares of TEPCO ended down 4.5 percent at 1,049 yen, underperforming a 1.7 percent fall in the benchmark Nikkei average. The stock has lost about half of its value since the quake, cutting its market value to less than $22 billion. ($1 81.065 Japanese Yen)