Jaguar Land Rover Expands Overseas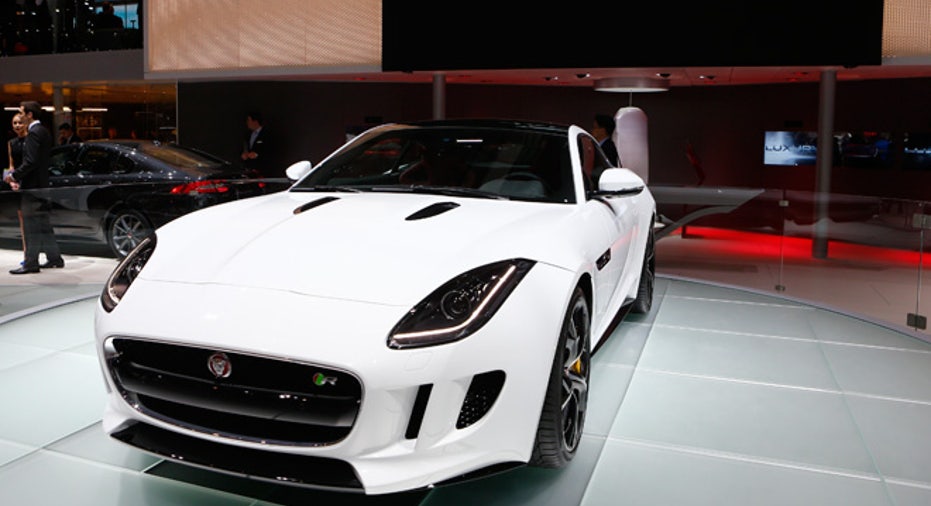 After opening a new manufacturing plant in China, Jaguar Land Rover may be looking to do the same in the U.S. amid a promising sales outlook.
The China factory, Jaguar Land Rover's first outside of the U.K., marked the next step in its transformation. India-based Tata Motors (NYSE:TTM), its parent company, has focused much of its attention on expanding Jaguar Land Rover since acquiring the British brands from Ford Motor Co. (NYSE:F) in 2009.
Tata Motors plans to invest up to £3.7 billion, approximately $5.9 billion, in its U.K. subsidiary's facilities and products during the current fiscal year, which ends March 2015.
The new plant in China is jointly owned with Tata's regional partner, Chery Automobile. Annual production there can reach as high as 130,000 vehicles. Jaguar Land Rover is starting with the Range Rover Evoque compact sport-utility vehicle, and two more models will be added to assembly lines in China by 2016.
Construction on a second overseas factory in Brazil is scheduled to begin at the end of this year.
Jaguar Land Rover also could be close to bringing its international expansion to the U.S. According to London's Sunday Times, the company is talking with several states in the South about a potential factory that would produce 200,000 vehicles a year.
Stuart Schorr, a spokesman for Jaguar Land Rover North America, called the Sunday Times article "highly speculative."
In a statement, Jaguar Land Rover said it has "ambitions to expand its international manufacturing footprint," although it hasn't made any decision on future manufacturing locations.
"But we will continue to evaluate opportunities to increase our international manufacturing footprint, primarily in markets with significant growth potential and customer demand," the company added.
Reaching More Customers
By manufacturing cars in other regions, Jaguar Land Rover avoids hefty import taxes and opens the door to more competitive price tags. That flexibility will come in handy as Jaguar Land Rover ramps up efforts to take on BMW, Daimler's Mercedes-Benz and other premium brands in the U.S. and China.
Schorr noted that production in China frees up capacity in the U.K. as well, allowing the automaker to better serve other global markets.
"It makes sense to produce in China. The import tariffs are very high especially for large engines," said Jessica Caldwell, a senior analyst at car-shopping site Edmunds.com.
Growth in China's SUV segment bodes well for Land Rover, Caldwell added. "You'd think cars in Asia are small, but they're not."
Sales growth in China, Jaguar Land Rover's fastest-growing market, is expected to slow down this year. The company expects a 20% increase in sales, roughly half of last year's growth.
However, Jaguar Land Rover has seen China volume climb 39% through the first nine months of 2014. The rest of Asia Pacific is up 18%, and sales in North America have risen 7%. The group reported worldwide sales of 351,153 vehicles, up 12% versus the same period a year ago.
In the U.S., Land Rover growth has offset slower sales for Jaguar, whose brand new, sporty F-Type helped ignite significant gains in 2013.
Jaguar Land Rover sold a record 425,006 vehicles in 2013. Jaguar booked global sales of 76,668 vehicles, an increase of 42%. Land Rover, the larger of the two brands, saw growth of 15% at 348,338 vehicles.
Changing Perception
Both Jaguar and Land Rover have taken a big leap forward in recent years, thanks in large part to Tata's infusion of cash and a renewed focus on product development.
Last month, Land Rover introduced a new SUV, the Discovery Sport, and Jaguar unveiled the XE compact sedan. Both new models will arrive in showrooms next year, although the XE won't make it to North America until 2016.
"Jaguar is trying to catch up from years of not having a strong message and strong products. It seems like they're redefining themselves," Caldwell said. "There's a perception in this country that Jaguars were not quality vehicles. It takes time to overcome that."
Caldwell recalled how Volkswagen's Audi was able to overcome quality issues to become a fast-growing premium brand. Jaguar only trailed Porsche in J.D. Power's 2014 U.S. Initial Quality Study. Land Rover remained slightly below the industry average.
Still, Jaguar Land Rover is smaller than its German competitors. Its U.S. sales totaled 50,254 vehicles through September. Meanwhile, Mercedes and BMW are both over 230,000 units, and Audi has sold 130,983 vehicles so far this year, a 14% jump.
Vehicles like the XE may bring Jaguar into a similar price range compared to more attainable luxury cars, putting Jaguar in a better position to grab a bigger share of the market.
Caldwell said Jaguar Land Rover sits at the upper end of premium brands, and "it definitely seems like they have more money pumped into them" for new models and marketing efforts.
"The luxury space is probably the most competitive it's been in a while. Mainstream brands are getting into luxury, and luxury brands themselves are introducing so many new products," Caldwell explained.