It's Time to Join the Crowd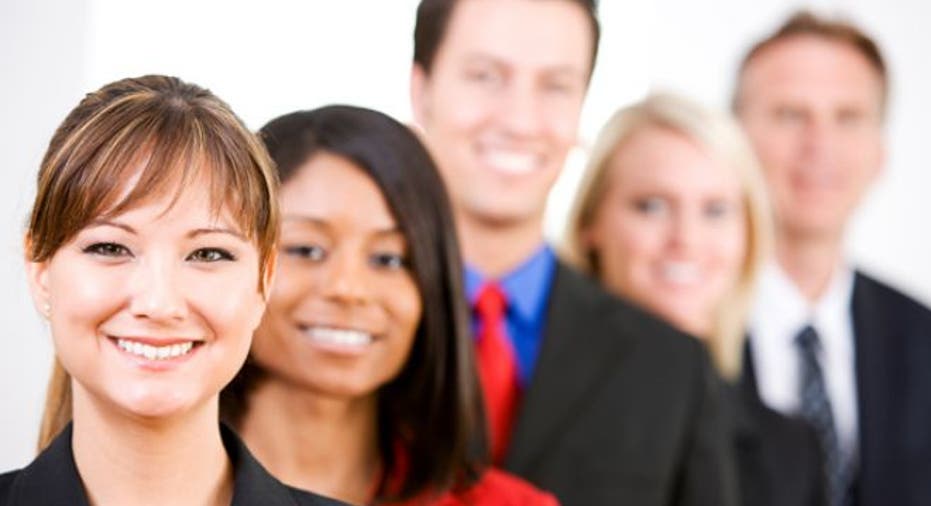 When it comes to raising money, finding freelancers or choosing a workspace for a growing business, the crowd opens up a world of new possibilities.
From crowdsourcing to crowdfunding to working in a crowd at co-working spaces, suddenly the crowd is in. What's spurring this growing movement, and why should your small business join the crowd?
Crowdfunding
Crowdfunding, or raising money from "crowds" of individuals online, has been in the news since the CROWDFUND Act, part of President Obama's JOBS Act, relaxed securities regulations to expand the type of capital entrepreneurs can raise via this innovative new tool. Currently, crowdfunding can be used only to solicit donations. But after the Securities and Exchange Commission finalizes new crowdfunding regulations next year, entrepreneurs will be able to solicit investments via the crowd, too.
So is crowdfunding right for your business? "Crowdfunding works best for businesses with a strong consumer focus and a product that resonates with everyday people," says Scott Steinberg, author of "The Crowdfunding Bible." While successes like the Pebble wristwatch, which raised over $10 million, grab headlines, Steinberg says crowdfunding is better when you don't need a huge amount of capital. (For example, the average Kickstarter project raises $5,000 from 85 investors.)
Crowdfunding's real value may lie not in its ability to raise capital, but in its power to create a community that's passionate about your product. Your crowdfunding pitch must convince donors they're part of something new and exciting, says Steinberg, who suggests enticing them with a combination of physical merchandise and personalized, one-of-a-kind rewards, such as advance access to a beta program.
There's more to a crowdfunding campaign, however, than just putting a pitch online and waiting for the money to roll in. "Crowdfunding is a marathon, not a sprint," warns Steinberg. Do your homework and create a marketing plan, then promote your campaign — use PR, social media and networking, and respond right away to questions or comments from donors. Once you've reached your goal, keep in touch with your crowd about new developments so it remains invested in your success.
Crowdfunding resources:
- Kickstarter is the big name in crowdfunding, but it restricts the types of projects you can fund.
- Indiegogo may be better suited for most businesses.
- Fundable, CircleUp and Peerbackers are newer crowdfunding sites created specifically for business startups.
- The National Crowdfunding Association offers resources and information.
Crowdsourcing
Don't confuse crowdsourcing, or sourcing work from a crowd, with outsourcing. Instead of hiring one contractor for a job, in crowdsourcing you put the job in front of a crowd. Depending on the crowdsourcing site you use, one person might bid on and land the whole project, or dozens (or thousands) of people could compete for smaller parts of it.
Crowdsourcing providers reported a 75 percent increase in revenue last year, with startups and small firms accounting for more than 60 percent of that, according to Crowdsourcing.org. Since 2009, the number of crowdsourcing workers has grown by more than 100 percent annually, to 6.3 million last year.
There are several ways small businesses can tap into the power of crowdsourcing, says Seth Elliott, senior vice president and chief strategy officer at Engagement Media Technologies. "One of the big areas for small business is microtasking, which uses [crowds] to handle tedious or repetitive tasks like transcription, translation, sorting and editing," says Elliott, whose company created StringFly, a mobile platform powered by a crowdsourced user base.
Mechanical Turk is probably the best-known microtasking site; another is Clickworker. There are also highly specific microtasking sites like Gengo, for translation, and CastingWords, for transcription.
Design is another hot area. "A small business without an in-house design department can really benefit from crowdsourced logos, collateral materials and other design elements," says Elliott. At "marketplaces" like 99designs, DesignCrowd and crowdSPRING, you can put your project up for thousands of talented designers to bid on.
Other jobs you can crowdsource include:
- Online advertising: At Trada, paid search specialists create pay-per-click ads using keywords to boost your search engine optimization, then get paid based on results.
- Customer service: At Get Satisfaction, you're provided the tools to create a community-based customer service database.
- Lead generation: At LeadVine, "you post the types of leads you're interested in, and the crowd offers up their connections," says Elliott. You pay only for successful leads.
- Sales: Zferral turns your customers into distributed sales agents by enabling you to create a custom affiliate/referral program.
Whatever type of crowdsourcing you use, Elliott says, understand that you can't control the quality of work the way you can when an employee is doing it. To avoid disappointment, he warns, "you really need to understand the tool you're using and define the scope, requirements and outcomes you want from the project."
Co-working
More and more startups and small businesses are choosing to work in the crowd via "co-working" spaces where entrepreneurs rent office space, desks and access to amenities like copiers, kitchens and Wi-Fi on a part-time, full-time or drop-in basis. There are over 1,200 co-working spaces around the world, and the trend is growing: In the 2nd Annual Global Coworking Survey, 85 percent of co-working spaces said they plan to add members this year.
Co-working can be ideal for startup and solo entrepreneurs who don't want the expense of a full-on office, but don't want to work at home or are tired of jockeying for space at Starbucks. Before checking out co-working spaces, know what services you need, how often you'll use the space and what hours you'll need access.
You can find co-working spaces for specific industries (like graphic design or gaming businesses) and specific kinds of entrepreneurs (like women or startups). Some even offer perks like events or seminars for members, affiliation with university business departments, or relationships with local investor groups.
Ninety-six percent of respondents in the Global Coworking Survey say "community" is the most important factor when choosing a co-working space, so consider the people as carefully as the amenities. Look for an environment where you can make valuable connections, get the intellectual stimulation you need and still get your work done.
Co-working resources:
- CoWorking Directory: Wiki directory of co-working spaces worldwide
- Deskmag: Tips, tools, news and information about co-working
- Deskwanted: Search more than 1,000 co-working spaces worldwide
? Business on Main. Sign up for our Main Street Authority newsletter to get articles like this delivered monthly to your inbox.