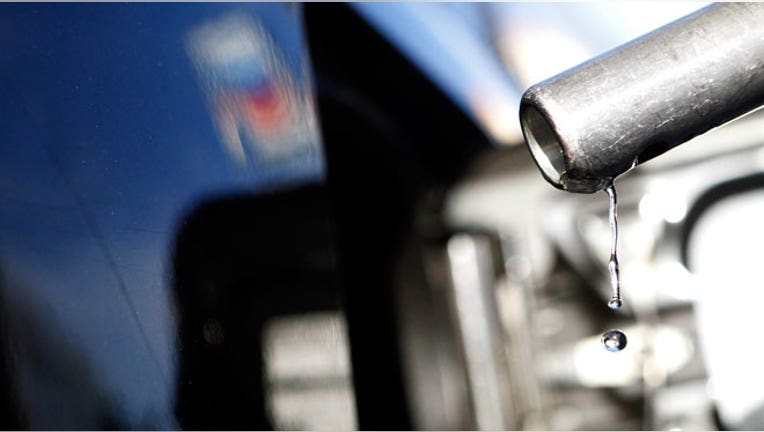 A gas station in Oklahoma City has won the race to $2 gas.
GasBuddy.com said Wednesday an OnCue Express in Oklahoma City dropped its price 12 cents to $1.99 a gallon, becoming the first U.S. station to charge less than $2 a gallon since July 2010.
In a post on GasBuddy's website, senior petroleum analyst Patrick DeHaan said drivers in Texas, South Carolina and Missouri may soon see $2 gas as well. Areas near Houston, Spartanburg and St. Louis are currently the lone metro areas within 20 cents of reaching the milestone.
Gas prices have rapidly declined in recent months, following in the footsteps of a selloff in oil. On Wednesday, West Texas Intermediate crude oil futures recovered 50 cents to settle at $67.38 a barrel, but New York Harbor gasoline dropped to a five-year low of roughly $1.80 a gallon.
As of Wednesday afternoon, Americans are paying an average of $2.74 per gallon, 51 cents cheaper than a year earlier.
"We knew when we saw crude oil prices drop last week that we'd break the $2 threshold pretty soon, but we didn't know if it would happen in South Carolina, Texas, Missouri or Oklahoma," DeHaan said.  "Those are all low-tax states and all have statewide averages at $2.52 or less."
The months-long oil slump accelerated last week after the Organization of the Petroleum Exporting Countries chose to keep production at current levels. Industry watchers were bracing for OPEC to cut production in an effort to drive oil prices higher.
A surge in U.S. oil output, driven by shale production, has fueled concerns among traders that global supplies are exceeding demand.
Although gas prices are quickly retreating, DeHaan recently told FOX Business it's unlikely the national average will drop below $2 a gallon. He said motorists in states along the Gulf Coast are more likely to see gas prices cross that threshold.
GasBuddy expects the national average to fall near $2.50 a gallon by Christmas. Over 15% of U.S. gas stations are already charging less than $2.50 for a gallon of unleaded gas.
"The broad decline in crude oil and wholesale gasoline prices means more gas stations can be expected to head south, figuratively speaking," said Gregg Laskoski, a senior petroleum analyst at GasBuddy.