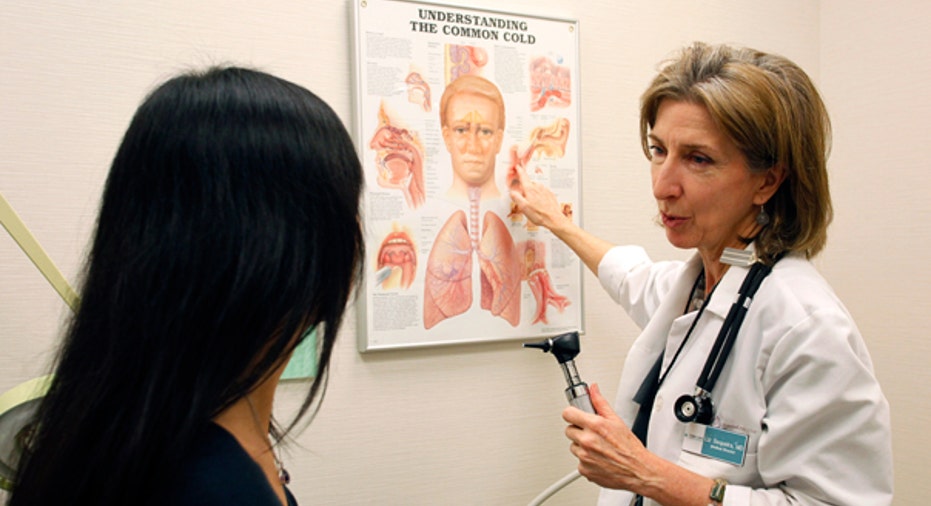 Fifteen years ago, after what he thought would be a routine blood test, Andrew Schorr of Seattle got the shock of his life. His doctor diagnosed him with chronic lymphocytic leukemia and recommended that he begin treatment.
Schorr's physician was a good doctor, but wasn't on medicine's cutting edge for his ailment. "Before I pulled the trigger I wanted to be evaluated by someone who ate, drank and slept my illness," Schorr says.
By connecting with other patients online, Schorr learned of a leading physician in Texas and eventually became part of a clinical trial the doctor was conducting. The Texas specialist directed his care, which was carried out by his doctor in Seattle and covered by his health insurance.
"It saved my life," says Schorr, who has been in remission ever since. He went on to write "The Web-Savvy Patient: An Insider's Guide to Navigating the Internet when Facing a Medical Crisis." He also started Patient Power, an online news source for patients coping with cancer and chronic diseases.
Whether you just received a scary diagnosis or moved to a new town, consult a variety of sources to find a trustworthy doctor. Here are seven resources to aid your search:
1. Board certification search tool
Among the first steps for evaluating quality is to check to see whether a physician is board certified, says the American Board of Medical Specialties, which sets standards in more than 145 specialties.
Physicians who are board certified have gone beyond legal licensing requirements to meet national standards for education, knowledge, experience and skills. To see whether your doctor is board certified, log onto CertificationMatters.org, which lets you search by a doctor's name, specialty or location.
2. Medical and scientific advisory boards
Looking for physicians at the top of their fields? Schorr suggests checking out doctors on medical and scientific advisory boards. If you can't go to those physicians, learn about doctors who have trained under them. 
3. Patient advocacy groups
The Internet was in its infancy when Schorr was diagnosed in 1996, so a tech-savvy neighbor helped him get connected to other patients through listservs.
"Very quickly, I found out I wasn't alone, and I learned my case should be reviewed by a subspecialist in my condition," he says.
Unless you have a rare condition, you probably don't need to travel across the country to find a qualified physician. Find local patient support and advocacy groups online for your condition and ask about doctors in your area. Pay attention when the same name is mentioned more than once, Schorr advises.
4. Health insurance companies
Some health insurance companies give special designations to physicians who meet certain standards. Aetna, for instance, features a program called Aexcel for physicians in 12 specialties. Doctors earn the designation by meeting efficiency and clinical standards. Doctors with the designation have a blue star by their names in the insurer's "find a doctor" online listings.
Aetna Senior Project Manager Wayne Gowdy says the insurance company does not set the clinical performance standards. It relies on national medical associations, such as the American Board of Medical Specialties, the National Committee for Quality Assurance, the American Heart Association and others.
Patients pay lower out-of-pocket costs to see doctors who are awarded the Aexcel designation than other physicians in the network.
Wellpoint Inc., the largest Blue Cross and Blue Shield insurer, teamed with Zagat Survey in 2007 to provide members with online patient ratings of doctors. Patients award numerical ratings for trust, communication, office environment and availability. They also post comments about their experiences. The numerical ratings don't appear unless a physician has been rated by at least 10 patients, but the comments appear regardless of the number of reviews.
"This truly is over-the-back-fence conversation happening between members," says Brian Holt, director of strategic reimbursement and contracting for Blue Cross and Blue Shield of North Carolina.
The tool is programmed to prevent members from giving multiple ratings to the same physician. If a member rates the same doctor twice, the first rating is removed and the scores are recalculated. "That prevents someone who has a vendetta against a physician from posting multiple negative reviews," Holt says.
Blue Cross and Blue Shield companies also give the "Blue Distinction" award to medical facilities that meet industry standards for high-quality care.
5. State medical board
Medical malpractice judgments and disciplinary actions taken against physicians are public information. Check with your state's medical board to learn how to access the information. Depending on the state, some of the information may be available online.
6. Your primary care doctor.
Don't leave your primary care doctor in the dark when you need a specialist. Primary care doctors know the reputations of other physicians, and they should know their patients well enough to steer them in the right direction.
"The primary care doctor should be part of that decision," Aetna Project Manager Elena Carnes says.
7. Online rating services
A slew of online services now feature patient ratings of physicians. They include HealthGrades, RateMDs.com, Angie's List and others. They may be useful in helping you make a decision, but Schorr says he would put less emphasis on these services than information obtained through patient groups, medical advisory boards and referrals from other physicians.
The original article can be found at Insure.com:Is your Doctor a Dud?