Is Your Desk Job Killing Your Health? Get One of These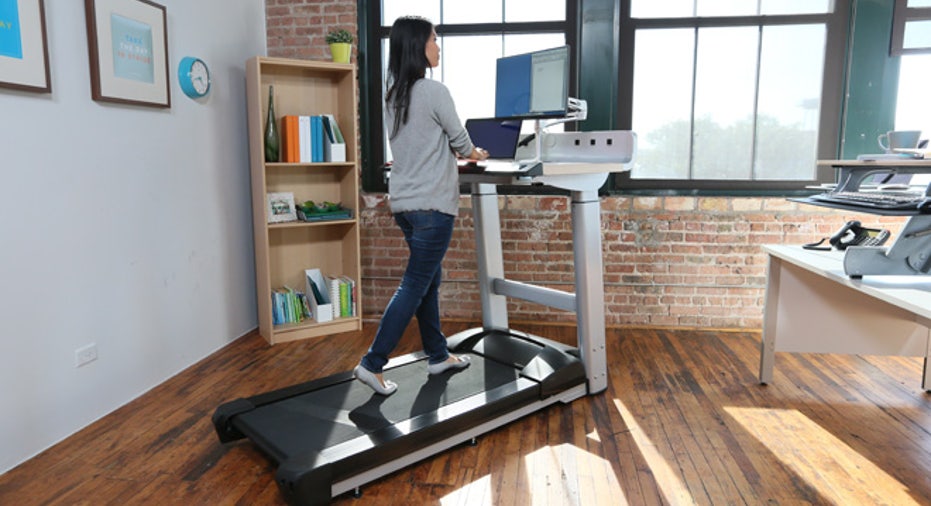 Forget the gym, you need to start deskercising while you work. A new business called InMovement is launching workout equipment designed to help combat the harmful effects of the everyday desk job.
This new sub division is a part of Brunswick Corporation (NYSE:BC), the world's leading manufacturer of commercial fitness equipment.
"We're going beyond traditional exercise and migrating some of the benefits of the company gym into the workplace, where we can help companies and their employees work in a way that supports their well-being," says Brunswick Chairman and Chief Executive Officer Dusty McCoy.
McCoy says, while an estimated 15% of the population exercises regularly, InMovement can serve an even broader audience to support those who want to live a healthy lifestyle.
"The reality is that short bursts of exercise, even an hour a day, cannot combat the detrimental effects of all-day sitting," he adds.
The average American sits about 7.7 hours a day with some studies estimating up to 15 hours a day, according to Juststand.org. Even the American Medical Association (AMA) agrees that sitting for extended periods of time can be bad for personal health.
"Today, our bodies are breaking down from obesity, high blood pressure, diabetes, cancer, depression and the cascade of health ills and everyday malaise that come from what scientists have named sitting disease," said James Levine, MD, PhD at the Mayo Clinic.
This month, the company will showcase its new products in conjunction with the Employer Healthcare and Benefits Congress (EHBC), a leading non-profit organization dedicated to corporate healthcare. Large corporations such as  GE Capital (NYSE:GE) already use some of their products.
"We've been piloting InMovement products and services with companies for more than a year," says Life Fitness Vice President Gary Hirschel, who leads InMovement.
One of their new products is the TreadMill Desk which allows you the option to walk while you work on your computer. The cost is $4,599.
"It's best for shared spaces, but there are some individuals who would like to replace their everyday desk with a TreadMill Desk, and certainly home office workers may use it that way, but for most, we recommend they schedule the TreadMill Desk into their day just like a regular meeting. If you take one hour a day to work while walking, you'll add a lot of activity into your day without removing yourself from work," he said.
And Hirschel says the good thing is that it doesn't decrease productivity either. Studies have even shown that once you adjust to working differently, there is no loss in typical job function.
"In fact, one employee told us that the TreadMill Desk helped him be better focused, because he'd set aside uninterrupted time during his day to work while walking."
The company also tracks efficacy through self-reported data. Some of their test subjects say they experienced increased productivity, reduced stress, improved quality of sleep and even increased job satisfaction.
And, if walking while you work doesn't interest you, they also have adjustable height desks that allow you to change position throughout the day.
"We also have under-the-desk pedals that can keep your feet moving and help with blood flow, and weighted balls that support muscle tone," Hirschel adds.
"People with sitting jobs have two times the rate of cardiovascular disease compared to people with standing jobs, that's the same as risks associated with smoking."
He also believes the key is to get people moving during their work day even if it's for a few minutes at a time.
"Movement throughout the day is the key to a healthier workstyle, and it doesn't have to be much to show big health returns. We recommend movement throughout the day, which is linked to improvements in energy, sleep quality, a reduction in aches and pains and even weight loss," Hirschel concluded.