Is Theranos $9 Billion Worth of Hype?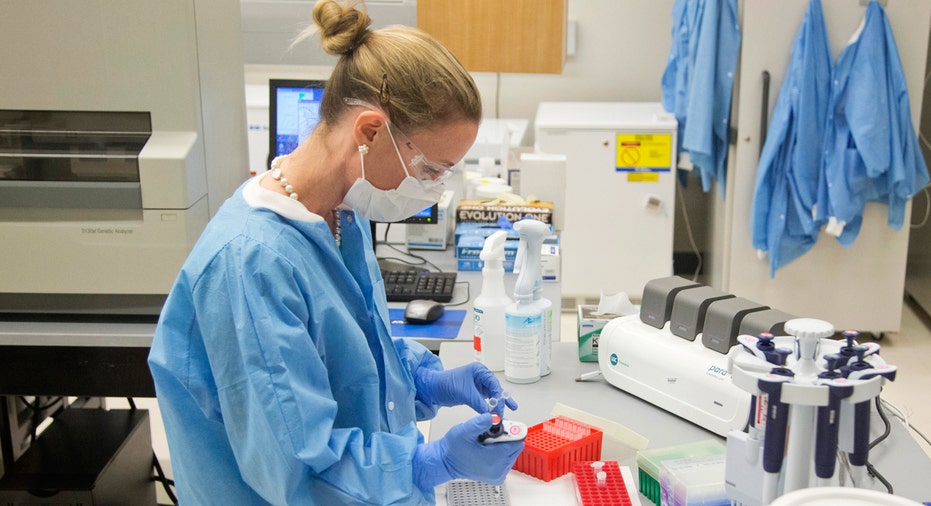 Uber and Snapchat may have higher valuations, but none of the billion dollar startups known as unicorns to come out of Silicon Valley in recent years is more intriguing than Theranos, the embattled health-tech company founded by a Stanford dropout.
Enveloped in secrecy, the 12-year old startup – now valued at a whopping $9 billion – has raised more than $400 million from the likes of noted venture capital firm Draper Fisher Jurvetson and Oracle (NYSE:ORCL) chairman Larry Ellison.
Elizabeth Holmes, who founded the company at 19 in her Palo Alto dorm room, still owns more than 50% of the company, making her net worth about $4.5 billion. Forbes called Holmes the world's youngest self-made female billionaire.
After a decade in stealth mode, Theranos made a huge splash in 2013, launching a breakthrough proprietary platform that, according to the company, "made it possible to quickly process the full range of laboratory tests from a few drops of blood" obtained from a finger prick, at a fraction of the cost of traditional labs like Quest Diagnostics (NYSE:DGX).
The company now offers its services direct to consumers through dozens of Walgreens wellness centers in Arizona and California, with plans to launch nationwide.
Holmes quickly became an entrepreneurial icon – an instant celebrity. She's since been profiled in the New Yorker, Fortune and Forbes, interviewed by Charlie Rose, awarded an honorary doctorate from Pepperdine and named to the Harvard Medical School Board of Fellows, among many honors. Some have compared her to Steve Jobs.
But a blockbuster front-page expose in the Wall Street Journal last week cast serious doubt on the efficacy and accuracy of Theranos' supposedly disruptive technology, as well as the company's purported transparency in dealing with regulators and federal agencies. And that's created a media firestorm and a crisis for the company.
Based on interviews with former employees, emails it obtained, and many other sources, the Journal made a number of troubling allegations:
Theranos is having a lot more trouble bringing its technology to market and delivering on its disruptive promises than it's letting on. According to the Journal, just 15 of the more than 240 tests it now offers actually use the company's proprietary Edison system. The vast majority are run on standard machines from third-parties like Siemens.
Most of the tests use blood drawn in a traditional manner, from an arm vein, as opposed to the few drops of blood from a finger stick method the company pioneered. And some of the samples drawn by finger stick are then diluted so they can be tested using traditional machines. That may not yield the most accurate results.
Over the course of the Journal's investigation, the company apparently dropped claims of needing only "a few drops of blood" using "three tiny micro-vials instead of the usual six or more large ones" from its website.
Perhaps the most concerning allegation is that test results using its revolutionary finger stick, nanotainer and Edison tester may not be as accurate as those from traditional lab services.
All labs are required to submit to what's known as proficiency testing to prove the accuracy of their testing. When employees saw different results between Edison and traditional systems, they were allegedly ordered by Theranos president and COO Sunny Balwani to report only the latter, even though the company was using Edison with real patients' blood for those same tests. That violates federal rules.
Lastly, Holmes apparently declined interview requests from the Journal for five months until, according to the Journal, "Last week, the company said she would be available to comment, but her schedule didn't allow it before publication of this article." That doesn't sound very transparent to me.
It also bears mentioning that the company has never published any peer-reviewed papers in medical journals discussing its methods or demonstrating how its results compare with traditional methods.
In two posts on its website, Theranos disputes the Journal's story as "factually and scientifically erroneous and grounded in baseless assertions by inexperienced and disgruntled former employees and industry incumbents. Theranos presented the facts to this reporter to prove the accuracy and reliability of its tests and to directly refute these false allegations, including more than 1,000 pages of statements and documents."
Meanwhile, appearing on Mad Money with Jim Cramer, Holmes shot back, stating, "This is what happens when you work to change things. First they think you're crazy. Then they fight you. And then all of a sudden you change the world. I have to say I personally was shocked to see that the journal would publish something like this …"
That's the Journal's take and the company's response. Here's my take on what's going on here:
First, the company's broad denials and rhetorical outrage fail to directly address most of the Journal's claims. Saying statements are false doesn't carry a whole lot of weight or make it so. After all, this is the Journal, not a tabloid. Likewise, Holmes's shock in the interview came across as defensive and lacking credibility.
For example, Holmes's claim that the Journal piece is something of a typical reaction to innovators who disrupt the status quo makes no sense. This involves people's health. It's not Uber versus taxis. If the piece in question were an op-ed by Quest, her comment would be credible. But it wasn't. It was a front-page story in the Wall Street Journal.
Let's not overlook the obvious. It looks as if the company hired hundreds of people, spent a decade in development and burned through a lot of cash. Expectations were high. So it came out of stealth mode – apparently too soon – made some big claims, created some hype and haven't been able to deliver, at least not yet. It happens.
Changing the world is never easy. Unexpected challenges and hurdles are routine. I've worked with countless companies that took longer than 10 years to fully develop their technology to the point where it could disrupt a market the size of the one Theranos is going after.
Besides, this is not an app or a website. This is not software or consumer electronics. This is healthcare. This is diagnostic testing on people. This is a very big deal with lives at stake. Apple (NASDAQ:AAPL) can get away with being secretive. So can Trader Joe's. I think Theranos underestimated the scrutiny it would and should inevitably face.
Lastly, the company brought this crisis upon itself by stonewalling the Journal for five months. It may have done that because of the issues I've just outlined. In any case, firing off statements like "We are disappointed to see that The Wall Street Journal still can't get its facts straight" are only going to make matters worse.
If that's what serves as damage control or crisis management at Theranos, they're in for a very long and painful experience. This is far from over.
Theranos did not return a request for comment at the time of publication.