Is the world ready for a Rolls-Royce SUV?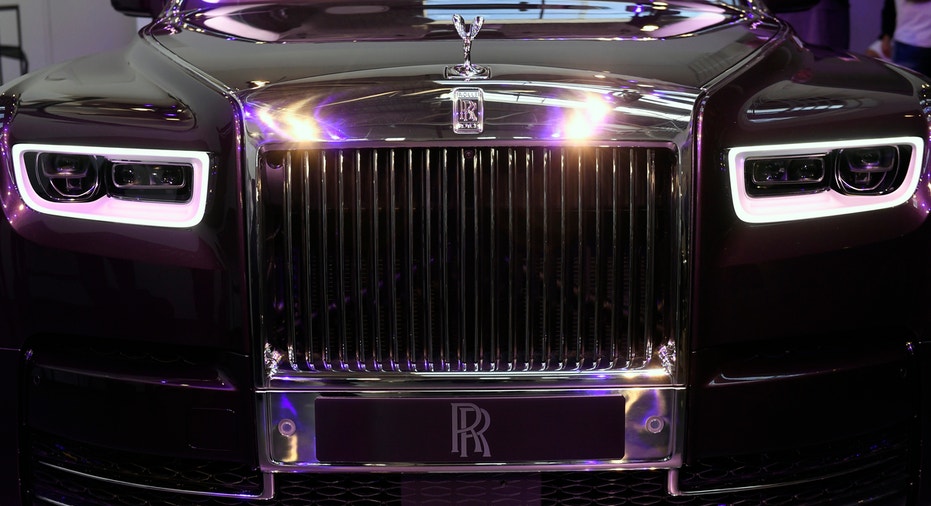 Among the decisions Rolls-Royce buyers face is whether to opt for the "Flying Lady" hood ornament in 24-karat gold or frosted crystal. Soon, they may need to figure out whether they want their Rolls to come with a trailer hitch.
The iconic British brand, whose cars start at $250,00 and up, will join its high-end rivals by launching a sport-utility vehicle in 2018. The move comes amid a broader industry shift away from the sedans and coupes that super-luxury brands are known for.
Jaguar, Bentley and Maserati have launched SUVs in the past year; Lamborghini will staring selling one in December and Aston Martin will follow close on the Italian brand's heels.
After years of avoiding a market segment once associated with bulky, trucklike vehicles and rural back-road drivers, the auto industry's most exotic brands are marching into the high-end SUV business in search of younger customers who want a multipurpose vehicle in their personal fleet.
Industry executives say this new generation of wealthy buyer is less interested in chauffeur-driven sedans than in plush, family-friendly SUVs that are equally at home hauling gear to a ski lodge or driving to dinner at the yacht club.
"They normally have garages like we have jackets in a wardrobe -- a vehicle for every occasion," said Torsten Müller-Ötvös, chief executive of Rolls-Royce Motor Cars Ltd., which is owned by BMW AG of Germany. It isn't uncommon for a Rolls owner to have a Range Rover or Mercedes-Benz G-class SUV among their transportation options.
The light-truck segment, which includes SUVs, represents 60% of the U.S. market and is growing in China and Europe. Although vehicle sales are falling in the U.S. after a long growth streak, and recently there have been signs that middle-market SUV are stacking up at U.S. dealer lots, average transaction prices have been climbing as buyers show an increasing appetite for additional technology, horsepower and refinement.
Vehicles costing hundreds of thousands of dollars, meanwhile, are a small but growing portion of the global market. Those trends portend a positive reception for exotic SUVs.
When Volkswagen AG's $250,000 Bentley Bentayga went on sale last year in the U.S. it was greeted with derision by some loyalists of the brand. A reviewer for luxury lifestyle magazine Robb Report called it an "answer to a question no one asked." But since its debut, the world's fastest SUV also has become Bentley's best-seller.
"There are purists who say Bentley shouldn't have an SUV, but it's similar with other brands" who have successfully added SUVs to their lineups, said Rolf French, a board member in charge of engineering at Bentley. "Half of the customers for the Bentagaya are coming to Bentley for the first time," he said.
The British car maker is experiencing a tailwind similar to the bump Porsche AG saw last decade when it broke with its sports-car heritage and unveiled the then-controversial Cayenne SUV. Today, the German company sells nearly twice as many off-roaders as performance cars in the U.S.
Bentley delivered a record 11,023 cars globally last year, up 9% from 2015 due largely to the Bentayga. The U.S., the brand's biggest market, accounted for a quarter of that total. Officials at the British nameplate aim to sell 20,000 vehicles a year by 2020.
Lamborghini is looking to double its annual sales once its SUV hits the market. Dubbed the Urus, the vehicle pairs a 650-horsepower engine with four seats and "will be a super sports car in the body of the SUV," Alessandro Farmeschi, chief operating officer of Automobili Lamborghini America LLC, said in an interview earlier this year.
Mr. Farmeschi said the Urus -- named after an extinct species of cattle -- evokes a short-lived predecessor called the LM002 produced from the late 1980s until 1993. But it also bears a strong genetic relationship to the Porsche Cayenne and Bentley Bentayga, two other high-end SUVs from the Volkswagen group with which it shares a common platform.
Industry officials say off-road capability appeals most to customers whose taste in vehicles is less bound by tradition, many of whom have entrepreneurial backgrounds instead of inherited wealth. This could help further slash the average age of buyers in the segment.
Mr. Müller-Ötvös said even without the SUV, Rolls-Royce's average customer age fell from 56 to 45 over the past seven years. That shift is reflected in a new advertising campaign. Unlike the typical fairy-tale setting featuring actors in ballroom gowns and tuxedos, this ad for the "Black Badge" edition its Dawn model showcases a couple clad in leather and lace in an industrial-themed club.
Like Lamborghini, Rolls-Royce plans to capitalize on historical precedent when it launches an SUV based on an advanced prototype currently called the Cullinan, the name of a giant diamond. The Rolls-Royce Maharaja Phantoms of the 1920s were used by wealthy patrons to travel off-road in the Australian Outback and Arabian Desert.
"They drove in every road condition. It's all forgotten history, but we will bring it back, rest assured," Mr. Müller-Ötvös said.
Write to Chester Dawson at chester.dawson@wsj.com
(END) Dow Jones Newswires
August 31, 2017 10:25 ET (14:25 GMT)