Is The NFL Draft A Touchdown For Chicago's Economy?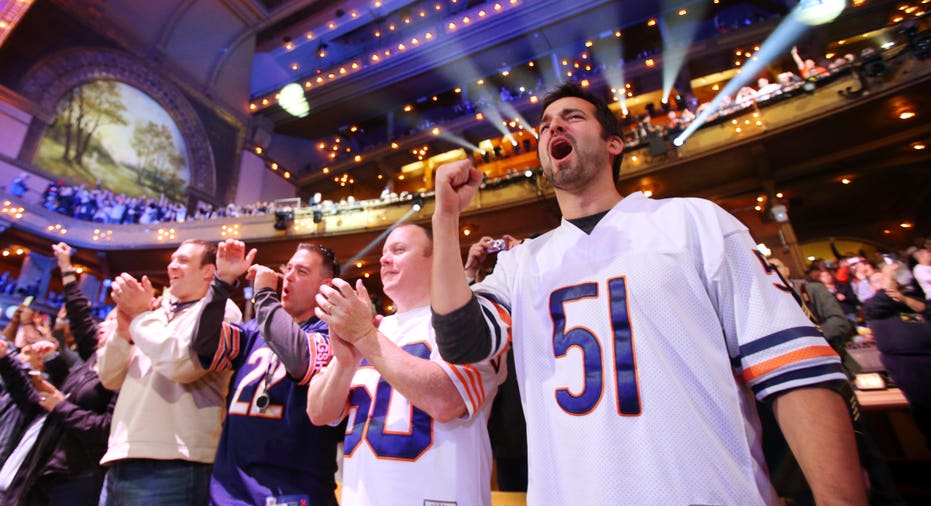 As Chicago prepares to host the NFL Draft for the second consecutive year this week, city and league officials are adamant that the event will inject tens of millions of dollars into the local economy. But a leading Chicago-based sports economist says the actual financial boost may be far smaller.
Starting Thursday, Chicago's famous Grant Park and Roosevelt Theatre will be transformed into the NFL's "Draft Town," a free-admission football festival built around the 2016 NFL Draft. Aside from the draft itself, fans will have access to youth clinics, interactive games and a variety of other NFL-related attractions.
Chicago tourism officials and NFL representatives say the NFL Draft, which came to Chicago for the first time in 2015, provides a major benefit to the city. A study commissioned by Choose Chicago and carried out by Temple University's Sports Industry Research Institute, found that last year's NFL Draft produced $81.6 million in total economic impact and attracted about 200,000 attendees.
Last year's event drove plenty of business to local hotels and purportedly created more than 2,000 temporary jobs and more than 800 permanent jobs. Bolstered by their success, this year's organizers expanded the size and scope of "Draft Town."
"We are expecting more than 200,000 visitors to Draft Town this year," Kara Bachman, executive director of the Chicago Sports Commission, told FOXBusiness.com. "The size of Draft Town has gone from the equivalent of 15 football fields in 2015 to 20 this year, or 900,000 square feet of celebration space, and the hours of operation have extended to accommodate fans earlier in the day. We are focused on ensuring the 2016 NFL Draft is a great success for the city and families who attend."
The NFL Draft isn't just a major economic opportunity for Chicago. The league itself has increasingly sought ways to monetize the popular process, which has become yet another way for the NFL's business partners to capitalize on their investment. Several prominent sponsors, including Visa (NYSE:V), Nationwide, Bud Light (NYSE:BUD) and Pepsi (NYSE:PEP) will have a presence at "Draft Town."
"At one time the Draft was simply a business meeting. It has become a week-long festival for incoming prospects, fans and business partners," NFL spokesman Brian McCarthy said. "It has become one of the most anticipated events of the sports calendar and has turned into an off-season Super Bowl as our sponsors look to activate with on-site, on-air and online promotions in Chicago and around the country."
But much like the Super Bowl, the NCAA basketball tournament or any other major sporting event, the NFL Draft's purported economic value is met with a fair amount of skepticism from the academic community. Sports economists have regularly questioned the accuracy of public estimates or city-commissioned studies that project massive economic windfalls.
Much of the controversy surrounding Chicago's bid to host the NFL Draft centers around the concessions officials made to win the competitive bidding process. The city purportedly provides the NFL with rent-free access to Grant Park and the Roosevelt Theater, waiving the hefty fee typically associated with hosting events at the venues.
"Any time you ask a mayor's office or a chamber of commerce or a tourism bureau to give you some estimate, I think the rule of thumb is that they've overestimated it," said Allen Sanderson, a leading sports economist and senior lecturer at the University of Chicago's Department of Economics. "They're in the business of selling things. They're trying to promote, and that's their job."
Value projections often fail to account for substitution spending, which can be tough to accurately measure. Chicago residents are expected to comprise more than half of the Draft Town's estimated 200,000 attendees. Many of those local sports fans will spend the same amount on leisure activities as they normally would this week, but at NFL festivities instead of a concert or baseball game.
Sanderson asserts that while hosting the NFL Draft is a net positive for the city of Chicago, the event's economic impact is far smaller than city officials have said. Bullish estimates on revenue often underplay, or fail to consider entirely, the expense of venue security and overtime pay for police officers.
"They're just choosing to spend three hours, four hours and $100 at this particular event as opposed to something else – a Cubs game, the White Sox game or something else in the city," Sanderson said.
Major events also carry what's known as an "opportunity cost." In one example, police officers tied up at NFL Draft events won't be patrolling their typical beats or writing speeding tickets. Congested roadways, bad weather, school schedules, the potential for public protests and possible crime in the venue's vicinity are other potential drags on the event's economic impact, Sanderson added.
At the same time, Chicago's previous stint as host should make the event less costly this year, as much of the draft infrastructure is likely already in place. And it's undeniable that the NFL Draft generates excitement on a national level – about nine million viewers tuned in for the event in 2015.
"If nothing bad happens, I think it's a small positive benefit [for Chicago]," he said. "I would take whatever number the chamber of commerce or tourism bureau gives you and divide it by five. That's a reasonable estimate."