Is the NBA's Courtside VR Pass to See LeBron Ready for Prime Time?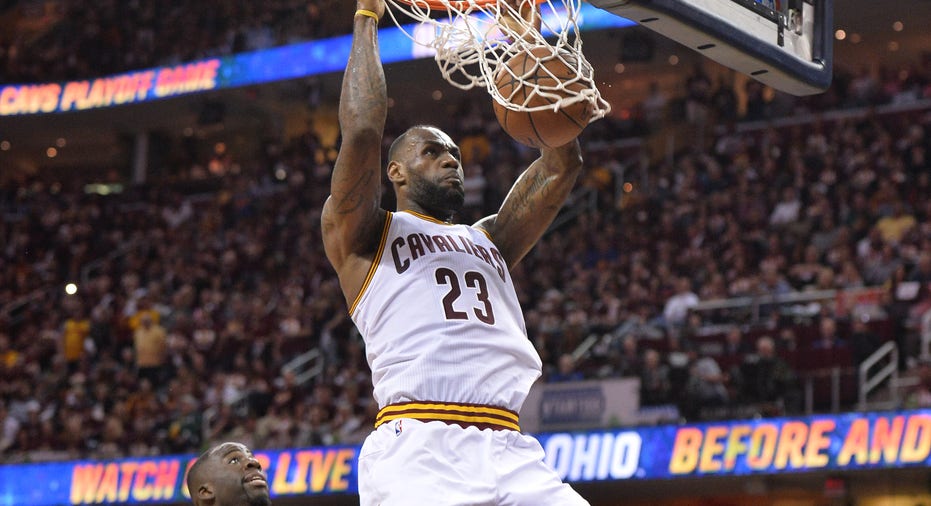 Want to be courtside to watch LeBron James and other NBA stars balling it out tonight, but don't want to forego a car payment for courtside seats?
The league's new weekly virtual reality broadcasts with production partner NextVR offer a compelling, and less expensive, option as viewers come closer to "experiencing" the action, rather than simply watching it.
VR gives you that Jay-Z feeling, where you could almost high five Knicks and Nets or trip a referee. And while you aren't seated next to a celebrity and you won't get a rebound, you can't get much closer to the action without suiting up. Altimeter Group principal analyst Brian Solis, who literally wrote the book on user experiences (called "X"), says that while the current VR setup may be somewhat isolating, "it's as good as you can get without being at the game."
"Basketball's almost tailor-made for VR, the size of the court, the way the cameras reference the court, the fast action, the fact it's a relatively small field of play," NextVR co-founder/CEO Dave Cole said in an interview.
The nascent VR broadcaster has an influential insider on its team: Peter Guber, an owner of the NBA's Golden State Warriors, is a NextVR investor and board member.
FOX Business went behind the scenes of an NBA VR broadcast at the Staples Center in Los Angeles where the host Clippers defeated Denver 119-102 in an entertaining tilt – below is a review. Spoiler alert: it's early days but the NextVR-produced broadcast offers a fun and immersive experience, but not without some caveats.
What's the cost?
Fans with a $169.99 subscription to NBA LEAGUE PASS can watch the virtual reality experiences each Tuesday night throughout the season by downloading the free NextVR app.
And while skeptics question whether users will watch two-hour live games in VR with headsets and headphones on, the NBA's Jeff Marsilio, VP, global media distribution, says, "The really good news is people who are watching are engaging with it and watching for a very good length." He concedes the uptake is modest, but so are the numbers of VR owners. Loup Ventures estimates there are only about 2 million Gear VR owners worldwide.
Ready for a close up
There is no second screen distraction action, tweeting out quips, or scoreboard selfies during a VR game. Once you slide on the headset and earphones (the demo used a Samsung Note and Gear VR although other hardware supports the platform) your attention is captured and commanded while you settle in virtually a few feet from the cagers.
"Television will let you drift and wander, but we don't let you out," quips Cole. "You've got to take a definitive action to get out and escape." As in, taking off the headset.
Warning: if your spouse/child already tunes out everyone while watching a game on TV, they may be even more incommunicado when immersed in VR.
But seeing DeAndre Jordan swat shots and dunk right in your face and Jamal Crawford swishing three-pointers in the basket just beyond your reach gives viewers a sense of urgency and presence that leaves a widescreen HD TV telecast wanting.
Later when recalling game action from VR, it can seem like you actually saw it in person rather than remembering a TV screen.
Wizard behind the curtain
The setup uses fewer cameras than a traditional network broadcast but placements on the stanchions behind each basket brings the action right into your face without the worry of being "posterized."
Dedicated VR broadcasters guide fans to look down for the scoreboard or to follow the Clippers to your right attacking the Nuggets basket. These tips help as your perspective changes when cameras switch from one bucket to the other end as possession changes.
This is a big advantage over the pricey seat on the actual floor underneath one basket that can offer limited views of interior action 94-and-a-half-feet away under the opposite hoop.
VR Version 1.0
This demo held in the arena's bowels surreally was nearly as exciting and entertaining as sitting on the floor seats just a few hundred yards away. But VR currently lacks a key component of sporting events—the camaraderie with fellow fans. This is expected to change in the future when you virtually meet your friends from around the world at the same game and watch together, courtside of course, in VR.
What's Next, VR?
Commercials were noticeable by their absence, but NextVR's Cole says sports cars, watches, and other luxury brands will soon look to score through immersive experiences.