Is NFL Draft Prospect Paxton Lynch The Next Ben Roethlisberger?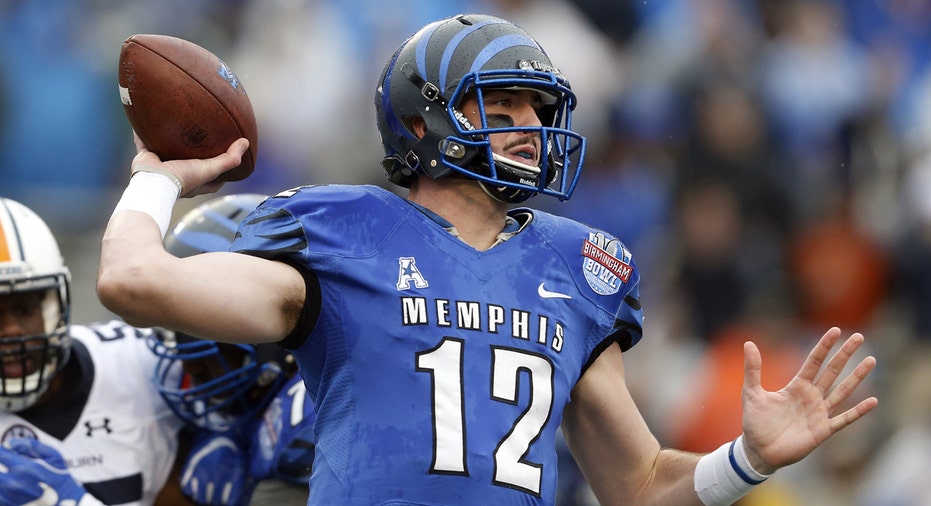 Long before Paxton Lynch was considered one of the top prospects in this Thursday's 2016 NFL Draft, his parents started to research sports agencies. It was the fall of 2014 and Lynch, a 6-foot-7, rocket-armed quarterback from the University of Memphis, had already begun his transformation from relatively unknown recruit from Deltona Beach, Florida, to potential franchise quarterback in the NFL.
Lynch's father, David, called Leigh Steinberg, a former NFL "super-agent" who represented more than 60 first-round picks throughout the '80's and '90's, only to see his empire crumble amid a bout with alcoholism. Steinberg did some research, noting several of the traits that have some pro scouts salivating – Lynch's size, arm strength and athleticism. By January 2016, Steinberg and Lynch had decided to team up.
"What attracted me was that he's part of that new vogue of quarterbacks – a Cam Newton, a Ben Roethlisberger – that have physical stature, in that it's hard to find a quarterback who's 6-foot-7, but also have athletic ability and the talent to escape the pocket and avoid the rush," Steinberg told FOXBusiness.com. "When you watch Paxton move, he looks like a much smaller person in terms of his athleticism."
All signs point to the Los Angeles Rams and the Philadelphia Eagles selecting University of California quarterback Jared Goff and North Dakota State quarterback Carson Wentz with the first two picks in this year's draft. But after a breakout junior season at Memphis and a strong showing at the NFL Scouting Combine, Lynch is considered the consensus third-best quarterback prospect and a likely selection in the draft's first two rounds.
That means Lynch will enter the NFL with the expectation that he'll develop into a starting quarterback – a position where even mediocrity is worthy of a $20 million annual salary and a bevy of endorsement deals. Several pro teams are currently weighing whether Lynch can be the face of a franchise, and if his strengths will outweigh his somewhat raw mechanics and questions about the level of competition he faced in college.
"I think he has the highest upside of any quarterback in the draft," Steinberg said. "He's a combination of being pretty laid back away from the field but very fiery on the field. We thought he was a gifted talent who was going to be a franchise-type quarterback."
Like Wentz, Lynch's draft stock is dogged by the "small school" label. The Memphis Tigers are hardly a college football powerhouse, and there's always concern among football prognosticators that small school players will struggle to adjust to the speed of the NFL game. Lynch also played in a spread offense at Memphis – a simplified scheme that emphasizes quick throws. Most pro scouts worry that spread quarterbacks won't be prepared for the complex reads and adjustments expected of quarterbacks in a pro-style offense.
"The issue is how much of a question mark projecting him into a pro-style system is, and how confident can any team be in doing that?" Sam Monson, a senior analyst at the analytics-based scouting website Pro Football Focus, wrote in February. "When one adds in the troubling accuracy and anticipation on intermediate throws – the NFL's bread and butter – there are enough questions about Lynch to keep him well away from Goff and Wentz. It'll perhaps make him a later-round player, even if the position he plays will likely dictate he is drafted higher."
Unsurprisingly, Steinberg scoffs at the notion Lynch's college pedigree or game plan will determine his success at the next level. Longtime Pittsburgh Steelers quarterback Ben Roethlisberger went from little-known Miami University in Ohio to NFL stardom, while Tennessee Titans signal-caller Marcus Mariota transitioned smoothly from a spread offense to a pro-style scheme during his rookie season last year.
Lynch spent the majority of the time between his last college game and the draft working on his mechanics and studying up on pro game plans. The Kansas City Chiefs, who were one of more than a dozen NFL teams to put Lynch through an individual workout, had him demonstrate his ability to read defenses on a white board for about four hours, Steinberg said.
"Every single quarterback adjusting from college to the pros has a big learning curve," Steinberg said. "My experience is that it's not possible to read the field, read defenses, adjust to the speed of the game and the better quality of the players all that quickly for anyone. The characterization that he's less ready to play I don't think really applies."
High-end rookie quarterbacks are some of the few football prospects that draw significant interest from sponsors before they're played a snap in the NFL. But Steinberg and Lynch are deliberately taking a measured approach to his off-field business.
Lynch has a "significant" agreement with Panini America, which sells trading cards and authenticated autographs. Earlier this month, he signed an endorsement deal with apparel giant Nike Inc. (NYSE:NKE). There's also one other "brief deal" with Wingstop Restaurants, but aside from those three agreements, Steinberg says that Lynch's portfolio is set.
Lynch's representatives want to avoid some of the distractions that derailed past first-round quarterbacks Johnny Manziel and Robert Griffin III. Both players were heavily featured in corporate marketing campaigns early in their careers, only to flame out spectacularly amid on-field struggles.
"Philosophically, that'll be it. Endorsements and marketing are important, but the engine that pulls the train is his play on the field," Steinberg said. "As a rookie, we want the emphasis to be on proving to his owner, his general manager, the team and his teammates that he's serious about football. Having an athlete on 27 billboards his rookie season could be disaster."
On draft day, Steinberg expects that Lynch won't stay undrafted for long once Goff and Wentz are off the board. The San Francisco 49ers, Cleveland Browns, New Orleans Saints, Buffalo Bills and New York Jets are all teams with a top-20 draft pick that are mulling whether to pick a quarterback in the first round.
"The position is so important that if there's a player who might be higher-rated in terms of overall athletic ability at another position, the quarterback still gets taken first, because teams hope that they're never that high in draft order again," Steinberg said. "And if not now, when?"