Is Mayweather-Backed Shots the Next Instagram?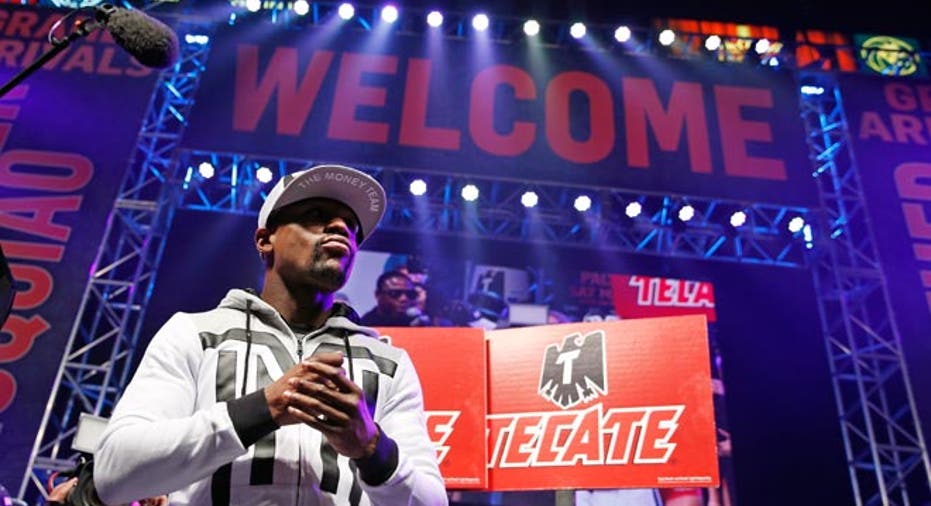 While boxer Floyd Mayweather is gearing up for the  "fight of the century," one of his business investments is also packing a punch. Shots, the selfie app, is gaining traction amongst teens and growing fast.
Founded in late 2013, the star-studded service also counts Justin Bieber as an investor and has celebrities including Kylie Jenner, Tyga and Wiz Khalifa amongst its five million active users. Shots' anti-bullying theme is resonating with teens -- users can only "like" the photos and videos, with no place to comment.
Brothers John and Sam Shahidi co-founded the service together, with John serving as CEO. The duo have amassed such a strong social media presence that John has been dubbed the "King of Twitter," with nearly 400,000 followers and each tweet generating thousands of retweets by Bieber fans and other young Shots users.
This social media traction is said to have gained the attention of Twitter (NYSE:TWTR), which was rumored to be a potential suitor for the service last fall, but Shahidi voiced commitment to keeping the company independent at the time. Shots instead opted to raise a new round of funding last month, with $8.5 million from venture capitalists and Major League Baseball, to help grow the ten-employee startup.
With an average user age of 16, and nearly 80% of them female, John Shahidi told FOXBusiness.com that they have "focused on a specific group and that has spread out to other groups, creating an engaged community." He said that word-of-mouth is critical to the success of social media startups and that the teen demographic is especially effective at spreading the message.
While some might consider superstar investors a boon to the service, Shahidi has downplayed their role and even called them "overrated." Celebrities can help spread the word, but endorsements are most effective when the users like the product enough to stick around long-term.
Headquartered in San Francisco, Shots has reach beyond the United States. Brazil and Mexico are also hotbeds for the app and Shahidi has been working to expand Shots' presence in China.
It is, of course, a competitive landscape for social media. While services like Facebook (NASDAQ:FB) and Twitter have enjoyed several years in the spotlight, others like MySpace and Friendster have fallen by the wayside.
"We want to be the best and fastest social app on your phone," said Shahidi and he hopes that their positive community resonates with young people everywhere.