Is Marissa Mayer Finished at Yahoo?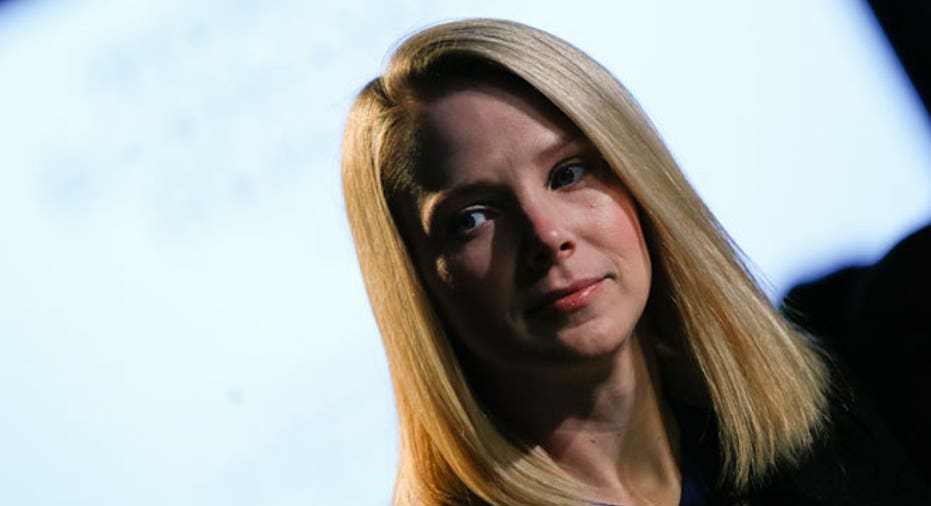 The two most chronically dysfunctional public companies in Silicon Valley are without a doubt HP (NYSE:HPQ) and Yahoo (NASDAQ:YHOO). The pair are so far ahead of the pack, I'm not even sure I can come up with a runner-up on short notice. Twitter (NYSE:TWTR) is well on its way but needs some juicy scandals to join the laughing stock territory that HP and Yahoo have long occupied.
What's interesting is that, having failed to come up with strategies to turn their respective companies around, both HP CEO Meg Whitman and Yahoo chief Marissa Mayer have opted for tactical solutions to unlock shareholder value, the former by breaking the company in two and the latter via a tax-free spinoff of its remaining Alibaba (NYSE:BABA) assets.
I guess the theory is that, by at least kowtowing to shareholders and activist investors, they'll get to keep their high-flying gigs a little longer. Whitman was particularly creative, somehow managing to end up with two jobs, one as CEO of the enterprise HP and the other as chairman of the PC and printer company. Now that's a neat trick.
Mayer, on the other hand, has not been nearly as creative ... or lucky, as the case may be.
The Internal Revenue Service is considering a rule change and won't say one way or another whether Yahoo's planned spinoff of its Alibaba shares to the soon-to-be created Aabaco Holdings will actually be tax-free. If not, the company, as well as individual shareholders, could end up getting stuck with an enormous tax bill on the order of $3 billion. It's a fine mess, to be sure.
Still, the more I think about it, the less that mess seems to matter. Of course it matters to shareholders and their tax accountants, but to Yahoo, not so much.
Mayer has already bought dozens of internet companies in a futile effort to acqui-hire her way out of Yahoo's downward spiral. And she tried revamping every single one of the company's top properties – from news and finance to mail and Flickr – to no avail.
She tried taking the company mobile, reinvesting in search, reorganizing, hiring Katie Couric, doing live streaming video earnings calls, and sprucing up the place with free lunches, Google-style (NASDAQ:GOOG). She even tried changing the logo. Nothing has worked.
Meanwhile, the internet portal's user growth continues to flatline and its advertising business continues to shrink while Google and Facebook (NASDAQ:FB) grow like weeds. Ironically, the only assets of any real value left at the company are investments in Yahoo Japan and Alibaba made by its cofounder and hapless former CEO, Jerry Yang.
For all her impressive acquisitions, PR savvy, glitz and glitter, fabulous wardrobe, and enormous compensation package, nothing the former Googler has done to date has made a dent in Yahoo's struggling core business. With an aging brand and competition for users and ad dollars growing by the day, it's hard to imagine the Sunnyvale, CA company's prospects changing in any material way.
But things didn't always look so bleak, at least to some.
After a year on the job, Vogue did a feature story, Yahoo's Marissa Mayer: Hail to the Chief, which characteristically fawned over the Wisconsin native's unlikely geek chic, spectacular home, lavish cocktail parties, and $300 million net worth. Indeed, Mayer's personal brand couldn't have been bigger in those heady days.
I saw things a bit differently, however, writing Mayer's New Yahoo: Alibaba, Smoke and Mirrors about a month earlier. The title speaks for itself. And as re/code's always astute Kara Swisher so aptly put it back in January, "this is the last stop on the Alibaba party train that Mayer has been riding since she arrived at Yahoo two and a half years ago."
Look, don't get me wrong. It's about as hard to turn around a failing company as it is easy to write about one. And by any measure, Mayer has made a valiant effort, as has Whitman at HP. But it takes a lot more than that to execute a Lou Gerstner IBM (NYSE:IBM) or Steve Jobs-Apple (NASDAQ: AAPL) style turnaround. And it's beginning to look more and more like Mayer's days at Yahoo might be – or at least should be – numbered.