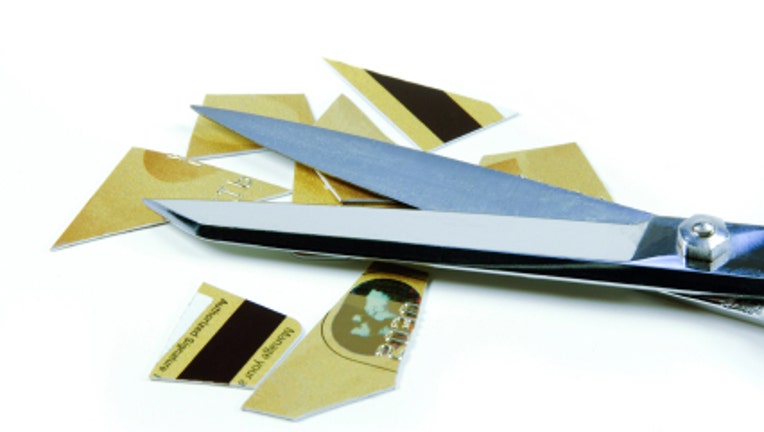 Dear Credit Card Adviser, I want to set the record straight. I've been told that canceling credit cards I no longer use will help my credit score because of the credit limits. I've also been told that I should not cancel my credit cards I no longer use because it will help with my credit score because of the credit history. Thank you. -- Donna
Dear Donna, Closing credit cards will never help your credit score. The question is if closing accounts will hurt your credit score.
Here are the four ways that canceling credit cards can affect your credit score over the short term and long term. By how much depends on different factors.
How a FICO score breaks down
Find the best credit card rates at Bankrate.com.
Payment history
The payment history on a closed account will not be ignored by the FICO credit score, says FICO's principal scientist Frederic Huynh. That means good payment history will continue to help your score, while negative payment history will continue to hurt it after the account is closed. Payment history on your credit obligations accounts for 35 percent of your credit score.
The impact that payment history of the closed account has on your score will lessen over time. Eventually, the payment history will fall off your credit report and no longer be part of your credit score. For negative payment history, that's after seven years. For good payment history, the cutoff is 10 years.
Utilization rate
The second thing to consider is how much available credit you will lose when you close an account. That will affect your overall utilization rate, or the percentage of available credit you use across all of your credit card accounts.
The utilization rate falls under the "amounts owed" category, a key factor used in calculating your FICO credit score, the gauge of credit risk most widely used by lenders today. Amounts owed make up 30 percent of your FICO credit score. For the highest credit score possible, it's best to keep your utilization rate low, less than 20 percent.
Here's how closing a credit card can increase your utilization rate and lower your credit score. Say you have three credit cards with credit lines of $1,000 each, or $3,000 in total. The balances on each look like this:
Credit card 1: $300.
Credit card 2: $250.
Credit card 3: $50.
Right now, you're using 20 percent ($600 in total balances) of the $3,000 in available credit. Let's say you close credit card No. 3, so you have $550 in total balances but only a $2,000 credit limit. That means you're now using 27.5 percent of your available credit. This example could be even more glaring if credit card No. 3 had a larger credit limit, even though you hardly used it.
So, closing a credit card account could have an immediate negative impact on your credit score if the card has a large credit limit and you continue to charge the same total amounts as before.
There are ways to offset this utilization rate effect. You can always ask for credit limit increases on your other cards before closing the account. Or, you could look for a new card to replace the old one, a card that suits your financial habits better.
Length of credit history
Fast forward 10 years after you close a card account. That account and its old payment history will finally fall off your credit report. That means it won't be used to help calculate the length of your credit history, another factor in the FICO credit score. That category represents 15 percent of the score.
This can only hurt you if that card account was far and away your oldest account versus all others. Then, you'll see the average length of your credit history shorten and hurt your credit score. But if the credit card isn't your oldest account or is only the eldest by a couple of years, there's no need to worry about losing the benefits of its age.
Mix of credit
One more way your credit could be hurt by a closed account is if you're closing your only credit card. FICO credit scores consider your mix of credit types; the more diverse, the better for your score. Mix of credit contributes 10 percent to your overall credit score.
So, if you close your only credit card account, then you're left with less diverse open accounts. Once that account falls off your credit report in 10 years, then you're left with no credit card account.
Get more news, money-saving tips and expert advice by signing up for a free Bankrate newsletter.
Ask the adviser
To ask a question of the Credit Card Adviser, go to the "Ask the Experts" page and select "Credit Cards." Read more columns by the Credit Card Adviser. Follow Janna Herron on Twitter.
Bankrate's content, including the guidance of its advice-and-expert columns and this website, is intended only to assist you with financial decisions. The content is broad in scope and does not consider your personal financial situation. Bankrate recommends that you seek the advice of advisers who are fully aware of your individual circumstances before making any final decisions or implementing any financial strategy. Please remember that your use of this website is governed by Bankrate's Terms of Use.
Copyright 2014, Bankrate Inc.