IRS Sacks Tom Brady With 'Super' Tax Bill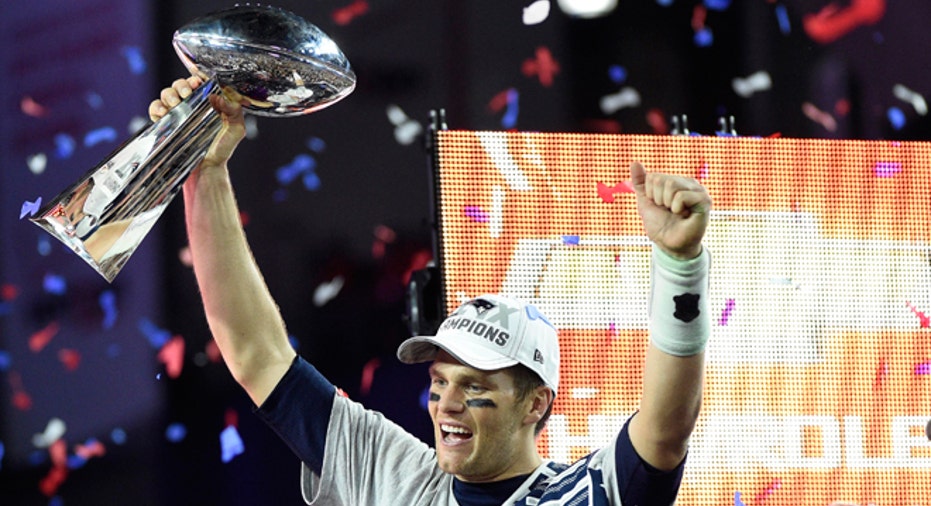 Tom Brady and the New England Patriots may have won Super Bowl XLIX, but the Internal Revenue Service is about to sack the MVP quarterback.
The four-time NFL champion owes a hefty tax bill after leading the Patriots to a 28-24 win over the Seattle Seahawks. Brady will be taxed for his Super Bowl winnings, as well as the Chevrolet Colorado pickup truck given to the game's most valuable player.
For winning the Super Bowl, Brady's taxes will exceed $62,164 based on rates compiled by Americans for Tax Reform.
The NFL pays Brady, 37, and his Patriots teammates a Super Bowl bonus of $97,000 each. Brady is subject to the top income tax rate of 39.6% plus the top Medicare tax of 3.8%, which is split with the NFL. That amounts to approximately $40,700 in additional income taxes for winning the Super Bowl.
Brady's prize from General Motors (NYSE:GM) also carries a big tax bill. The Colorado—the same truck made famous during the World Series for its "technology and stuff"—is a taxable price under section 74 of the Internal Revenue Code.
Taxes are levied on the fair market value of the Colorado. Americans for Tax Reform went with a conservative estimate of $34,000, according TrueCar (NASDAQ:TRUE) data.
So Brady owes $13,464 in prize taxes, or 39.6% of the market value. But it doesn't end there.
Brady has said he is giving the Colorado pickup to cornerback Malcolm Butler, who secured the Super Bowl victory with a last-minute interception near the goal line.
As a result, Brady owes a gift tax on the transaction. The tax code allows up to $14,000 in tax-free gifts, meaning the Colorado is a taxable gift of $20,000. At the top rate of 40%, Brady needs to pay another $8,000, bringing his total tax bill for the truck to $21,464.
Brady is also on the hook for Arizona's "jock tax." The Grand Canyon State, in addition to nearly every other state, taxes athletes for each day they spend within its borders.
The likely Hall of Famer recently restructured a contract with the Patriots that will pay a base salary of $27 million over the next three seasons.