Insurers Well-Positioned to Handle Sandy Claims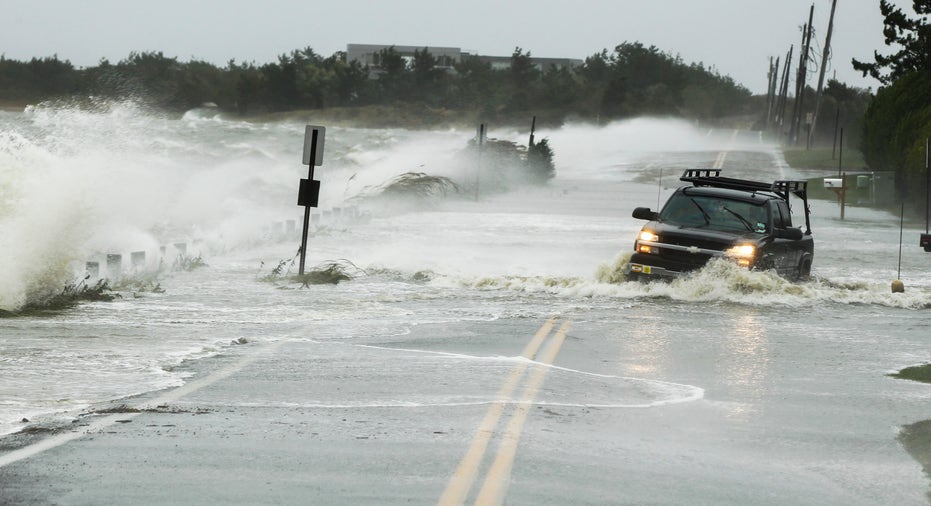 Insurance industry experts said major insurers appear well-positioned to cover storm damage claims rising from massive Hurricane Sandy, poised to make landfall in the Northeast later Monday.
Flood damage claims earmarked for the federally funded National Flood Insurance Program (NFIB) could be another story, however.
Risk modeling firm Eqecat said Monday that Hurricane Sandy could impact 20% of the U.S. population and estimated the storm's potential economic damages at between $10 billion and $20 billion with insured losses coming in at between $5 billion and $10 billion.
Large insurers such as Chubb (NYSE:CB), Allstate (NYSE:ALL) and Travelers (NYSE:TRV) with broad market share in New Jersey, New York, and Connecticut, however, appear financially and logistically prepared for the fallout.
"With $500 billion-plus of capital ... we expect the (insurance) industry is once again well prepared to pay all Frankenstorm insured losses," Morgan Stanley analyst Gregory Locraft said in a report cited by Reuters. Because of the size of the storm and its varied components, some have dubbed Hurricane Sandy a "Frankenstorm."
Natural disasters have been relatively few-and-far-between in 2012, leaving insurers well funded to cover claims. Hurricane Sandy is only the second large storm this season to affect densely-populated areas in the U.S., following Hurricane Isaac in late August which swept across the Gulf of Mexico and caused about $2 billion in damages in Louisiana and bordering Gulf Coast states.
"It's been a relatively calm year up to now compared to 2011," said Michael Barry, a spokesman for the Insurance Information Institute, a research center.
Hurricane Irene topped last year's list of costly natural disasters, but 2011 overall was an expensive one for the insurance industry. Highly destructive tornadoes in the Midwest -- notably in Joplin, Mo., -- preceded the hurricane season a year ago.
Irene cost insurers an estimated $4.3 billion in claims tied to auto, home and business-related policies when it came ashore in late August 2011.
The storm wracked up another $1.3 billion in flood losses, nearly all of which – 98% -- was covered by the National Flood Insurance Program, which is administered by the Federal Emergency Management Agency.
The NFIP  is by far the largest writer of flood insurance for U.S. homeowners and the agency has been struggling to stay afloat since Hurricane Katrina devastated New Orleans and the Gulf Coast in 2005.
"The NFIP hasn't really recovered financially from Katrina," said Barry, who estimated the agency is still on the hook to the U.S. Treasury for as much as $19 billion in claims related to that storm.
Last summer legislation was passed that extended funding for the NFIP for another five years and sought to reform underwriting procedures so that policies are priced more accurately to reflect the risks posed by huge storms like Katrina, Irene and Sandy.
For years the NFIP has been operating on temporary extensions. The five-year extension is expected to provide stability to a program that has become increasingly important as recent storms have caused massive flooding across widespread areas of the U.S.
Analysts said the pricing reforms were needed because earlier NFIP pricing models were not intended to cover storms the size and magnitude of Katrina, which is how the agency was left so deeply in debt.
Apparently the reforms came just in time.
The New York metropolitan area, with a population of some 50 million people, is expected to feel the brunt of the hurricane once landfall occurs in New Jersey later Monday. Warren, N.J.-based Chubb said in a statement: "Chubb has positioned our resources over the last several days to provide prompt and efficient service should any of our customers be affected by the storm." Allstate and Travelers did not immediately respond to requests for comment.
Still, insurance sector stocks were down in European markets Monday. U.S. stock markets were closed Monday and will remain closed Tuesday.