Insurance Options for College Students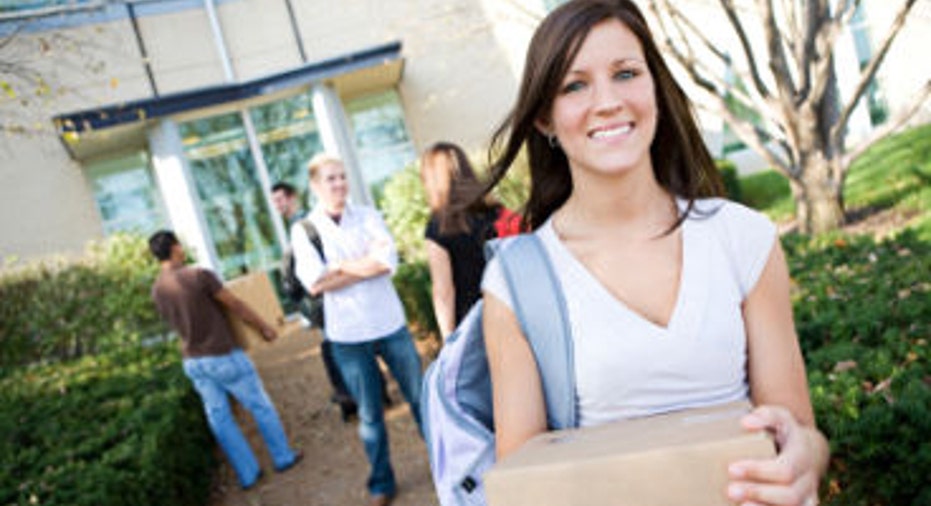 As incoming college freshmen start to pack up boxes to move their belongings into a dorm room, they may be more preoccupied with the quantity of stuff (where is it all going to fit?) over the actual worth of it all.
Between the computer, smartphone, TV and other technologies, the value of the goods sitting in a dorm room can quickly add up.
According to the U.S. Department of Education, there were about 31,851 campus burglaries in 2008 and the National Fire Protection Association reports 6,000 on-campus fires the same year.  If you lost everything you own, would you be able to easily replace it?
Coming up with the money to go to college in the first place is oftentimes very difficult for families, says June Walbert, USAA certified financial planner. That can only be compounded if something happens to their laptop computer, their iPhone, their means of communication with their parents and everything else that theyve brought with them to school.
With the amount of electronics and expensive entertainment equipment kids often take to school these days, students and their parents may want explore insurance options for their valuables. The university is unlikely to pay for any damage or theft of your items, so its up to students to protect them.
Insure your valuables
Students that cant bear to part with their myriad of electronics may want to consider getting a personal property insurance policy. Gretchen Cathey, social networking content manager for National Student Services Inc. (NSSI), says that college students in particular tend to have easily several thousands of dollars worth of devices on them at any given time.
Just the portability of the items makes it really important to insure them, says Cathey.
The Insurance Information Institute offers a free online home inventory application to help students create a room-by-room database.
To help determine the amount of coverage needed, Cathey suggests students add up all of their big-ticket belongings and add an extra $500 to $1000 for coverage on any over-looked items.
We have an annual premium for $6,000 of coverage; thats $160 a year, and thats with a $25 deductible, says Cathey. If they have to file a claim, theyre only out of pocket $25.
Renters insurance
Renters insurance is another way for students to cover the cost of their valuables, and also insures a dorm room or apartment. For students living off campus, the experts say the residence is structurally insured by the landlord, but excludes any items inside.
According to Mike Chaney, chair of the committee for the National Association of Insurance Commissioners (NAIC), renters insurance covers personal property for losses or damage caused by fire, smoke, windstorm, hail, lightening, explosion, vehicles, riot,  civil unrest, theft, vandalism, falling trees and other falling objects, collapse, damage from the weight of ice, snow or sleet, freezing, rupture or sudden and accidental overflow of a plumbing, heating or air conditioning or fire suppression system or a household appliance.
Walbert explains that renters insurance also covers the policyholder for liability should there be an accident or damage in a dorm or apartment.
If someone is injured or sues for some reason, the liability insurance can cover that, says Walbert. That also gives us a lot of peace of mind, because we do live in what we would often refer to as a litigious society, and that can really help a lot.
Students tend to assume they dont have that much valuable stuff, but if they were to lose everything, the cost to replace it all could be staggering.
They ought to look at what it costs to replace personal items such as clothes, books, computers, jewelry, or any personal items that they have that are valuable to them and they should consider the deductible that would apply and whether or not the insurance is affordable, says Chaney.
Depending on the plan and the insurance company, students can pay as little as $10 to $15 a month for coverage.
Add up all of those things and get the appropriate amount of renters insurance, says Walbert. The premium is based on how much personal property you elect to have as well as how much liability insurance you elect to have.
Not all companies include all kinds of damage under renters insurance and students who live in flood of earthquake-prone areas may have to get separate ridersbe sure to check to see what is covered. Students can also check out coverage from the National Flood Insurance Program.
Students may be able to piggyback onto their policy renters or home insurance depending on the company. Chaney cautions that without another separate policy, students may only have a limited amount of coverage, so its best to speak with your agent to find out exactly what would be covered.
Better to know before something happens than to learn of coverage gaps and limitations after an event and loss occurs, he says.