Insurance Brokers Finding Opportunity in ObamaCare Confusion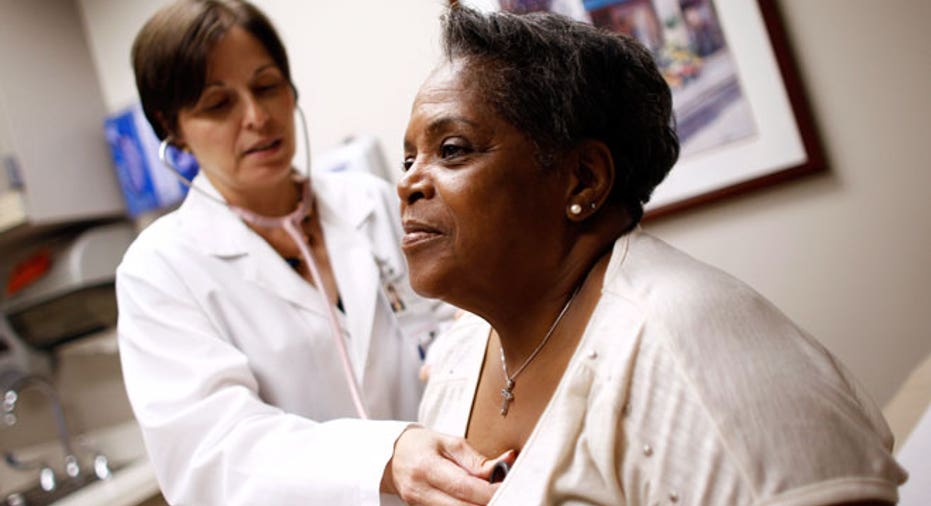 Questions surrounding the ObamaCare enrollment process and the affordability of available plans have led to a great deal of confusion – creating a major opportunity for some insurance brokers.
Ahead of next week's scheduled launch of the online health-care marketplaces, some enterprising brokers across the country have been scooping up domain names similar to the names of state exchanges, in an attempt to drive potential customers to their businesses.
"We bought some domain names that we thought people might be searching for," says Jeff Lindstrom, an insurance broker certified in the state of Washington. "We have a whole bunch -- we probably own 40 different names." Lindstrom's main website, washingtonhealthplanfinder.org, is strikingly similar to the site for the real exchange, which is found at wahealthplanfinder.org.
Big Business for Small Brokers
In reaction to early announcements regarding the insurance exchanges, Colorado insurance broker Mark Erickson decided to purchase the domain name www.coloradohealthinsuranceexchange.us in September 2010.
"With all the confusion and misunderstanding and information that has to do with ObamaCare coming out, I thought it would be a tremendous opportunity to put together a comprehensive resource for what's going on with ObamaCare," says Erickson.
Erickson says the site has driven a ton of traffic to his insurance brokerage, and he's optimistic that the exchange's opening on October 1 will mean an additional influx of traffic.
"I'm expecting [ObamaCare] to be a good thing for my company, as people will be overwhelmed," says Erickson.
Oregon-based broker David Cuttrell, a vice-president at Breeze Financial Group, says he purchased the domain OregonXchange.com in the fall of 2012, after being told that OregonExchange.com would cost a cool $75,000.
GoDaddy.com Director Paul Nicks says the domain-name powerhouse website has seen a spike in interest for URL names related to insurance, health or ObamaCare, with sales at the lowest end ringing in between $1,500 and $2,000. For domain names including the names of major markets, like New York City or Los Angeles, Nicks says prices could be in the six figures.
"These domain names are valuable in the mindset of the user, because it adds a weight and legitimacy to the domain," says Nicks. He says having "insurance" or "exchange" in the domain name also helps boost sites' rankings on search engines, making it even more valuable to brokers looking for potential customers.
Though Cuttrell's site look slightly less official due to the missing letter, he says he is confident enough in the demand for broker assistance that he and his partners have spun off a separate business, aimed primarily at walking consumers through the exchanges and helping them select plans.
"We've set up fourteen office computer stations … where individuals can come in and enroll with the agent on hand to answer questions," says Cuttrell. He says the company has spent approximately $35,000 toward the new setup and will be redirecting staff resources to handle the demand.
Are the Sites Creating More Confusion?
While Cuttrell, Lindstrom and Erickson are all certified brokers with established insurance practices, government officials have been hyper-vigilant regarding the possibility of malicious sites designed to defraud individuals.
In 2010, director of Health and Human Services Kathleen Sebelius sent a letter warning the insurance commissioner that criminals may use the passage of the Affordable Care Act as an opportunity to scam individuals or steal personal information. And Jim Quiggle, director of communications at the Coalition Against Insurance Fraud, says legitimate brokers have come under investigation for the creation of websites officials feel may be confusing to consumers.
"There was an insurance agent in Pennsylvania who put up his marketing website, and put 'exchange' on the banner across his website," says Quiggle. "The insurance department leaned on this person, and the website was taken down."
Lindstrom says his site, which he had professionally designed before the exchange's website debuted, has also created some unintentional confusion among people believing his site was home to the actual exchange.
"It's caused me some grief and unwanted heartache," says Lindstrom. He says he had a very civil interaction with the Washington insurance commissioner, who reached out to request some small changes, which Lindstrom quickly complied with.
"Instead of saying, 'Welcome to exchange plans,' it now says, 'Welcome! Get covered now!'" says Lindstrom, describing one of the tweaks he was asked to make.
Though he had no problem with the commissioner's requests, Lindstrom does feel brokers are getting a bad rap in the public eye. He says consumers need to know that while government-appointed insurance "Navigators" can help explain the exchanges, only brokers who have completed the government's certification process can actually make suggestions that will help consumers select a plan.
"Brokers have been maligned for being opportunists, but brokers are the only ones who can give advice – we're a necessity. We have a critical role, but we're not being given any credit for doing so," says Lindstrom.
Confusion Abounds – Even Among Experts
Even though they've undergone certification and are hanging out the welcome sign for confused insurance shoppers come October 1, the brokers say even they aren't quite sure what to expect on Tuesday.
"I give the exchange credit for being honest that it's possible there will be glitches, particularly early on," says Erickson, who had formerly worked in the IT industry before transitioning to insurance a decade ago. "This is a very large technical battle."
While Erickson knows what the average rates will be, he says he hasn't seen the exact format of the exchange – and won't see so until day one.
Similarly, Lindstrom says the lack of familiarity with Washington's exchange is making him "extremely nervous" about helping clients apply for insurance coverage next week.
"Unlike private plans or even online insurance plans like eHealth, you can't go through test apps [for the exchange]," says Lindstrom. "This is like building a plane as you're flying it."
Lindstrom says he's even received guidance from providers like Blue Cross Blue Shield suggesting brokers wait a while before actually enrolling consumers.
"From a carrier standpoint, they're quite concerned about how it's going to go the first week or two," he says.
While Cuttrell says he's also not fully prepped on Oregon's exchange, he's feeling ready to get going on launch day, given his industry experience.
"I feel confident in the knowledge I have to explain what individuals' options are," he says.