Instant View: Apple results surpass Street targets, doubles cash return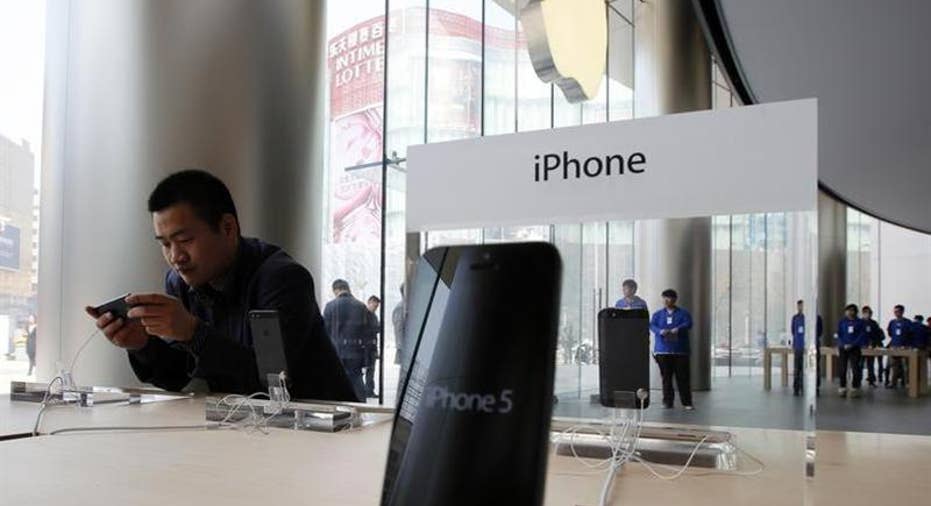 Apple Inc, bowing to Wall Street's increasingly strident demands, announced a doubling in its cash-return program for shareholders as it reported better-than-expected quarterly results.
Commentary:
COLIN GILLIS, ANALYST, BGC
"We all had concerns on the June quarter guidance. The issue was 15 out of 40 analysts had cut June quarter numbers. The market was telling you the numbers were too high. Now the stock is up on guidance that's pretty much even worse than even I was expecting.
"But the actual March quarter was fantastic. So you got to take the actual results first. And that buyback, that's a big chunk of dough to be throwing at the market. That's going to help.
"Buying back stock like that with the bulk of the cash, they're saying they're big believers in what's happening inside the company. And for those who want yield, they're giving a little bit of taste with the dividend. I respect that. I would have wanted a little bit more on the divvy.
"The market was expecting a weak June quarter. We're not likely to have any new product shipping in June. Doesn't mean that the market isn't changing structurally for Apple. ASPs are declining and margins are going to be under pressure. These things look like the realities. So I don't expect the stock to soar back to where it was. But it's nice to see it not crumble apart."
MICHAEL YOSHIKAMI, FUND MANAGER, DESTINATION WEALTH MANAGEMENT
"Encouraging to see them talking about the dividend. What they did do is, they're expanding their repurchase program. Last year it was $10 billion and now they bringing it up to $60 billion. That means they believe in the company. That's exactly what we need.
"I'm actually relieved to see the numbers. I think it's a transitional quarter. The new products are all coming out next quarter and China still hasn't kicked in. So, given the fact that the whisper was for them to not even hit the lower number, given the fact that they hit the midpoint numbers, this slight beat is actually very positive."
BRIAN COLELLO, ANALYST, MORNINGSTAR
"The March results were in line with our expectations. The bigger news, and what is driving the stock up 5 percent, is the big buyback announcement and Apple putting its big cash balance to use.
"We are encouraged that they expect to borrow to fund it in order to get that overseas cash, which is trapped. Most of Apple's cash is overseas, so what they have to do is take debt in the U.S. that is probably collaterized with the money overseas.
"We were hoping Apple would make such a move and I think investors are encouraged by it."
CAROLINA MILANESI, ANALYST, GARTNER
"From a unit-volume perspective, in the different markets I think they've done well. On the iPhone 5, China has had a big role to play within the quarter, and it looks like Apple was able to take advantage of the Chinese New Year, and the pickup of the iPhone 5 introduction in China.
"The overall iPad number was positive. Only a marginal decline over Q4, their strong seasonal quarter. It will be interesting to see the mix of that 19 million, how much of that is iPad mini vs traditional, and to see if they're keeping the mix at 50-50 as it was in Q4, or if the iPad mini is beginning to erode into the traditional iPad.
"On the Mac, obviously 4 million is not the number that people are going to pay attention to. But a nearly flat number from year before in Q1, when the market was down double digits, that's pretty impressive."
TRIP CHOWDHRY, MANAGING DIRECTOR, GLOBAL EQUITIES RESEARCH
"The results were as expected. They slightly beat the lowered expectations, and they guided low. That was all expected. This was in preparation of a new product cycle that will come in the August to October timeframe.
"They did increase the share buyback, that's a band aid. The investor focus should be on, when are the new products coming? As soon as Apple launches new products, that's the key to the stock recovering.
"When that happens, the stock could go to all-time highs. But unless Apple comes out with new products, the stock will be going sideways."
(Reporting By Liana Baker in New York and Alexei Oreskovic and Malathi Nayak in San Francisco)