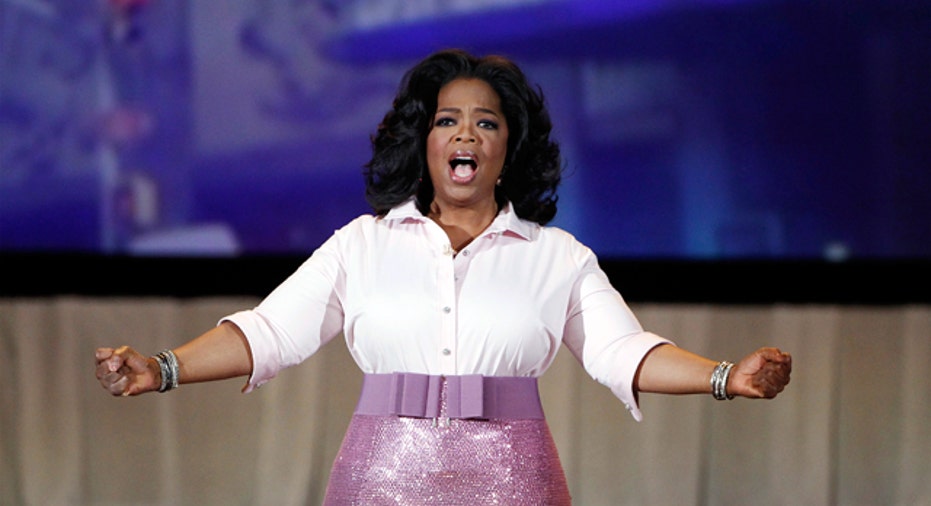 About half a decade ago when The Secret was all the rage, I recall reading a review that took a swipe at people who need constant inspiration.
One's opinion of The Secret aside, that comment bothered me because--of course--I'm one of those people who needs constant inspiration. I pay attention. I seek it out. It propels me forward. It digs me out when I'm low. It's my fuel.
I think of it as a way of being and I like it, whatever its genesis. Each morning begins with a reading from Mark Nepo's The Book of Awakening, which contains daily messages. Each weekday I receive a "Note from The Universe" in my inbox that ranges from profound to fun. And as each day goes, inspiring moments and stories fill me up and inform my own life.
As we take in the last of 25 years of The Oprah Winfrey Show this week, it occurs to me that one less source of inspiration will be at my disposal. I'm not a daily viewer, but I always knew I could tune in on almost any given day and be lit up. In the last two weeks, I caught 30 minutes of an Oprah show and it happened to be about her favorite guest, Tererai Trent. This is a woman who lived in oppressive circumstances in a village in Zimbabwe and who had a burning desire to be educated. So much so that she used to beg her father to go to school like her brother, even for one day; in fact, she used to do her brother's homework.
Married off at age 11 and a mother of three by the time she was 18, she eventually achieved her precious goals of moving to the United States and going to school. In last week's update of the story, Trent appeared on Winfrey's stage as a PhD.
Say what?
I thought I knew what it was like to have very little encouragement from family about getting educated, but I was humbled 100-fold by Trent's story and began to cry when Winfrey announced she'd be helping her with her dream of building a school in her village in Africa.
And while this is a profoundly triumphant story with global reach, there was one in the June issue of O The Oprah Magazine that spoke more to Winfrey's legacy than any star-studded event at the United Center ever could. I was reading a Q&A of Winfrey and Gayle King – her best friend and the editor-at-large of the magazine – when I came upon a jarring story. Winfrey was talking about the early days of her show when people just started to recognize her in stores and she relayed this about a woman approaching her in a grocery store:
But this one woman just stopped and said, "Can I tell you something?" And I said, "Sure." And she goes, "I used to beat my kids. And I watched you say you're not supposed to beat your kids. That didn't make no sense to me, because I was beat. My mom was beat. But I kept watching you. And it wasn't the first time you said it." She goes, "It's because you were consistent. You were consistent. So I said, 'I'm gonna try it. I'm gonna just try it for a week, not to beat my kids.'" And she said, "I tried it for a week. Then, 'I'm gonna try it another week.'" She said, "And now, I can't remember how long it's been." She goes, "I don't beat my kids anymore -- and I got different kids."
If Oprah Winfrey did not one other thing, had she quit on the spot right then and there, her show would have served its purpose. That story has been with me for days and each time I share it with friends they are just as amazed and inspired.
When we fill our inspiration well like this – to borrow a term from author Julia Cameron – we automatically pay it forward. I just came from the fifth annual Conversation Among Masters, a conference for professional coaches on a master level, and I had a lot of kindred spirits there. They understand that buoying ourselves with inspiration energizes us and makes us better people and therefore better coaches.
In our profession, it is a given that we will be catalysts for change and shepherd others through transition and help them see they can think and achieve bigger. In the last week, I have heard from a 40-something man who says our one conversation has inspired him to take what he hopes will be his writing career to the next step. I've had a friend say every time he gets off the phone with me he feels energized, like he can do what he needs to do. I've had a co-worker from about 15 years ago touch base and ask for my thoughts as she switches career tracks. I find all of that inspiring.
It is joyfully ongoing, this being inspired and, in turn, inspiring others. May we all – not just those of us with a platform like a column or a show – incorporate a bit of this into our lives. Whether we're drawing inspiration from our God, our child, the woman in line at Macy's, a book or a stubbed toe, we will be better people in the world.
Secret or no Secret. Oprah or no Oprah.
Nancy Colasurdo is a practicing life coach and freelance writer. Her Web site is www.nancola.com and you can follow her on Twitter @nancola. Please direct all questions/comments to FOXGamePlan@gmail.com.