Insider Q&A: National Flood Insurance Program Director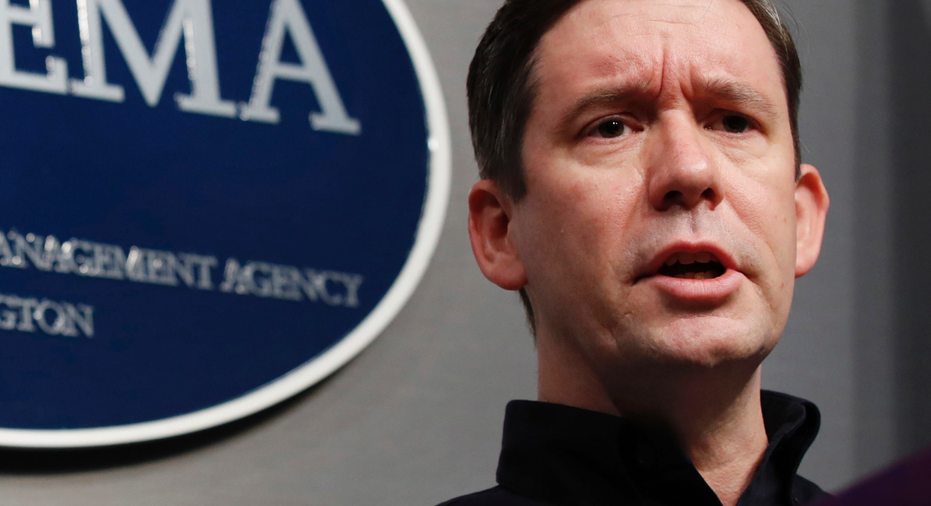 Flood insurance is on people's minds again after hurricanes Harvey in Texas and Irma in Florida.
Roy Wright, the director of the National Flood Insurance Program, has been pushing to make changes to the system, which is overseen by the Federal Emergency Management Agency.
The flood insurance program was criticized after Hurricanes Sandy and Katrina as not being as responsive as it should be to disasters and floods as they happen, though Congress is likely to reauthorize the insurance program before it expires Sept. 30.
Another issue is the lower numbers of homeowners taking out flood insurance policies. An investigation by The Associated Press found that the number of flood insurance policies nationwide has fallen roughly 10 percent since 2012. Wright says he wants more people to have coverage, wants to persuade more communities to limit construction in high-risk flood zones.
If you are in a flood, he says, take "photos, photos, photos."
Wright spoke with The AP after Hurricane Harvey hit Texas. This interview has been edited for length and clarity.
Q: Why have we seen a drop-off in people buying flood insurance?
A: I would tell you that choices related to insurance coverage are pocketbook decisions made by homeowners and residents like renters every single year. Some of them required to do so by their mortgage holder. FEMA has a responsibility to make sure people know what their risk is.
Q: How much more flood coverage do we need as a country?
A: Collectively, we need to see the coverage in this country for flood insurance at least doubled. We have 5 million policies right now. I want to see 10 million policies.
Q: What type of changes do we need to see for the National Flood Insurance Program as it comes up for reauthorization at the end of the month?
A: Today, the terms and conditions in the standard flood insurance policy are set in regulation. I have to go through a complete rule-making process to actually change the coverages. That's an antiquated way to do this.
Congress should direct me to handle that through a direct policy process so that we can be responsive to the kind of coverages that people need. When they do that, I can go back and add things, like basement coverages that people want, additional living expenses that people want.
There's a set of those kinds of coverages that would be available if you were doing the other changes to your homeowners policy.
Also right now the way our product is set up, you have two separate deductibles, one on your contents, one on your structure. I want to move to a single deductible. Again, these are the consumer-friendly ways that can get us farther down the road to more coverage.
Q: If you are hit by a flood like for the people in Houston what should you do?
A: The first thing they should do, insured or not, they should register with FEMA. They should go to disasterassistance.gov or call our 1-800 number and make sure that they register.
If they have flood insurance, they should file a claim by calling their agent or company. They should go to their house and take pictures. I want photos, photos, photos. Walk through, video everything. Anything that you think is valuable that you want covered through your policy, make sure you have taken a picture of it.
Then begin to take the steps to remediate your home. I've issued instructions that when claims come in, we can release up to the first $10,000 quickly for those insured survivors. I want to get the money into people's hands because those who did make that decision to purchase flood insurance, I want to make sure that they have the resources in hand to recover quickly.
If they don't have flood insurance, they're going to register with FEMA as well, and many of them will be looking at the disaster recovery loans that are offered by the Small Business Administration.