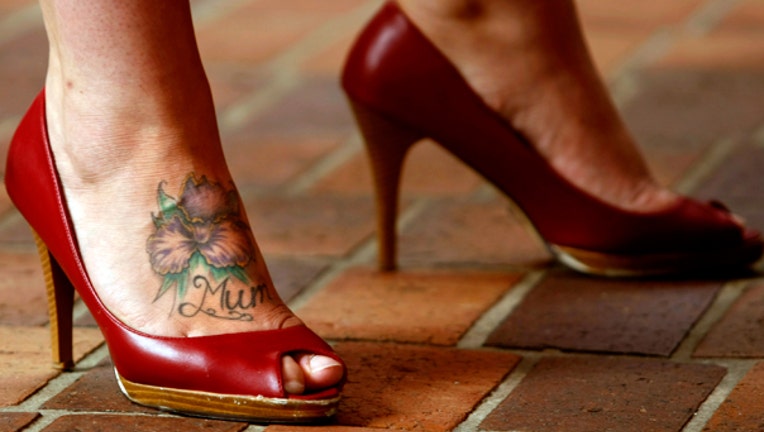 A tattoo of a giant iguana curling up her chest had seemed like a good idea when she was younger.
"We were 18, and we really liked lizards," says Kaylie, now 26. "It wasn't a mistake, but at a certain point it didn't fit with who I was anymore."
Kaylie (who asked that her last name not be used) got her tattoo while on a celebratory beach trip with friends following high school graduation. Although three of her friends still sport the matching iguanas they chose to symbolize their friendship, Kaylie recently made the decision to have hers removed for an upcoming wedding and to improve her job prospects.
"I was tired of wearing turtle necks to job interviews, and I didn't like the way the more closed-minded people judged me just because I had a tattoo," she says.
After spending more than $2,000 on laser treatments to have her ink removed, Kaylie is now tattoo-free on her chest and lower neck. Although she still has more than 10 tattoos elsewhere on her body, she says having one removed is not something she would do again.
"It was painful, and it was way more expensive than the actual tattoo. I'm definitely keeping the others that I have. I like them, and they're not in such obvious places," she says.
It's a story that repeats itself a thousand times a day, says Dr. Glenn Messina, tattoo removal specialist and owner of Messina Esthetic Medicine in Commack, New York.
"They're getting held back," Messina says of individuals with tattoos. "I have worked with some extremely intelligent people—lawyers, doctors, accountants, nurses, and I see them as nice people, but society doesn't embrace them."
In the last two years, Messina says his tattoo removal business has increased by 15% due to increased interest in going ink-free.
"I have heard from most all of my clients that they're being discriminated against in the workplace and they can't find work. Even when it's a beautiful tattoo, a lot of employers don't like it," he says.
In a study conducted by The Patient's Guide, the number of tattoo removal procedures grew by 32% from 2011 to 2012. At 40%, the majority of people having tattoos removed cited "employment reasons" as their motivation for having the procedure. Other reasons included the removal of the name of a former spouse or partner, a change of beliefs, and being unhappy with the appearance of the tattoo.
"Back in the '50s and '60s, only bikers and social outcasts were the ones who had tattoos," says Craig Libis, CEO and Managing Partner at Executive Recruiting Consultants, a national search firm based in Sioux Falls, South Dakota. "Today, more people have tattoos so it is becoming more mainstream, but unfortunately they still carry that stigma from years past."
Libis' recruiting firm deals extensively with companies in the banking and finance sectors, and he says that across the board, those companies do not hire people with visible tattoos.
"If we send out anyone with a visible tattoo on their face, neck or hands, I guarantee they won't get hired," Libis says. "The client isn't going to say, 'We didn't hire them because of their tattoo,' but I'm almost positive that's the reason. No one really wants to see a dragon coming out of your ear."
The sad truth is that a tattoo doesn't have to be offensive to be distracting, says Andy McCall, practice leader at the staffing and executive search firm McCall & Lee in Dallas.
"If you walk into a job interview with a tattoo, the first thing people will think is, 'Oh, you have a tattoo,'" says McCall. "What they should be thinking is, 'Oh, you're nice,' or 'Oh, you're qualified.' Basically, your tattoo is distracting them from all of your wonderful qualities. Even if you don't have a skull and crossbones on your face, any ink gives them something else to focus on besides your skills and personality, and that's never good."
Individuals without tattoos are approximately twice as likely to get hired as individuals with body art that can be seen in professional dress, McCall says. If two candidates are equally qualified for the same job and one has a tattoo, nine times out of ten, the candidate without the body art will be hired for the position, he adds. Of course, it depends on the job.
"If you're applying for a job at a bike shop, a tattoo might set you apart," McCall says. "But if you want to work in a medical clinic you'd probably better think twice. There is a fine line between having someone think it's 'cool' and having someone wonder, 'Is this person someone I can count on to mentor me, or is this someone who had a bad streak in life?'"
Individuals thinking of tattoo removal should keep in mind a couple of important things, says Dr. Messina: cost and pain.
"It's a medical procedure to have it removed; it's not like hair removal. It's done with a laser, and it's not a day at the beach," he says. "You can figure a removal is going to cost approximately ten times what the tattoo cost to get in the first place."
On average, tattoo removal sessions cost between $200 and $600 per treatment, Messina says. The average tattoo requires 8 to 9 treatments before it's completely removed. For a larger tattoo, it's not out of the question for someone to spend $7,000 on the removal process.
"A black tattoo on the neck could be done in as little as 5 treatments," says Messina. "But take that same tattoo and put it on the foot, now you're talking 12 treatments. If it's something with yellow ink, that's really hard to get out, and white ink simply won't come out no matter what you do. Sky blue is another hard one to remove. It seems strange, but the lighter the color, the harder it is to take off."
Messina says his clients come from all different career fields, and that he sees a lot of patients who have changed jobs or been promoted at work. For example, if a home builder decides to start his own construction company, he's gone from a behind-the-scenes job to one where he is meeting clients every day.
"People often haven't thought about the future, and then all of a sudden they're getting pressure at work," he says. "It's a good thing because they're moving up the ladder, but if they don't take care of their tattoos, they could be passed over for someone else."
Today, there's no doubt that tattoos are taboo in the workplace, says Libis. But whether or not it will always be that way remains to be seen.
"Once the millennial generation is running corporations, perhaps tats could be more accepted. At that point, maybe tank tops at the office will be considered professional and you'll lead by example with all your artistic ink," Libis says. "But for now, people don't want the guy with all the tats on his fingers giving them their injections at the doctor or touching their lettuce and tomatoes."