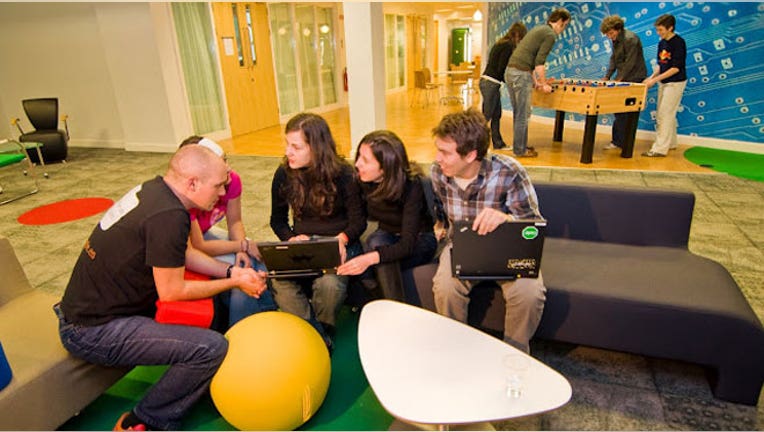 As new-generation tech titans like Facebook (NASDAQ:FB) and Zynga (NASDAQ:ZYNG) continue to grow and lure bright, young minds eager to make an impact on society, their more traditional rivals seem to be falling short in a rapidly intensifying talent war.
Whether its video game consoles at Google (NASDAQ:GOOG) or the college quad feel of Facebook's new Palo Alto headquarters, the high-growth tech companies have seemingly mastered the aura of an innovative, relaxed working environment with the work-hard, play-hard mentality.
It's a vibe of casual work hours, hoodies instead of blazers and a burning desire to win in an increasingly competitive sector that is highly craved by both young and experienced tech minds in the workforce.
The focus has 20-something college grads as well as tech geniuses of all ages ditching the stability that often comes with a long-standing traditional company such as Dell (NASDAQ:DELL) or Hewlett-Packard (NYSE:HPQ) for the whimsical riskiness that has become the nature of Silicon Valley start-ups.
"Higher-growth companies have more energy and more fun," said Adam Miller, chief executive of Cornerstone OnDemand, a cloud-based recruiting company based in Los Angeles. "It's more fun to be on a winning team than a losing team."
A talent war among tech companies was first born 15 years ago, prior to the dotcom bubble as Google, Yahoo (NASDAQ:YHOO), IBM (NYSE:IBM) and Microsoft (NASDAQ:MSFT) competed for the sector's finest young minds.
While it eased for a decade as the sector recovered, fierce competition has since reemerged in the nation's deepest tech pocket as new startups continue to sprout and entrepreneurs find new ways of seducing fresh talent.
It's especially notable now as older sector heavyweights start bowing to bottom-line pressures through contraction. Last month, H-P announced plans to axe 27,000 jobs, or about 8% of its workforce, after reporting a 31% decline in quarterly profit.
That type of news can scare away ambitious talent looking to advance quickly or chase the next big innovation.
"Older companies don't have the kind of structure a young person [needs to] advance quickly," long-time human resource executive Libby Sartain said, noting that newer companies have embraced flex work environments and cultural amenities that create a sense of community.
Why Fun Companies Can be Choosier
Besides Google's famous free-food cafeterias, foosball tables and massage rooms in the Googleplex, the nickname of Google's headquarters in Mountain View, Calif., the company provides employees with a long-list of benefits, including free life-long learning courses.
The underlying belief, a Google spokesperson said, is that investing in the employee will in turn make them happier and more productive.
"It goes back to the broader theme of our culture – let people learn about what they're interested in," the spokesperson said. "We mix work and play and that includes learning things outside of your role."
Classes, taught through the GoogleEDU program often by Googlers looking to share their interests with peers, target anything from 'how to not dance like a middle school kid at weddings' to personal finance.
Other startups are embracing their past and attracting young entrepreneurial thinkers by providing classes that teach how to launch a startup. Technology-powered real estate broker Redfin has been offering a "Startup Skillz" series in San Francisco since 2010. The program, designed to develop young engineers into entrepreneurs, has been successful in helping Redfin attract younger people who "tend to be more restless," CEO Glenn Kelman said.
An attractive working environment allows companies to be choosier with recruits, one reason why some of the most desired have the most difficult interview process, according to jobs review platform Glassdoor.
Google has the most difficult interview process of its tech peers, scoring 3.5 out of 4, according to Glassdoor data. LinkedIn (NASDAQ:LNKD) and Facebook follow with scores of 3.2 and 3.1, respectively.
Companies like "Google and Facebook have high standards," said Dan Finnigan, CEO of cloud-based recruiting software company Jobvite, a startup located just south of San Francisco. "There are only so many of the best engineers around, there's going to be winners and there's going to be losers."
The Valley's tech-savvy job seekers, what Sartain called a rising group of "creative-class technologists" because they are the "most creative engineers," are attracted to the excitement of building a product that matters, cashing in on stock options with the dream of one day becoming a millionaire and working with like-aged individuals with similar priorities and ideals.
"The skilled tech people today are looking to advance their careers, looking to do something  that's impactful, hopefully meaningful, and fun," Miller said. "Companies that are better-known innovative brands, more creative, are the ones people want to work for."
But perhaps even more of a driver is the value that comes with wearing a varsity letter from a successful tech firm that emerged from an idea scribbled on a napkin. Plastering a well-known success story on a resume can help put a career on the fast track in Silicon Valley and give entrepreneurs easier access to venture capital money.
"Young people are always more attracted to brand-name, fast-growing companies, because even [if it's just] intuitively, you need to get some early wins on your resume," Finnigan said.
Old Guys Don't Always Finish Last
Of course, traditional companies have benefits, too. After all, it's risky to gamble on a lower salary for stock notes that may or may not reap rewards one day.
"The fact of the matter is everyone is not the same," Finnigan said. "If I was running recruiting at a large, slow-growing tech company that's been around for decades, I'd try to target the brightest, most risk-averse people."
Those companies are sometimes seen as too bureaucratic by today's young people, but a key advantage they have is the ability to provide new recruits with higher salaries and more stability.
"We've seen the volatility of Facebook's IPO," Finnigan said. "H-P can say, 'I can offer you more cash earlier on in your career for a future startup or to start a nest early."
Some have even started to embrace entrepreneurial work environments by creating small work groups or separating the creative engineers from the higher-level (often older) executives.
However, shaking things up can prove risky for companies with long-standing core values, and there are times when the environment simply doesn't foster it, Sartain said, who served as chief human resource officer at Yahoo and Southwest Airlines and now advises startups.
"If you told everyone to create a new product, no one would be working on what you wanted them to work on," she said. "You have to pick your priorities, and a good company has priorities."