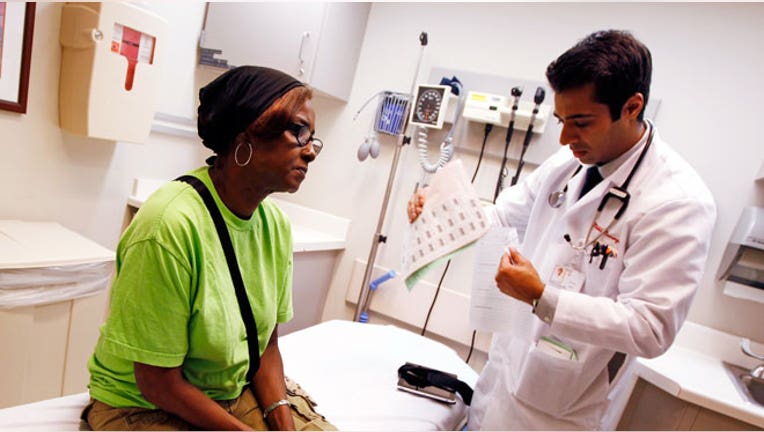 Bedside manners are getting more interactive in hospitals across the country.
With the level of insurance payouts to doctors and hospitals increasingly being determined by patient outcomes and satisfaction, hospitals are looking for ways to improve care and ratings.
Some hospitals are using GetWellNetwork's interactive patient care technology that works through the television in a hospital room or an iPad-like device next to the bed and provides patients information about their disease and care. It also helps nurses and doctors better monitor treatment.
"The reimbursement model is shifting from a volume-based model to a value-based model which means some of the scores used to determine the reimbursement level is patient satisfaction scores," says Michael O'Neil, founder and chief executive of GetWellNetwork. "It's remarkably great for the patient when those paying for care finally decide they need a value based system."
The GetWellNetwork Interactive Care Patient system, which is being deployed in 125 hospitals, covering 20,000 beds across the country, is with the patient from admission through discharge to ensure the patient is getting the best care possible.
Take pain medication: A critical part of a patient's level of comfort during a hospital stay is managing pain. The GetWell system will know what pain medication was prescribed for the patient and will ask the patient at a doctor-prescribed time interval the level of pain. If the system is being fed through the TV, it will prompt the patient to provide feedback without interrupting a show. That feedback is then sent in real time to the nurses' station so they will know immediately if more medication is necessary.
The GetWellNetwork system will also provide information on prescribe treatments and surgeries including side effects and alternatives. There is a library of more than 3,000 educational videos and content on health conditions, medications, tests and procedures.
"It augments and streamlines the percentage of nursing tasks now taken up by documentation," says O'Neil. "It's trying to maximize nurses' time being at the point of care; interacting with the patient instead of a keyboard."
For a lot of patients, the discharge process can make or break their sentiment toward their hospital stay. Since many hospitals get poor ratings on the discharge process and patient readiness to manage their disease once they leave the hospital, the GetWellNetwork targets improving this process.
According to O'Neil, the system will ask patients if they need assistance getting home and if they want their prescriptions filled at the hospital pharmacy before leaving. The system will also provide patients information on how to care for themselves after they leave the hospital.
Patients also have access to the GetWellNetwork upon release, to make sure they stay on top of their treatment at home to prevent being re-admitted.
"Twenty-five percent of all heart failure patients that get discharged from the hospital come back within 30 days," says O'Neil. "Most cases they are coming back because of a lack of adherence with their care management plans--whether its diet, medication or activity."  The system's goal, says O'Neil, is to move the patient from a "state of dependence to a state of independence."