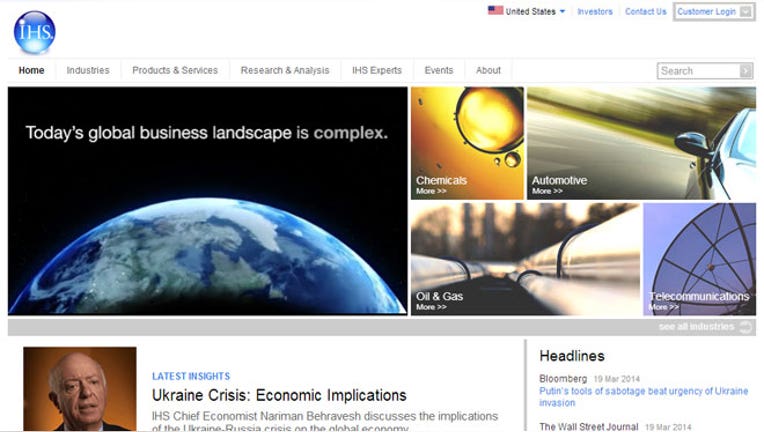 Business research provider IHS Inc said it would look for acquisitions in the second half of the year after strong subscription growth helped the company report better-than-expected revenue and profit in the second quarter.
IHS - whose businesses include Cambridge Energy Research Associates and technology market research firm iSuppli - said strong profit growth and free cash flow has helped the company reduce debt over the past year, putting it in a position to buy.
"Now we are down back in our overall leverage range, we have a very active pipeline," Chief Executive Scott Key told Reuters.
"You should expect us in the second half of the year to announce the types of acquisitions," he said.
IHS had $221 million in cash at the end of the quarter.
Over the last four quarters, the company's debt has fallen to 2.9 times earnings before interest, taxes, depreciation and amortization from 3.7 times.
IHS, which also publishes Jane's Defense Weekly, has acquired about 60 companies since it went public in 2005 and has relied on acquisitions to boost subscription revenue.
The company's last major acquisition was its $1.4 billion purchase in June last year of R.L. Polk & Co, the owner of used-car history provider Carfax and a leading provider of auto industry data.
IHS's net income rose to $55.5 million, or 81 cents per share, in the quarter ended May 31 from $42.9 million, or 65 cents per share, a year earlier.
Excluding items, the company earned $1.47 per share.
Revenue rose 36 percent to $568 million.
Subscription revenue, which accounts for three-quarters of total revenue, also rose 36 percent.
Analysts on average had expected an adjusted profit of $1.44 per share on revenue of $551.3 million, according to Thomson Reuters I/B/E/S.
IHS said it expected stronger organic revenue growth and margin expansion over the next six months.
Shares of the company closed at $130.19 on the New York Stock Exchange on Wednesday. The stock has gained 18 percent over the last year.