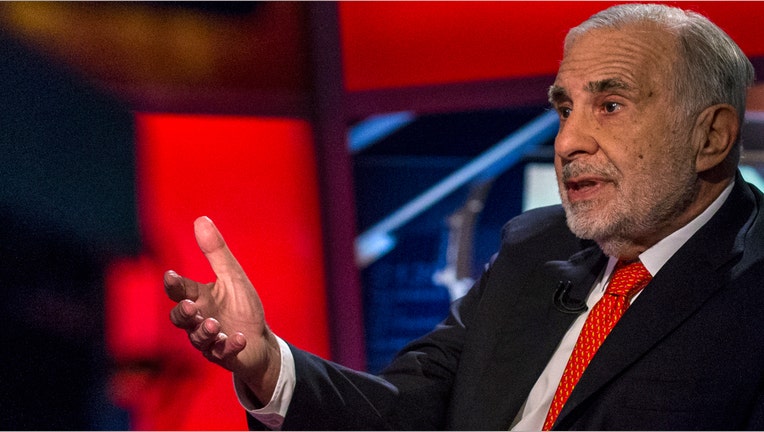 Billionaire investor Carl Icahn is throwing down the gauntlet in his push to change insurance giant AIG (NYSE:AIG) and the view of its CEO Peter Hancock. In a letter Monday published on his website, Icahn claims Hancock, while open to conversations "is not willing to take the bold steps that we, and so many other shareholders, believe are long overdue." Last month, Icahn who is AIG's fifth largest shareholder controlling 42 million shares according to Thomson, pushed for the company to speed up cost cutting while also splitting itself into three separate units. Icahn described AIG as "Too Big To Succeed."
By contracting into three smaller public units the company would "shrink below the threshold for systemically important financial institutions" wrote Icahn, which would relieve some burdens that come with the SIFI designation including maintaining critical capital levels.
AIG shares traded higher on the news in afternoon trading.
Earlier this month during an interview on FOX Business Network's Mornings With Maria Icahn said, "AIG would be much better off taking this company and splitting it into 3 or 4 parts or selling a lot of the divisions that they have. I don't think it is a very well run company."
Almost immediately following the release of Icahn's public letter, AIG defended itself, issuing a press release stating that it has taken "numerous steps to streamline its businesses, narrow focus, improve financial performance and return capital to shareholders." The company added it maintains "an active dialogue with shareholders, including CarI Icahn.  As previously stated, Management and the Board have carefully reviewed a separation of AIG`s businesses on many occasions, including in the recent past, and have concluded it did not make financial sense."
AIG also stated the company intends to take additional actions to further accelerate its previously announced strategy and will communicate those specifics with the financial community in the near-term and "in advance of the fourth quarter earnings report." AIG tells FOXBusiness.com the date for the release of 4Q '15  results has not been announced. Last year, 4Q results were released in mid-February.
It appears Icahn is not prepared to wait around. His letter also stated that he intends to begin a "consent solicitation" that will allow shareholders to provide their views directly to the board and he may add a new director who will "agree in advance to succeed Mr. Hancock as CEO if asked by the board to do so."
Icahn already has the support of at least one other billionaire, hedge fund manager John Paulson, who also supports a break-up of AIG.
Shares of AIG have gained 11% this year.