IBM's (Not So) Secret Weapon: Hybrid Cloud Computing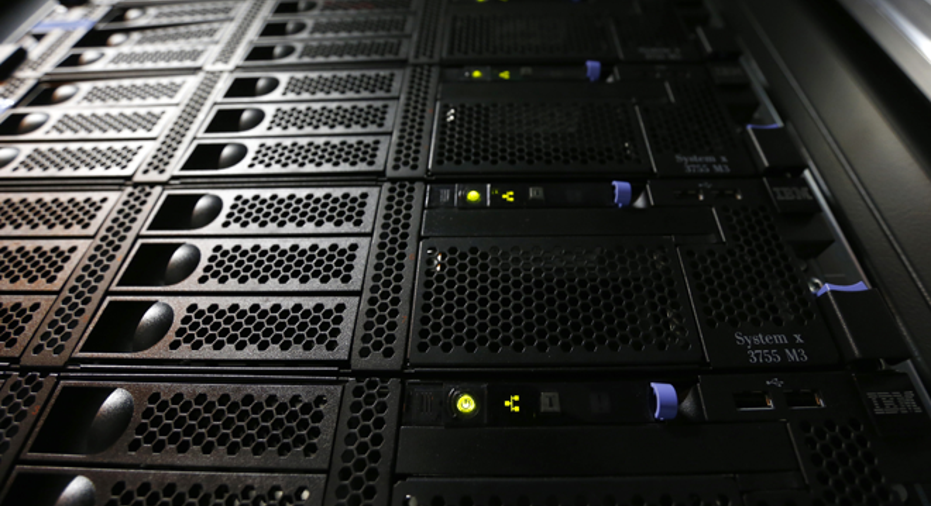 Big Blue has been singing the blues a lot lately. As other tech names woo Wall Street with shiny gadgets and myriad online services, IBM (NYSE:IBM) sputters.
IBM, perhaps the biggest player in the "Old Tech" space, saw its stock dip 2.1% last year just as the broad markets posted a blockbuster performance that included stellar results by a wide variety of technology stocks.
This year hasn't been much better for the Armonk, NY-based heavyweight, as the firm nurses a year-to-date loss of 3.4% against 6% gains for U.S. equities. In fact, the stock has underperformed the S&P 500 every year since 2012 after beating the benchmark barometer by a wide margin in 2011, according to data from FactSet.
Brokerage houses aren't exactly enthusiastic on IBM, either: Out of 21 analysts who have recently reviewed the company, 17 logged a "hold" rating, three notched a "buy" rating, and one suggested selling the stock, FactSet data show. On average, analysts expect sales to contract by 2.4% this year to $97.4 billion, compared to forecasts for revenue growth of 5.4% for tech companies included in the S&P 500.
New Entrants Cloud IBM's Server Business
But IBM and its nearly half-a-million employees have a plan to get the company's "cool" back. It all revolves around one somewhat wonky phrase: Hybrid cloud computing.
For many years, "cloud" has been the hip term in the computing world. It refers to a trend of storing and processing information across the Internet so it's available at the snap (or tap) of a finger from just about any device. The exponential growth of smartphones and tablets that have mostly uninterrupted data service but  also fairly shallow computing power, has helped the sector take off.
Companies big and small have looked to tap into the revolution. A few notable examples are Google (NASDAQ:GOOGL), with its widely-used cloud-based email and office apps, Amazon.com (NASDAQ:AMZN) and Salesforce.com (NYSE:CRM) with their enterprise platforms, and Akamai Technologies (NASDAQ:AKAM), a lesser-known name that delivers 15%-30% of Internet traffic.
The bottom line is the migration from firm-based IT assets to networks that increasingly tap shared computing power spread globally across the Internet has been a major headwind to enterprise-equipment producers
Indeed, IBM's systems and technology hardware sales plummeted 23% on a year-over-year basis to $2.4 billion in the first quarter, causing Big Blue to log a pre-tax loss of $660 million for the segment. At the same time, analysts at tech consultancy Gartner reckon IBM's server market-share narrowed to 19.8% on a revenue basis in the first quarter from 25.5% in the same three months in 2013.
Inversely, IBM's cloud sales swelled more than 50%, although, the company didn't offer any specifics except to say the annual run rate was $2.3 billion. Cloud revenue totaled $4.4 billion in 2013, meaning it was a relatively small sales driver for the massive company.
Lofty Ambitions
But IBM is making a big play to gobble up a much bigger share of the burgeoning marketplace.
Phil Guido, general manager for IBM North America, who oversees the firm's consulting, technology services, software, hardware and client financing portfolios, said Big Blue has already spent $10 billion on its cloud division. That includes a whopping $7 billion in acquisitions and $1.2 billion in datacenter rollouts.
The company sports some 40 datacenters around the world and employs 40,000 cloud-computing experts. Guido said data is "the next natural resource." In the same way companies drill for oil and refine it into petroleum products, IBM thinks companies will want to mine data, store it and analyze it.
"We're at an inflection point as the markets come together," he said.
At face value, that doesn't seem so different from what most of the market is pushing for: Life, increasingly, on the cloud. But what makes IBM's pitch more unique, and well-tailored to a long-time leader in enterprise equipment, is the "hybrid" component.
Enter: Lance Crosby, CEO of SoftLayer, a company IBM bought in 2013 in a deal reportedly worth about $2 billion.
"Unlike our competitors, we don't think everything is going to the cloud," he said. "We think 50-80% will be going to the cloud,"
Crosby specifically targeted rivals like Google and Amazon, which he said are focused too closely on the consumer cloud and missing opportunities in the enterprise space. It's not too surprising for a company that has for many years been one of the biggest global server vendors.
"We plan to be the biggest global player in cloud."
He said many companies have already invested large amounts of money and resources in their own networking infrastructure, and are wary of moving everything to the cloud. Guido and Crosby cited a slew of concerns clients have brought to their attention, including: reliability, regulatory hurdles, security, and transparency.
IBM's pitch to companies is this: why not keep your most valuable and sensitive resources on a "private cloud" and move customer-facing applications, programs that involve lots of number crunching, and ones that have to be easily accessible by clients across the world, to datacenters IBM manages?
Crosby said this style of cloud computing particularly resonates in the financial and health-care arenas – two sectors where data regulations are especially tight. Banks, for example, can continue processing transactions internally, so they maintain complete control over the highly-secure systems, but then can move social-media projects, apps and other lower-security installations to the cloud, where it's much more cost efficient to reach customers around the globe.
Through its acquisition of SoftLayer, and other services, IBM has also devised systems that make it easy to connect the public and private clouds. For example, so-called APIs let companies easily apply cloud-computing technology to their existing programs.
IBM has also set out to offer a high level of transparency, security and reliability in its datacenters. Crosby said the datacenters are broken into "pods" of 5,000 servers that are clustered in such a way that if there was a "catastrophic" event, it would only affect certain segments instead of cascading.
From a transparency perspective, Crosby said customers can access information right down to the serial number of specific hard-disk drives: "Our competitors are this black box where you don't know what's going on behind the scenes," he explained, "we open up everything so we can see inside the cloud."
So far, SoftLayer has seen at least some level of success under IBM's umbrella. Crosby said the segment has added 3,000 customers since joining the blue-chip firm last year.
In the near term, IBM expects its cloud division to be a $7 billion unit by next year. It will likely also invest another $10 billion in its quest to control the cloud.
Still, Crosby has his sights set quite a bit higher: "We plan to be the biggest global player in cloud," he said, adding that he thinks only five firms will ultimately control the macro-cloud landscape, with other companies creating more niche products.
Competitive Field
Donna Scott, a vice president and distinguished analyst at Gartner Research, agreed with IBM's assessment that hybrid cloud computing is a big opportunity for the technology space as a whole, noting many of the established server vendors like Hewlett-Packard (NYSE:HPQ), IBM and Dell are "definitely competing for new business" on that front.
"IBM has a whole lot of different entry points and as a large company they're trying to exploit them all," she added. ­
Part of that strategy, she said, involves trying to garner the attention of the developers and IT managers who will ultimately be utilizing the systems most directly. As an example, Scott pointed to an IBM system called BlueMix that enables programmers to create enterprise software without crafting the complex architecture that underlies the cloud.
IBM is also a leading member of a growing open-source cloud-computing software foundation called OpenStack. The group, founded by Rackspace Hosting (NYSE:RAX) and NASA, aims to "enable any organization to create and offer cloud computing services running on standard hardware."
Basically, OpenStack is looking to lower the barriers of entry for developers to produce highly-scalable cloud software. The organization boasts 9,500 individual members and sponsorships from hundreds of companies, including H-P and AT&T (NYSE:T).
Scott said the standard could help lure developers, and thereby businesses, away from Amazon's highly-popular platform called Amazon Web Services – which has become one of the big services to beat.
Given cloud, especially hybrid cloud, is so new, Scott said it is yet to be seen who will emerge as the leader.
IBM, for its part, has its fair share of fans on the Street despite tepid analyst ratings. Indeed, Berkshire Hathaway chairman and CEO Warren Buffett told FOX Business in April that his sole vehicle for cloud exposure is Big Blue.
"That's a fight that's not over-with yet," Buffett, whose firm owns 6.8% of IBM and is its biggest shareholder said, noting that "it's not easy to figure out the affect [cloud] will have" on the industry as a whole.
Chris Grisanti, co-founder at registered investment advisor Grisanti Capital Management, said he also sees green ahead for Big Blue. Grisanti, whose main investment vehicle holds 19 stocks for an average duration of three years, said he doesn't agree with the lukewarm marks most analysts pin on the stock.
"IBM is a great brand, it's a great company," he said.